---
Fed Engages In Shocking Seasonal Adjustments To Convert $92BN Bank Deposit Outflow Into $36BN Inflow
Retail money-market fund inflows continued last week and usage of The Fed's emergency funding facility for banks remains at record highs, as shrinkage of The Fed's balance sheet continues.
Tonight, all eyes are on the bank deposits for more worries, and on a seasonally-adjusted basis, total deposits jumped $49BN last week (the biggest inflow since May)...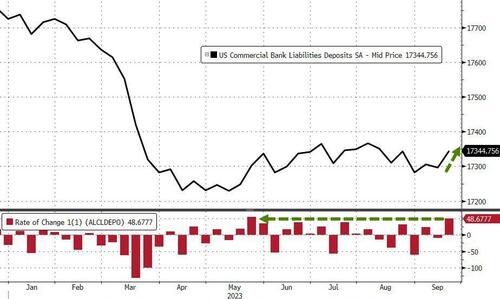 Source: Bloomberg
But, on a non-seasonally-adjusted basis, total deposits plunged $85BN last week (the biggest drop since July)...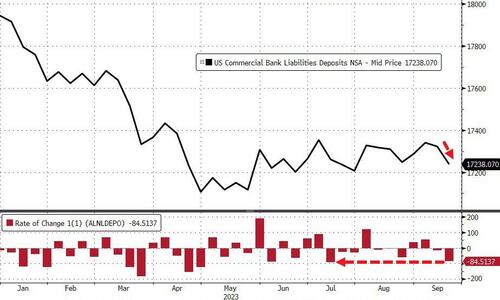 Source: Bloomberg
Which means the gap between surging money-market fund assets and bank deposits continues to grow...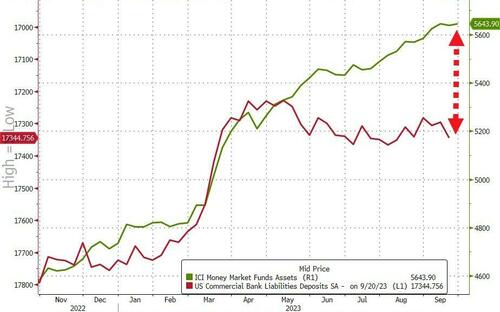 Source: Bloomberg
For the last two weeks, the SA and NSA data has 'agreed' on its direction... but not this week as The Fed's utter fuckery turned a massive $92BN domestic US bank deposit outflow into a $36BN deposit inflow...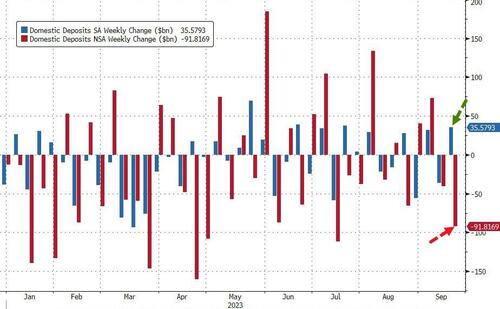 Source: Bloomberg
On an NSA basis, Large banks saw $66BN of outflows (SA $26BN inflows), Small banks saw $26BN outflows (SA $9.1BN inflows), and Foreign banks saw $7,3BN inflows (SA $13BN inflows)...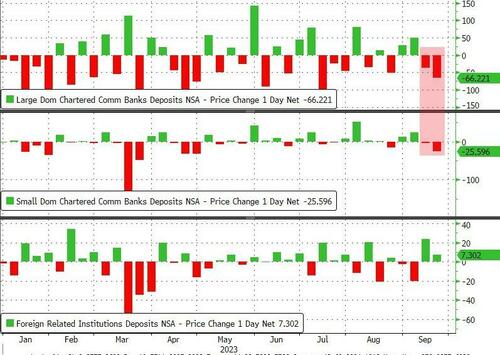 Source: Bloomberg
The gap between SA and NSA deposit losses since the SVB Crisis is now over $150BN...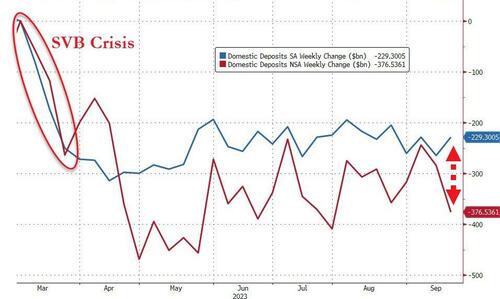 Source: Bloomberg
On the other side of the ledger, large banks saw loan volumes decline (odd given the $26BN inflows SA) while small banks saw loan volumes jump $8.2BN...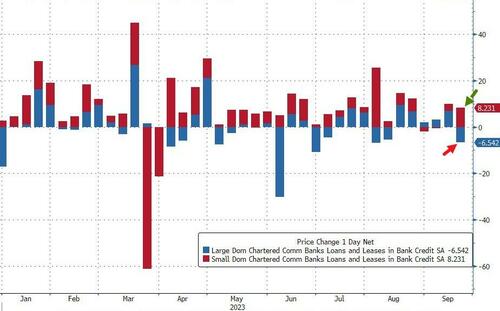 Source: Bloomberg
The key warning sign continues to trend lower (Small Banks' reserve constraint), supported above the critical level by The Fed's emergency funds (for now)...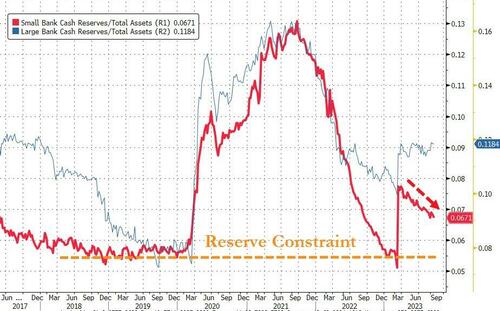 Source: Bloomberg
Finally, last week we suggested the gap between large bank and small bank deposits may mean its time for another small bank failure so JPMorgan can soak up some more cheap deposits... and sure enough, Jamie Dimon hinted that the banking crisis was not over...
"The problem of interest rate exposure was known to everyone. I do not think we want a system where no bank ever fails. So, having a bunch of failures is not a terrible thing. But if it causes havoc in the system, we have to modify regulations to stop that from happening."
After an ugly month and even uglier quarter, we sure hope these banks are making plans to fill the $108BN hole in their balance sheets they are filling with expensive Fed loans.
Loading...