---
Fed F**kery Turns $65 Billion Bank Deposit Outflow Into $48 Billion Inflow
Yesterday we saw more, modest, outflows from institutional money-market funds (inflows from retail funds), but a rise to a new record high for usage of The Fed's emergency bank bailout scheme, to over $106 billion.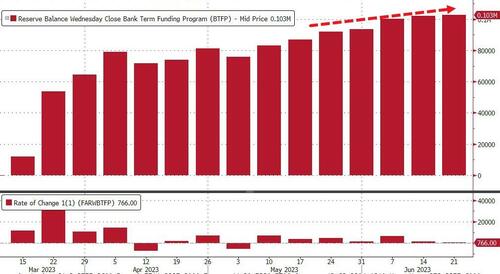 Tonight, we get more of the picture - admittedly with The Fed's own sprinkling of magic pixie dust that turns deposit outflows into inflows.
Seasonally-adjusted, total deposits rose a significant $46.95 billion last week to $17.3 trillion - the highest since 3/5/23...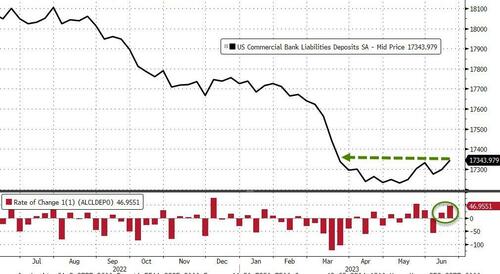 Source: Bloomberg
Non-seasonally-adjusted, total deposits tumbled $63.1 billion...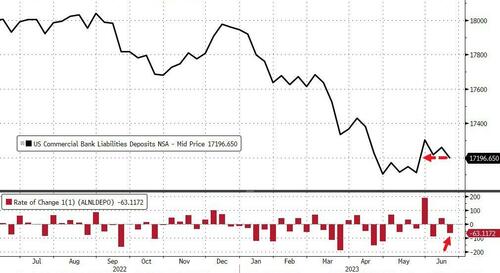 Source: Bloomberg
The SA and NSA deposit totals are diverging once again...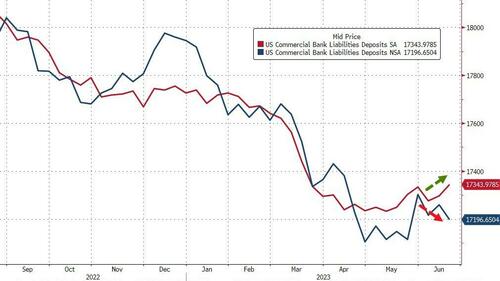 Source: Bloomberg
The divergence between money-market funds and deposits continues (remember the deposit data is one-week lagged to the MM fund data)...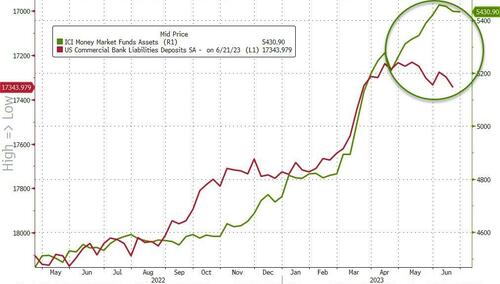 Source: Bloomberg
Seasonally-adjusted, both large and small banks saw deposit inflows (+$34.9bn and +13.4bn respectively) while foreign banks saw a small $1.4bn outflow...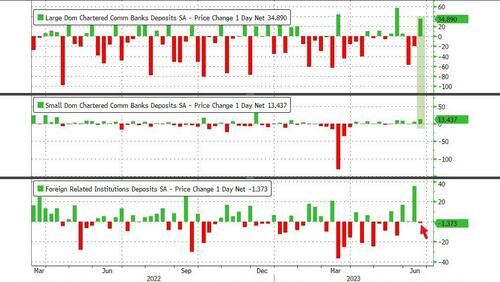 Source: Bloomberg
The picture - non-seasonally-adjusted - is the exact opposite with large and small banks seeing outflows (-$52bn and -$13bn respectively) and foreign banks saw inflows of $1.9bn...
Source: Bloomberg
The Fed's magic turned $65.1 billion of deposit OUTFLOWS for Domestic banks (ex-Foreign) into $48.3 billion of INFLOWS...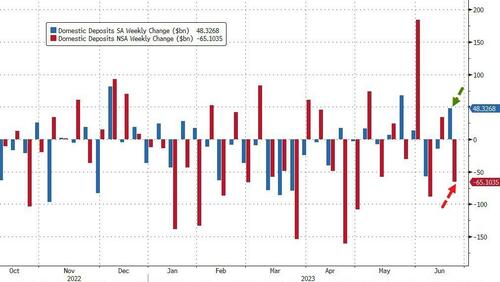 Source: Bloomberg
You have to laugh!
On the other side of the ledger, loan volume rose very modestly (which is odd given the huge SA deposit inflow, right?) Large bank loan volume rose de-minimusly while small bank loans rose over $9bn...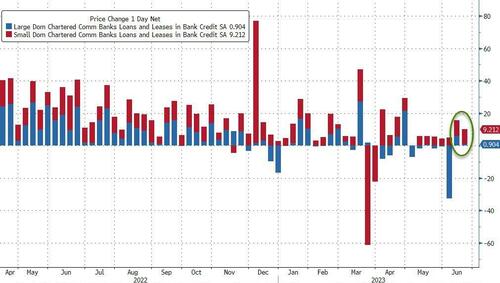 Source: Bloomberg
Finally, after all the big banks passed the stress test with flying colors, we remind readers that banks have 9 months left under the original 12-month BTFP Fed bailout program to find a way to stabilize their balance sheets.
Not only have they failed to do so, usage of the BTFP facility is at a new all time high, and yields are rising even more (great MTM losses).
Loading...