---
Fed Warns Consumers Will Deplete Excess Savings By End Q3
San Francisco Fed researchers penned a note on Wednesday that explained excessive savings of US households would be depleted by the end of the third quarter, or in about 44 days (as of Thursday). Couple this with both revolving credit (i.e., credit card debt) and interest charged on credit cards at a record high, plus the restart of student loan repayments in weeks -- all could be a perfect storm brewing that might suggest the outlook for consumers is grim in the era of 'Bidenomic.' 
"Our updated estimates suggest that households held less than $190 billion of aggregate excess savings by June. There is considerable uncertainty in the outlook, but we estimate that these excess savings are likely to be depleted during the third quarter of 2023," San Francisco Fed researchers Hamza Abdelrahman and Luiz Oliveira wrote. 
The chart below shows accumulated excess savings, in nominal terms, totaled $2.1 trillion in August 2021, thanks to government stimulus checks and other fiscal measures during the pandemic. Since then, aggregate personal savings had plunged below pre-pandemic levels, signaling an overall drawdown of pandemic-related excess savings when inflation was outpacing wages, forcing households to pull from savings to make ends meet. The drawdown on savings was slow, then ramped to $100 billion per month in 2022.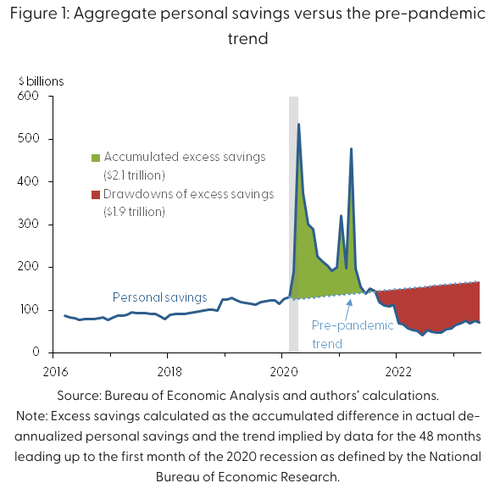 The estimated drawdowns as of June have been $1.9 trillion, and estimates show there's less than $190 billion of excess savings remaining. If drawdowns continue at average rates from the past 3, 6, or 12 months, researchers said, "aggregate excess savings would likely be depleted in the third quarter of 2023." 
"The rapid accumulation and subsequent drawdown of excess savings following the onset of the pandemic recession contrasts starkly with prior recessions. This contrast holds true when the data are adjusted for inflation, as well as when we define excess savings as a share of trend savings or as a percent change from pre-recession periods," researchers said.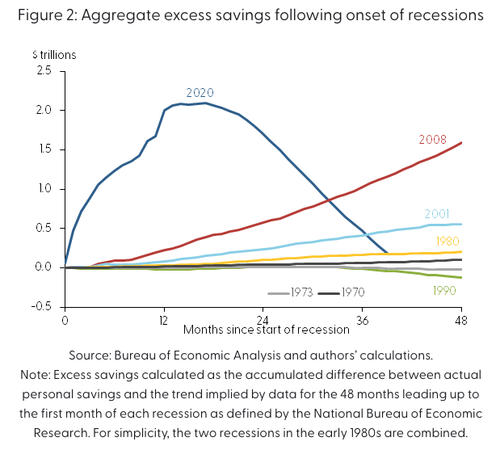 This comes as both revolving credit (i.e., credit card debt) and interest charged on credit cards hit a record high. We said this trajectory was unsustainable, and it was only a matter of time before the debt-funded US consumer hit a brick wall. That moment has likely arrived: Consumers Finally Crack: Shocking Drop In June Credit Card Debt Marks End Of Spending Binge.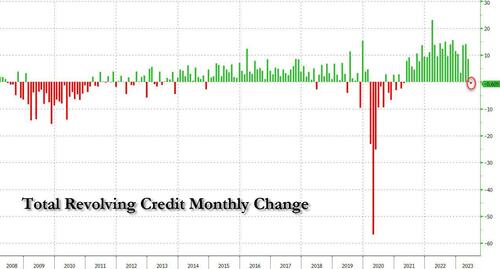 Nothing to see here.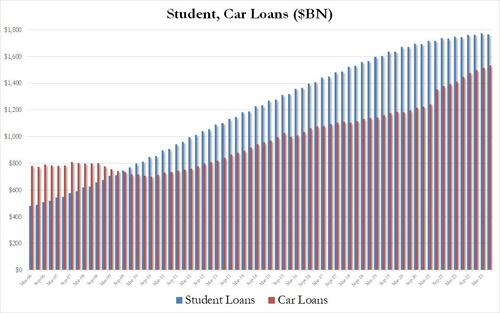 Meanwhile, with average credit card interest rates rising above 22% to a new record high...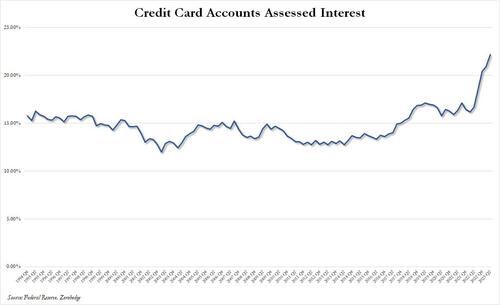 Heavily indebted consumers with dwindling savings will also be met with the restart of student debt repayments in the next few weeks. We asked: Student Loan Repayments – Will It Start The Recession? And told readers this could be a potential aggregate $15.8 billion monthly headwind - or $190 billion per year - to consumer spending. 
This underscores the concern that consumers might face significant challenges ahead. Such challenges could be precisely what the Fed needs to spark a slowdown and guide inflation back to its 2% target. 
Loading...