---
Feds Probe Bank 'Short-Sellers' As UAE Sovereign Fund Builds Massive US Stock Short Position
Update (0950ET): In an amazingly ironic piece of timing, minutes after the report of federal prosecutors probing short-sellers, Bloomberg reports that an investment firm controlled by a top Abu Dhabi royal has built a short position worth billions of dollars in US stocks, people familiar with the matter said, in a bet that growing fears over a recession will pressure markets.
Royal Group turned more negative on equities at the start of the year and has shifted more of its portfolio into short-term US Treasuries, the people said, asking not to be identified because the matter is private.
The firm, chaired by United Arab Emirates National Security Adviser Sheikh Tahnoon bin Zayed Al Nahyan, is also investing more in commodities and crypto, they said.
How long before feds probe the UAE sovereign fund!!!
*  *  *
In the 118 page Federal Reserve Review of the collapse of Silicon Valley Bank, there is one (yes one) mention of the word 'short-seller' - and that is referencing an FT article from February 21st that points out that short-sellers (and long-liquidators) correctly sifted out this weak bank due to its "move to put $91bn of its assets into a poorly performing bond portfolio that has since amassed an unrealised $15bn loss."
In other words, market participants did their free market job... and it was management failures and supervisor sloppiness that led to the bank's demise (and that picture can easily be painted for many of the marginalized regional banks that have come under pressure - and even failed - since).
But never let facts get in the way of a good witch hunt.
Reuters reports that federal prosecutors are examining short selling that emerged as three regional banks failed in recent weeks.
It seems Gary Gensler, chair of the SEC, is moving on from blaming crytocurrencies for global terrorism (ok that's an exaggeration but you get what we mean) and decided to turn his bureaucratic eye to another easy target - those un-American 'short-sellers'!
Gensler said last week that the agency "is particularly focused on identifying and prosecuting any form of misconduct that might threaten investors, capital formation or the markets more broadly."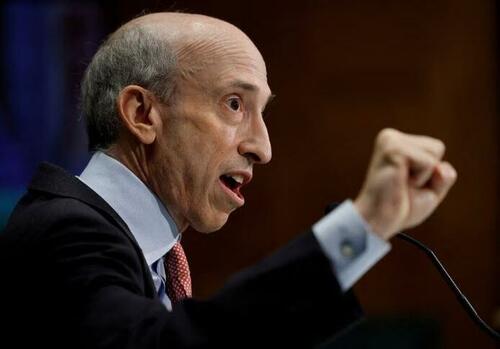 Turmoil in the regional-banking industry is an "area of interest" for the Justice Department, according to Reuters' sources.
The FDIC and the Treasury Department are watching the impact of short sales on the banking industry closely, but the Biden administration believes "the situation remains under control," Heather Boushey, a member of President Joe Biden's Council of Economic Advisers, told Bloomberg Television last week.
And finally, if this is in any way a narrative-shaping episode, prologue to pitching a 'short-selling ban' to the world, bear in mind that even The Fed itself said that is a terrible idea as the last time they tried it, the stocks of the banks were blasted lower as 'free market' longs dumped on the uncertainty created.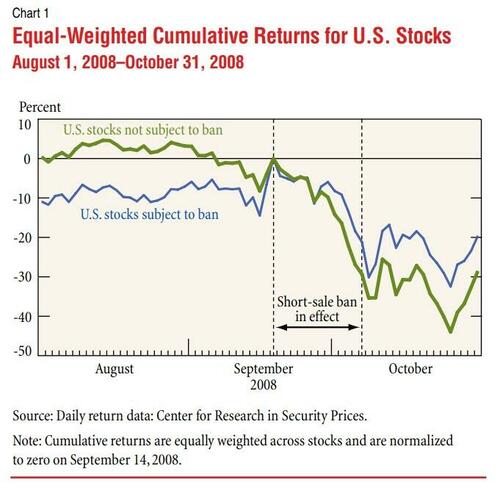 "The 2008 ban on short sales failed to slow the decline in the price of financial stocks; in fact, prices fell markedly over the two weeks in which the ban was in effect and stabilized once it was lifted..."
But hey, if at first you don't succeed, keep smashing your head against that same wall as long as it matches your narrative (or some such axiom).
Loading...