---
Philly Mass Shooting Suspect Identified As 40 Year Old Black Lives Matter Supporter
Update 6/4/2023 1425PM: The Post Millennial is reporting that 40-year-old Kimbrady Watson Carriker has been identified as the suspect in the mass shooting. 
It notes that Carriker was an avid supporter of Black Lives Matter:
On Facebook, Carriker was seen posting in support of Black Lives Matter, and follows the Black Lives Matter Philly Facebook page.

"Black lives matter today; there will be jobs available. Equal opportunity finally. Just tell us where your quitting so we can send someone over," Carriker wrote in one Facebook comment responding to a story of workers going on a Strike for Black Lives.

Carriker also posted to Facebook a story titled "how do you know if an evil spirit is following you," as well as one titled "Philly  anti-violence grant program shows promising results, despite some hiccups, new evaluation shows."

Carriker has also made multiple posts showcasing guns and shooting, including resharing one post showing children shooting, as well as one of a person holding a flintlock pistol with the text "wherefor art thou opposition so I may slide upon thine block and runneth down on thee"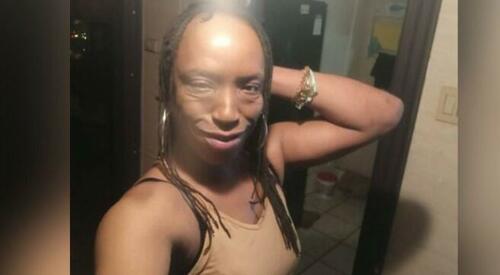 Five people were killed on Monday night in Philadelphia, when a "heavily armed gunman in a bulletproof vest" took to the streets in Southwest Philadelphia, clothed in body armor. 
Police Commissioner Danielle Outlaw, who along with DA Larry Krasner, have overseen a surge in crime in the city, told press at a news conference that officers chased the man who eventually gave himself up, according to the Associated Press. 
The shooter wounded two boys and also shot at police, the report says. 
Outlaw said at her presser: "Thank God our officers were on the scene and responded as quickly as they did. I can't even describe the level of bravery and courage that was shown, in addition to the restraint that was shown here."
The shooter was armed with a rifle, multiple magazines, a handgun and a police scanner, AP reported. There was no known connection between the shooter and the victims, the report added.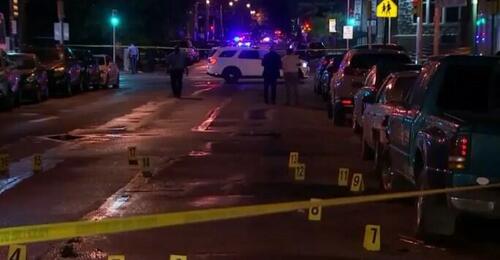 The incident started at about 8:30PM on Monday when a call for shots fired from the Kingsessing neighborhood came in. The shooter was identified as a 40 year old man.
AP reported that a second person was taken into custody as well, noting that the second person may have returned fire on the shooter during the incident. "Dozens" of shell casings littered the streets where the shooting took place. 
Outlaw added: "You can see there are several scenes out here. We're canvassing the area to get as much as we can, to identify witnesses, to identify where cameras are located and to do everything to figure out the why."
"He was using my car as a shield shooting out into the street," resident Tim Eads said, telling AP he heard fireworks and then gunshots. He said his wife "was looking out the bay window and saw the shooter actually coming down this street here behind me."
Another resident noted: "Everybody thought it was fireworks but .. been around here about three years so I heard it enough. I looked out the window and seen a bunch of people running."
"You have angry people sometimes who just don't know how to express themselves and unfortunately they go grab a gun and do the worst," he concluded. 
Loading...