---
Forget California. Texas Is "King Of Clean Energy"
California likes to pretend it leads the nation in decarbonizing its power grid but has been out 'greened' by an unlikely state: Texas. 
Texas is the reddest state in the country (for now). It leads California and all other states in terms of total electricity generation from renewable sources. 
The latest U.S. Energy Information Administration data shows Texas versus California's power generation mix. And the clear winner in decarbonizing the grid so far is...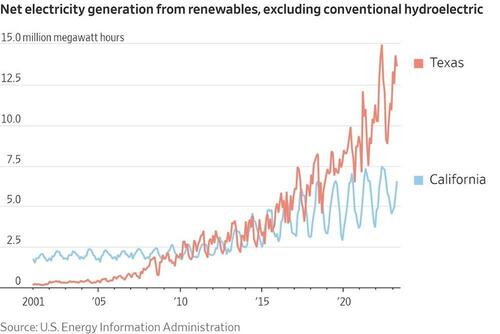 Since 2018, Texas has surpassed California and the national average in integrating renewable energy sources like solar and wind, thus becoming a frontrunner in the efforts to decarbonize the grid. This contradicts the popular narrative that California, with its progressive leadership, is the champion in this field.
Bloomberg explained why Texas is now the "king of clean energy": 
In Texas, solar permitting is uncomplicated. Connecting projects to the electric grid is straightforward. Then there's cheap labor, homegrown energy expertise, plenty of sunshine and an anything-goes ethos. "There's no 'Mother, may I?' here," says Doug Lewin, who worked in the Texas Legislature on energy policy and now advises power companies. "In Texas, it's just easier to get things done."
Texas' leadership in adding renewables to its power generation mix is at odds with its status as the top-producing state of crude oil, natural gas, refined products, and petrochemicals. 
But in terms of decarbonizing power grids, Texas trumps virtue signaling California. After all, America's largest EV carmaker, Tesla, is now based in Austin, Texas. 
Loading...