---
Futures Jump On Debt Deal Agreement Despite Congressional Hurdles, Nvidia Tops $1 Trillion
US stock futures levitated on Tuesday as euphoria over AI fueled a rally in chipmakers and tech stocks, while hopes that Congress will pass a debt accord to head off a default boosted risk sentiment, and sent the dollar and yields lower even as many warned that prospects of the debt ceiling deal - which we explained does not even cut real spending for one year - getting the necessary votes in Congress are "not that great right now." Contracts on the S&P 500 rose 0.6%, hitting a YTD high of 4238, while the Nasdaq was up 1.1%. Treasuries are continuing to rebound, with yields falling the most in the middle of the curve, as traders anticipate a deal over the debt ceiling. A measure of the dollar is weakening slightly, erasing earlier gains. Oil prices are dropping today while gold and bitcoin advance.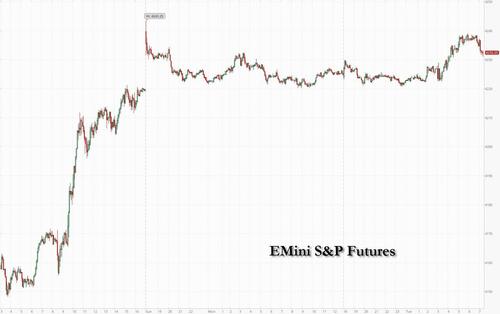 In premarket trading, Nvidia's market value topped $1 trillion as it climbed more than 3% after CEO Jensen Huang unveiled several AI-related products and services. Other AI-related stocks also gained, including Advanced Micro Devices, Intel, Qualcomm and Meta Platforms; C3.ai rose +7%, while SoundHound AI bounce +5.9%.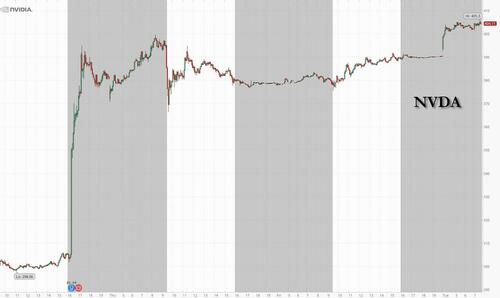 Stocks linked to cryptocurrencies also rallied in premarket trading after Bitcoin climbed amid a boost to investor sentiment from a provisional deal on raising the US debt limit. Bit Digital +12%; Riot Platforms +6%. here are some other notable premarket movers:
Shares connected to the Chinese education sector jump after Chinese President Xi Jinping called on top officials to boost a "high- quality" education system that strengthens China's development. New Oriental Education gains 2.7% in US premarket trading and peer TAL Education +2.6%.
Ford shares rise 2.7% in US premarket trading as it is raised to buy from hold at Jefferies with the broker confident that the US carmaker can address a "deficit of execution" that has weighed on the shares in recent years.
Meanwhile, Treasury yields dropped across the curve as White House and Republican congressional leaders stepped up lobbying in support of a debt-ceiling deal. Yields on short-dated bills - the most at risk of a default extended declines from recent highs. A gauge of the dollar declined for a third day.
The clock is ticking as backers of the agreement have only a week to get it through Congress before a possible June 5 default - the so-called X Day. President Joe Biden has been personally calling lawmakers to support the bill, with a vote by the House likely Wednesday, before it goes to the Senate.
"Maybe the rally has a bit further to go but it's more buy-on-rumor, sell-on-the-news," said Cesar Perez Ruiz, chief investment officer of Pictet Wealth Management. "As from now, we will go back to looking at economy, inflation, plus the drain of liquidity as the Treasury General Account will need to be refilled."
European stocks fluctuated, with the Stoxx 600 gaining 0.1%; technology, utilities and real estate are  the best performing sectors. Nestle SA and Unilever Plc fell after both announced the appointment of new chief financial officers, underscoring a changing of the guard at consumer-goods companies as inflation pressures the industry. Euro-area government bonds got a boost from data showing inflation in Spain slowed more than expected in May.
Meanwhile, investors remain deeply pessimistic about China against a backdrop of disappointing economic data. The Hang Seng China Enterprises Index neared a bear market and the offshore yuan weakened past 7.1 per dollar for the first time since November. Oil declined amid concern about faltering demand. Other Asian markets were mixed and choppy:
ASX 200 was lacklustre amid losses in real estate and financials, while weak Building Approvals added to the glum mood.
Nikkei 225 was choppy but remained above the 31,000 level after BoJ Governor Ueda reiterated a dovish message.
India stocks gained for a fourth straight day, inching closer to their record high levels amid continued purchases from foreign investors.  The S&P BSE Sensex rose 0.2% to 62,969.13 in Mumbai, while the NSE Nifty 50 Index advanced 0.2% to 18,633.85. The MSCI Asia Pacific index closed 0.2% higher after initially falling as much as 0.4%. Gains in shares of lenders and some technology firms also boosted the benchmark.
In FX, the Bloomberg Dollar Spot Index is down 0.1%. The Japanese yen has been choppy as investors react to headlines related to a meeting of finance officials while the pound has emerged as the best performer among the G-10's. The Turkish lira and South African Rand led declines in emerging market currencies on Tuesday while Nigeria's dollar bonds rallied after President Bola Tinubu's new road map on economic reforms.
Lira dropped as much as 1.5% to 20.4254, extending its decline to a sixth day. Investors are awaiting President Recep Tayyip Erdogan's announcement of a new cabinet, which is expected at the end of the week. Ahead of that, Erdogan met Mehmet Simsek, a market-friendly former finance minister, in the capital Ankara on Monday. With wagers for a return toward more orthodox policy on the rise, Turkey's banking stocks rose as much as 9.6%.
The rand weakened as much as 1% to an all-time low of 19.8672. The currency is the worst performer Tuesday among its EM peers after the lira. Local bonds are also under pressure on Tuesday as markets digest news that attendees at the BRICs summit will have immunity from arrest; That may fan tension over South Africa's stance toward Russia
In rates, cash treasuries rose on return from a long holiday weekend, with cash yields richer by 5bp to 7bp across the curve vs Friday's close; US 10-year yields around 3.70%, richer by ~10bp vs Friday's close amid hopes that debt ceiling turmoil has been resolved; belly of the curve outperforms slightly, dropping 2s5s30s fly by 3bp on the day; Germany and UK 10-year sectors lag by 3bp and 7.5bp vs Treasuries; bund futures rally after data showed Spanish inflation slowed more than expected in May. German 10-year yields are down 4bps while US 10-year borrowing costs drop 7bps.
In commodities, crude futures decline with WTI falling 1.8% to trade near $71.30. Spot gold is up 0.2% around $1,947. Bitcoin rises 0.6%.
Bitcoin is supported but remains capped by the USD 28k mark and has been in comparably narrow ranges vs broader market action.
Looking at today's econ calendar, we get the May Conference Board consumer confidence, Dallas Fed manufacturing activity, March Case Shiller/FHFA house price index, Q1 house price purchase index, Japan April job-to-applicant ratio, jobless rate, Italy April PPI, March industrial sales, Eurozone May services, industrial and economic confidence, April M3, Canada Q1 current account balance.
Market Snapshot
S&P 500 futures up 0.5% to 4,233.75
MXAP up 0.1% to 160.59
MXAPJ up 0.2% to 508.92
Nikkei up 0.3% to 31,328.16
Topix little changed at 2,159.22
Hang Seng Index up 0.2% to 18,595.78
Shanghai Composite little changed at 3,224.21
Sensex little changed at 62,902.12
Australia S&P/ASX 200 down 0.1% to 7,209.28
Kospi up 1.0% to 2,585.52
STOXX Europe 600 little changed at 460.74
German 10Y yield little changed at 2.40%
Euro little changed at $1.0698
Brent Futures down 1.5% to $75.95/bbl
Gold spot up 0.1% to $1,944.84
U.S. Dollar Index up 0.12% to 104.33
Top Overnight News
The White House and Republican congressional leaders geared up lobbying campaigns to win approval of a deal to avert a US default as environmentalists, defense hawks and conservative hard-liners condemned concessions.
A key gauge of Chinese stocks was on track to enter a bear market as a sluggish economic recovery, weakening yuan and tensions with the US left traders with little reason to buy
Spanish inflation slowed by more than anticipated, supporting the European Central Bank officials who say the continent's historic price spike is fading and interest- rate increases can soon end
A more detailed look at global markets courtesy of Newsquawk
APAC stocks traded mixed with price action mostly rangebound following the holiday closures in the US and the UK where cash markets have yet to react to the tentative debt ceiling agreement. ASX 200 was lacklustre amid losses in real estate and financials, while weak Building Approvals added to the glum mood. Nikkei 225 was choppy but remained above the 31,000 level after BoJ Governor Ueda reiterated a dovish message. Hang Seng and Shanghai Comp. were pressured as the Hang Seng China Enterprises Index entered bear market territory which added to the jitters from the already cautious mood heading into tomorrow's PMI data.
Top Asian News
China rejected the US request for a meeting between US Defence Secretary Austin and his Chinese counterpart, while the Pentagon said in a statement that China's decision is concerning.
US Deputy Trade Representative Bianchi said the US review of Section 301 tariffs on Chinese goods is being conducted from an analytical perspective and the outcome will not be linked to any breakthrough in US-China trade relations, while she added that the USTR is consulting with other US agencies on which tariffs make strategic sense and it is important for US and Chinese officials to continue talking on trade after the recent meetings.
China's Commerce Minister said during talks with Japan's Economy and Trade Minister that Japan should correct its wrongdoing of imposing chip export controls and China is willing to work with Japan to promote cooperation in key economic and trade areas.
BoJ Governor Ueda said they haven't achieved sustainable 2% inflation and it is important to nurture green shoots in wage growth. Ueda reiterated that inflation is to slow greatly around the middle of FY23 and is likely to bounce back thereafter on wage growth and other factors but there is uncertainty on that outlook, while he added they will patiently maintain easy policy as there is still some distance to sustainably hit the 2% target and the BoJ will continue with its bond-buying operation.
European bourses are mixed after a choppy morning, Euro Stoxx 50 +0.3%, with fresh fundamentals somewhat lacking but the region playing catchup and heading into month-end. Spain outperforms after the regions encouraging inflation metrics though political turmoil may return as PM Sanchez announces snap elections, IBEX 35 +0.6%. Stateside, futures are constructive but saw marked two-way action initially; this has since settled with NQ outperforming as NVDA +3.3% pre-market continues to gain following numerous AI-related updates and as it is on course for a USD 1tln cap. ES +0.5% and RTY +0.3% in-fitting with the above catchup play into month end and as the market takes stock of the debt ceiling deal; though, on this, there are still a number of deadlines in the near-term; newsquawk analysis above.
Top European News
UK Health Secretary Barclay said the government will not negotiate on the amount of pay with the nurses' union RCN as the threat of more strikes looms, according to Reuters.
Spanish PM Sanchez called a snap general election for July 23rd after his Socialist party suffered a resounding defeat in local and regional elections on Sunday, according to FT.
ECB's Simkus expects 25bps rate hikes in June and July.
Japan top currency diplomat Kanda says it is important for currencies to move stably reflecting economic fundamentals; closely watching forex moves and will respond appropriately if necessary; not focusing on forex levels. Meeting between BoJ, MOF, and FSA was held partly due to various risks including the US debt ceiling. "No such intention" when asked whether today's meeting was meant to serve as verbal intervention against Yen weakening; is closely communicating with BoJ.
Fx
DXY tops 104.500 as US debt deal struck in principle and Yuan extends bear run, but recedes as risk appetite improves, yields retreat and Yen defends 141.00 again.
USD/JPY reverses towards 140.00 after unintentional verbal intervention from Japan's top currency diplomat.
Euro regains 1.0700+ status after decline on soft Spanish inflation data and EZ M3 metrics while the Pound reclaims 1.2400 handle after Spring Break in the UK.
Aussie and Kiwi recover from overnight lows after weak building consents and approvals to trade around 0.6550 and 0.6050 vs 0.6504 and 0.6026 respectively.
Swedish Crown and Swiss Franc mixed irrespective of upbeat GDP updates as EUR/SEK straddles 11.6000 and USD/CHF pivots 0.9050.
PBoC set USD/CNY mid-point at 7.0818 vs exp. 7.0821 (prev. 7.0575)
Turkish President Erdogan won the election runoff on Sunday with 52.1% of votes vs Kilicdaroglu at 47.9% of votes. Erdogan said they were given the responsibility to rule for the next 5 years, while Kilicdaroglu said he will continue with his struggle and that it was the most unfair election in years.
Riksbank's Jansson said the SEK could be a serious problem and should not continue to weaken on a trend basis, while he added they are a long way from a currency intervention which in his view would be a last resort. Jansson stated that he doesn't like currency intervention as a plan in the current monetary policy regime and it would have to be an exceptional situation, as well as noted there is a question on how effective a currency intervention would be. Furthermore, he said their main tools are the interest rate and the asset portfolio, while he is ready to raise rates as much as needed to deal with inflation, according to Reuters.
Commodities
Crude benchmarks continue to come under pressure with specifics limited as focus turns to the OPEC+ meeting on June 4th; today, Novak is reportedly meeting with oil Cos.
WTI and Brent July futures are near USD 71/bbl and USD 75/bbl respectively, vs USD 73.55/bbl and USD 77.57/bbl peak.
Spot gold gave up the 100 DMA at USD 1936/oz briefly to a trough circa. 4/oz below this; currently, the metal has lifted back towards USD 1950/oz seemingly amid the latest USD action.
Base metals are mixed with Copper initially subdued while Platinum and Palladium are edging higher.
OPEC Secretary General Al Ghais said OPEC will welcome back Iran's full return to the market when sanctions are lifted and commented that all OPEC decisions are made in order to have a good balance between global oil demand and supply, according to Shana.
Iranian President Raisi told OPEC Secretary General that he hopes oil producers can calm down the market and called for unity among its members, according to Reuters.
Ukraine is said to be seeking to extend the Black Sea grain deal by one year from July, according to reports.
Geopolitics
Russia launched a massive drone attack on Kyiv over the weekend which was the largest kamikaze drone attack since the start of the invasion, while Ukraine's air defence systems shot down 58 drones, according to FT. There were also reports of explosions on Monday and Kyiv's military administration said more than 40 air targets moving towards Kyiv were destroyed including drones and missiles, while Russia launched another offensive against Kyiv on Tuesday.
Two residential buildings were hit by drones in Moscow with one person injured, according to RIA. It was also reported that Moscow's Mayor stated that the drone attack caused minor damage to several buildings and no serious injuries, according to Reuters. Furthermore, several drones were shot down on approach to Moscow, according to Russian agencies citing the regional Governor.
Russia's Belgorod regional Governor said several settlements were shelled by Ukrainian forces and two industrial facilities were attacked in the town of Shebekino which wounded four employees, according to Reuters.
More than 10 drones were shot down in Moscow region, according RBC citing sources; subsequently, Russia's defence ministry says Kyiv attacked Moscow with drones, according to RIA.
Russia's interior ministry put US Senator Graham on its wanted list after his comments last week in which he stated that "Russians are dying" and later said that US military aid to Ukraine is "the best money we ever spent", according to The Hill.
Ukrainian presidential aide said a post-war settlement must involve a demilitarised zone of 100km-120km in Russian regions bordering Ukraine and should probably initially have an international control contingent, according to Reuters.
China's Special Envoy for Eurasian Affairs Li Hui said China has always adhered to an objective and fair position, as well as actively persuaded peace and promoted talks regarding the Ukraine crisis. Li added that China will strengthen exchanges and dialogue with all parties including Russia and will make concrete efforts for a political solution, according to the Chinese Foreign Ministry cited by Reuters.
Russian Foreign Minister Lavrov said less than 3% of grain exported within the Black Sea grain initiative reached the poorest countries and part of the deal applying to Russia was not being fulfilled at all, while he added if nothing will change, the deal will no longer be operational, according to Reuters.
North Korea notified Japan of a plan to launch a satellite between May 31st and June 11th, according to a government official. Japan's Defence Minister ordered preparations for the destruction of any North Korean missile confirmed to land in Japanese territory, while PM Kishida said any missile launch by North Korea, even if called a satellite, is a serious violation of UN Security Council resolution.
US said any North Korean launch using ballistic missile technology would violate UN resolutions and the US urged North Korea to refrain from further 'unlawful activity', according to Reuters.
Iran said that 14 members of a "terrorist team" linked to Israel were arrested in north-western Iran, according to Tasnim.
Iran and IAEA resolve two disputes over the nuclear program, according to MEHR citing sources.
US Event Calendar
09:00: March Case-Shiller Composite-20 YoY, est. -1.70%, prior 0.36%
09:00: March Case Shiller Composite-20 City MoM SA, est. 0%, prior 0.06%
09:00: 1Q House Price Purchase Index QoQ, prior 0.3%
09:00: March FHFA House Price Index MoM, est. 0.2%, prior 0.5%
10:00: May Conf. Board Consumer Confidence, est. 99.0, prior 101.3

May Conf. Board Expectations, prior 68.1
May Conf. Board Present Situation, prior 151.1

10:30: May Dallas Fed Manf. Activity, est. -18.0, prior -23.4
Central Bank Spakers
•    13:00: Fed's Barkin Speaks on Monetary Policy, Outlook
DB's Jim Reid concludes the overnight wrap
As both the UK and US were on holiday yesterday we'll do a quick guide to the week ahead this morning and also recap last week at the end as well as review a quiet start to the week and a debt ceiling deal that's starting to take shape. After watching the last ever episode of Succession last night, the shenanigans in Congress feel positively tame in comparison. I will miss my weekly glance into a family more dysfunctional than mine.
The latest on the debt ceiling is that a deal was hammered out between Biden and Republican House Speaker McCarthy over the weekend. It now has to clear both houses with the deadline tight ahead of June 5th, the very latest date that Treasury Secretary Janet Yellen has indicated the US can pay its bills. It seems the House will vote tomorrow with the Senate a bit later in the week. There's not much room for error but with moderates on both sides seemingly in line, then there can be a vocal minority on both sides against the deal and it still passes. We will see how lawmakers react as they come back from the holiday weekend. For now US stock futures are broadly positive with those tied to the S&P 500 (+0.20%) and NASDAQ 100 (+0.38%) grinding higher from Friday's close. Equities haven't really priced in much risk of failure over the last few weeks so the muted reaction to the positive news probably makes sense. The main reaction will be in the bills markets as liquidity builds as London opens. In Asia, yields on 10yr USTs (-4.1bps) have moved lower, trading at 3.758% as we go to press.
Asian equity markets are mostly lower this morning though with the Hang Seng (-0.77%) leading losses, reversing its opening gains while the Shanghai Composite (-0.71%), the CSI (-0.65%) and the Nikkei (-0.37%) are also weak. Elsewhere, the KOSPI (+0.75%) is bucking the regional trend after returning from a public holiday. In early morning data, Japan's unemployment rate dropped for the first time in 3 months, easing slightly to 2.6% in April (v/s 2.7% expected) from March's 2.8%.
In terms of the week ahead, all roads point to payrolls on Friday but with a few stop-offs and detours along the way. In particular we have the global PMIs/ISM on the first of the month (Thursday but with China tomorrow), European inflation (Germany, France and Italy on Thursday, Eurozone on Friday), and JOLTS data (Wednesday). The rest of the day-by-day calendar is at the end as usual. For the record our economists are expecting +200k on payrolls against a consensus of +190k and last month's +253k.
In thin markets yesterday, European equities traded relatively flat as the STOXX 600 edged -0.12% lower. The information technology sector relatively underperformed, falling by -0.57%. The semiconductor industry drove the losses (-0.70%) as the artificial intelligence excitement of last week eased a touch. Consumer discretionary and financials also underperformed, slipping -0.39% and -0.28% respectively.
News from the continent largely centred around the dissolution of parliament and surprise snap election called for by Spanish Prime Minister Pedro Sanchez after a series of losses for his party in local and regional elections on Sunday. The Spanish IBEX 35 fell notably in intraday trading before recovering to trade moderately down at -0.12%.
As more positive news on the debt ceiling came through, the ECB rate priced in by European overnight index swaps for December fell -2.1bps, and for the first time in five trading days, bringing the ECB's implied rate for year-end to 3.762%. The rate priced in for October also fell back -3bps. European bonds rallied across the board. German 10yr bund yields fell -10.4bps to 2.43%, breaking a five-day streak of increases in their largest daily down move since the end of April. German 2yr yields slipped -6.2bps to 2.88% on Monday, likewise breaking five consecutive days of increases.
The European yield move reversed some of last week's price action. Although it seems a while ago now, there were some big moves last week that are now worth highlighting.
The week culminated in the US core PCE on Friday coming in above expectations, rising +0.4% month-on-month (vs +0.3% expected). In year-on-year terms this equated to an increase of 4.7% (vs 4.6% expected). Digging further into the details of the data release, consumption also beat estimates, at +0.8% (+0.5% expected) as did core durable goods shipments by +0.5% (vs +0.1% expected). Adding to this, core good orders significantly outperformed expectations, rising +1.4% (vs an expected -0.1%).
With inflation rising faster than expected and firmer data, markets increased bets that the Fed may hike further. The expected rate for the June meeting gained +11.5bps to 5.238% last week (and +2.3bp on Friday), pricing in a 61% chance for a 25bps hike. This being the highest expected rate since early March before the regional banking crisis. In fact, fed futures priced in a 95% chance of a hike by the July meeting. The rate for the December meeting rose a more dramatic +36.4bps in weekly terms (+4.0bps on Friday) to around 5%, its highest since the start of March.
Off the back of this, there was a weekly sell-off in sovereign bonds. US 10yr Treasury yields gained +12.6bps to 3.798% week-on-week (and -1.9bps on Friday), near their highest level since the first week of March. The interest-rate sensitive 2yr yield rose +2.9bps on Friday, and +29.6bps in weekly terms, its largest weekly increase since this time last year. 10yr bund yields mirrored US fixed income, gaining +11.0bps week-on-week (+1.6bps on Friday).
In equity markets, improving risk sentiment and hype around artificial intelligence saw major indices close up on the week, with the S&P 500 gaining +1.30% on Friday, and +0.32% week-on-week. The tech heavy NASDAQ strongly outperformed, rising +2.19% on Friday, with a tidy increase of +2.51% in weekly terms. The strong move on Friday followed an announcement from semiconductor firm Marvell Technology that they anticipated 2024 revenue to "at least double". Shares for the firm gained +32.42% on Friday. This further added to the momentum of the artificial intelligence hype kickstarted by Nvidia's strong earnings report on Wednesday, as Advanced Micro Devices and Nvidia, leaders in the discrete GPU chips market that are critical for large language models like ChatGPT, gained +5.55% and +2.54% on Friday and +20.04% and +24.57% week-on-week respectively.
The excitement translated to European equity markets, as ASML Holdings NV, a producer of advanced semiconductor manufacturing equipment, rose +6.01% week-on-week (and +4.52% on Friday). Overall, the STOXX 600 gained +1.15% on Friday but closed down -1.59% in weekly terms as negative risk sentiment weighed on markets earlier in the week.
Finally turning to commodity markets. With the positive news coming from the US, oil secured its second consecutive week of gains. Brent crude gained +1.81% to $76.95/bbl week-on-week (and +0.90% on Friday), and WTI crude climbed +1.57 % to $72.67/bbl (and +1.57% on Friday).
Loading...