---
"Going To Be Bumpy": World's Largest Container Shipper Warns Of Downturn
The world has a handful of shipping companies, and one of the ones we follow is A.P. Moller-Maersk A/S, which warned of a "radically changed business environment" as profits declined in the first quarter due to slumping transport volumes and sliding freight rates, Financial Times reported. 
Maersk, which transports close to one-fifth of the world's containers, beat analyst expectations in the first quarter but outlined earnings for the remainder of the year would be weaker. It said the first three months of 2023 "will be the best quarter of the financial year." 
"Guidance for 2023 continues to be based on the expectation of a muted 2023 global GDP growth and that volume declines will stabilise by the end of H1, leading to a more balanced demand environment. In this normalization path, Q1 is expected to be the best quarter of the financial year." 
Chief executive Vincent Clerc told the FT about a large influx of new vessels about to hit the world's top shipping lanes ordered during the last several years. He expects those ships to be delivered in 2024. 
"It's clearly going to be bumpy because there are quite a few coming this year and quite a few coming next year, too. The volumes are coming back after, but it's not like the macroeconomic backdrop points to a lot of growth to take care of this," he added.
During the first quarter, Maersk reported a 56% plunge in EBITDA, amounting to $3.97 billion, compared to analysts' median estimate of $3.55 billion. The quarter saw a 9.4% reduction in volumes and a 37% drop in freight rates, which now hover near the break-even point.
In a separate interview, Clerc told Bloomberg there's still a lot of uncertainty ahead as global business activity slows and companies race to reduce inventories at warehouses due to overstocking during the pandemic years. In return, demand for container ships has sunk on major shipping lanes from Asia to Europe and the US. The downturn in shipping began in late 2021 when container rates topped out.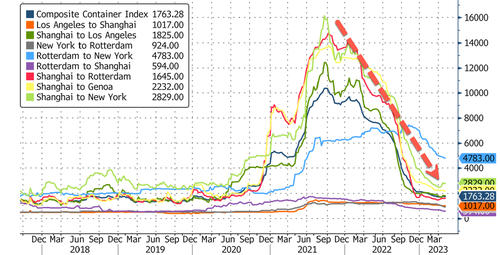 Simultaneously, the IMF trimmed its global-growth projections in its latest World Economic Outlook report, warning about the increasing risks of a 'hard landing.' 
And the days of overconsumption of goods, brought on primarily by fiscal stimulus, are over, and one of the main reasons global shipping lanes are slowing. When Maersk speaks, it's worth a listen as economic storm clouds are gathering. 
Loading...