---
Hollywood Screenwriters Approve Deal, End Months-Long Strike With Studios 
The leadership of Hollywood's writers union approved a new labor agreement with studios on Tuesday night, declaring the end of a nearly five-month-long strike. Writers are set to resume work early Wednesday.  
Both eastern and western branches of the Writers Guild of America (WGA) voted to accept the new three-year minimum basic agreement (MBA) with the Alliance of Motion Picture and Television Producers on Tuesday. 
WGA said the MBA will now go to both guilds' memberships for a ratification vote early next month:
"Eligible voters will be able to vote from October 2nd through October 9th, and will receive ballot and ratification materials when the vote opens." 
The 11,500-member writers union lifted the restraining order and ended the strike at 12:01 a.m. PT/3:01 a.m. ET Wednesday. This allows writers to return to work before the vote to ratify the new contract.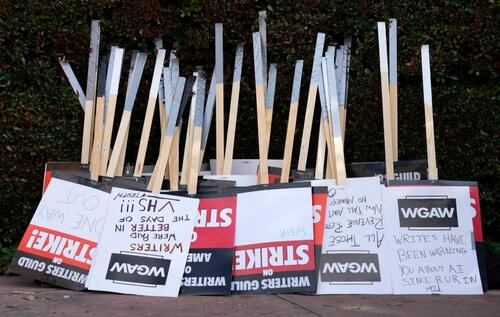 Bloomberg highlighted writers will receive a minimum 5% wage boost in the first year of the contract and performance bonuses. Also, studios pledged not to replace writers with artificial intelligence. 
The writers got a boost in their minimum wages of 5% in the first year. For the first time the studios will share viewer data for programs on streaming services with the union on a confidential basis. Writers of shows that reach at least 20% of domestic viewers in their first 90 days on a streaming service will get bonus payments, another first.

A minimum of at least three writers working for ten weeks will be employed on shows, something the union had been pushing for. In another major deal point, the studios have assured writers that screenplays will be credited to a human being, and the writers won't be replaced by artificial intelligence.
Last week, CNBC's David Faber wrote on X that WGA and studios were inching closer to a deal. By Sunday, the WGA said a tentative agreement had been reached. 
Although screenwriters are heading back to work, Screen Actors Guild-American Federation of Radio and Television Artists members continue to strike with no imminent talks with studios. 
Loading...