---
Homebuilders Finally Face Reality, Confidence Plunges In September
"It is difficult to get a man to understand something, when his salary depends on his not understanding it."
The quote - attributed to Upton Sinclair - sums up the blind optimism that has dominated homebuilder confidence data for the last six months. But in August, reality started to sink in and this morning's data for September shows another big disappointment as the headline NAHB confidence index printed at 5-month lows (down 11 points in 2 months)...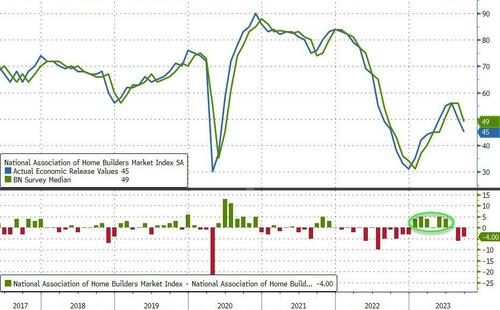 Source: Bloomberg
NAHB Chairman Alicia Huey said "the two-month decline in builder sentiment coincides with when mortgage rates jumped above 7% and significantly eroded buyer purchasing power."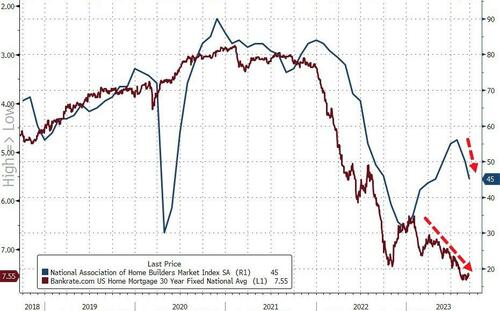 Source: Bloomberg
And added that "on the supply-side front, builders continue to grapple with shortages of construction workers, buildable lots and distribution transformers, which is further adding to housing affordability woes. Insurance cost and availability is also a growing concern for the housing sector."
All three major HMI indices posted declines in September.
The HMI index gauging current sales conditions fell six points to 51, the component charting sales expectations in the next six months also declined six points to 49 and the gauge measuring traffic of prospective buyers dropped five points to 30.
Source: Bloomberg
"High mortgage rates are clearly taking a toll on builder confidence and consumer demand, as a growing number of buyers are electing to defer a home purchase until long-term rates move lower," said NAHB Chief Economist Robert Dietz.
He then appeared to ask for a bailout, or for The Fed to cut rates stat...
"Putting into place policies that will allow builders to increase the housing supply is the best remedy to ease the nation's housing affordability crisis and curb shelter inflation. Shelter inflation posted a 7.3% year-over-year gain in August, compared to an overall 3.7% consumer inflation reading."
Worse still, if history is any guide, this decline in confidence will lead to less home-building... and thus no improvement in supply...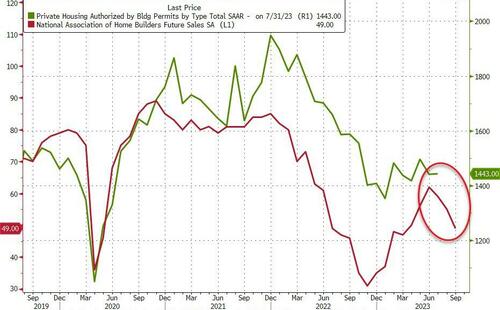 Source: Bloomberg
And as confidence ebbs, so the stock price of homebuilders may fade as in September, 32% of builders reported cutting home prices, compared to 25% in August. Additionally, 59% of builders provided sales incentives of all forms in September, more than any month since April 2023.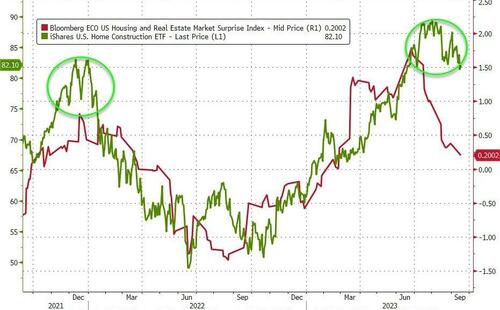 Source: Bloomberg
And if homebuyer confidence is anything to go by, homebuilder confidence has a long way to go to catch down to the harsh reality of 7% mortgages (when median mortgage holders' rates are around 3-4%)...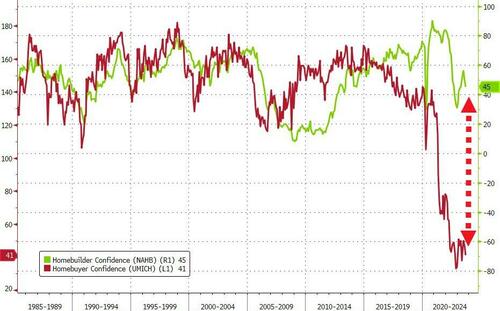 Source: Bloomberg
If manipulating affordability lower was The Fed's goal, they failed. And the sudden realization by homebuilders that this is more than transitory - and their margins can't keep soaking up incentives forever - then the real pain is yet to come.
Loading...