---
Japanese Yen JOLTed Higher - Is The MoF In The Market?
This morning's hotter-than-expected JOLTS print initially sparked a hawkish response across markets, pressing the USD higher against its fiat peers.
The JPY slipped back above 150/USD on the move - the weakest since October last year, and is trading in an area where authorities stepped in with purchases to support the yen last year for the first time since 1998.
As a reminder, the first intervention by Japan last year came when the yen weakened to 145.90 in September. The country spent around $65 billion in total to support the yen in three occasions in September to October.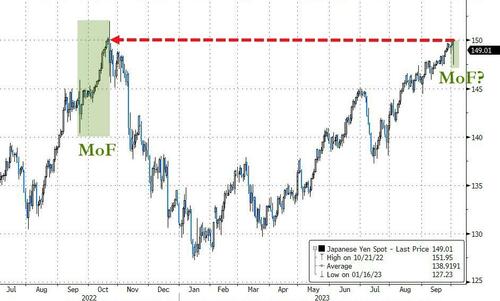 But then, out of nowhere, someone bought JPY with both hands and feet and smashed USDJPY 3 handles stronger...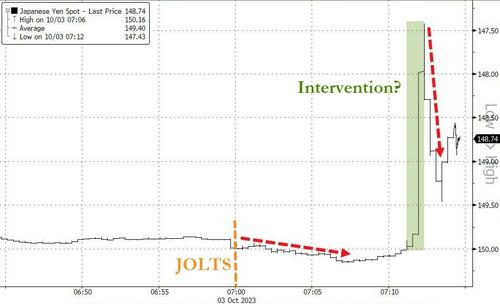 Did we just see the Ministry of Finance intervene?
As Bloomberg reports, Masato Kanda, the top currency official at the Ministry of Finance, has said he's keeping in close contact with his US counterparts, with both sides in agreement that excessive currency moves are unwelcome.
Finance Minister Shunichi Suzuki warned about the currency fluctuations for six days in a row through Tuesday. He said on Tuesday he won't judge the possibility of FX intervention on currency levels but through volatility.
Is the old Gold-Yen trade back?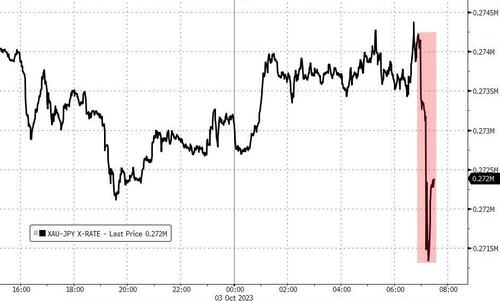 ... something it did for much of the previous decade.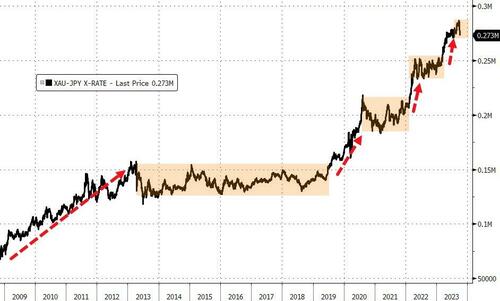 We suspect this 'volatility' is Suzuki's signature now.
Loading...