---
Job Openings Tumble By 500K Even as Number Of Quits Unexpectedly Soars
For those fascinated by the narrative that AI will cause a margin-busting corporate revolution as millions of mid-level employees are replaced by a cheap "bullshitting" AI algo, then today's latest JOLTS report will come as a far smaller shock than the bizarre surge in job openings from one month ago. That's because after unexpectedly surging by 575K in April following three months of sharp declines, the BLS reported that in May the number of job openings resumed its decline, sliding by 496K, to 9.824MM from an upward revised 10.320 million.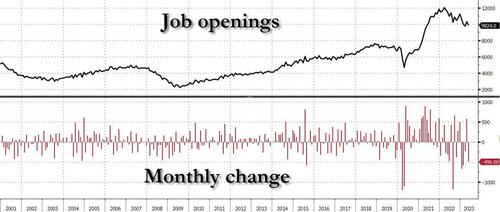 The number was also about 1.6 million below the 11.4 million from a year ago and below the consensus estimate of 9.9 million, a rare miss in a series which has been best known for decisively beating Wall Street's expectations.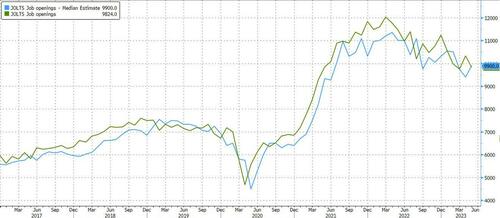 According to the BLS, the largest decreases in job openings were in health care and social assistance (-285,000), finance and insurance (-139,000), and other services (-78,000). Job openings increased in educational services (+45,000), state and local government education (+37,000), and federal government (+24,000).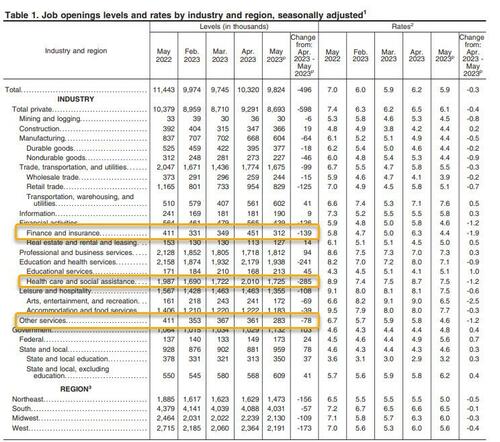 The downward re-reversal in the job openings trend, meant that after rising to the highest since January 2023, in May the number of job openings was just 3.727 million more than the number of unemployed workers, the lowest since Sept 2021.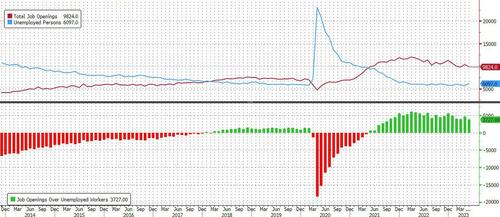 Said otherwise, after rising to 1.82 openings for every worker in April, in May the number tumbled to just 1.611, the lowest level since Oct 2021.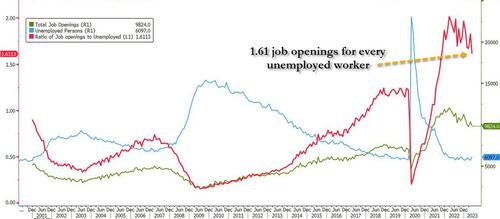 Yet even as the number of job openings finally resumed its downward slide, conflicting data remained and in May, the number of people quitting their jobs - an indicator traditionally associated with labor market strength as it shows workers are confident they can find a better wage elsewhere, unexpectedly surged soared above 4 million, a +250,000 increase in the month, the biggest monthly increase since Nov 2021. According to the BLS, the number of quits increased in health care and social assistance (+69,000) and in construction (+57,000).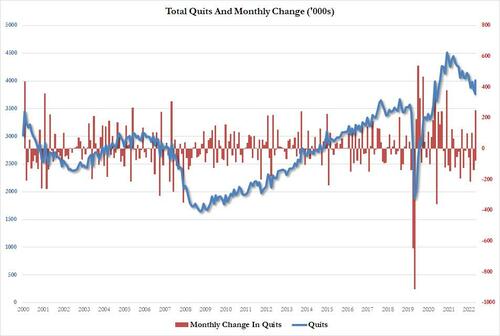 And just in case the confusion wasn't big enough, the number of hires also jumped in May, rising by 107K to 6.208MM.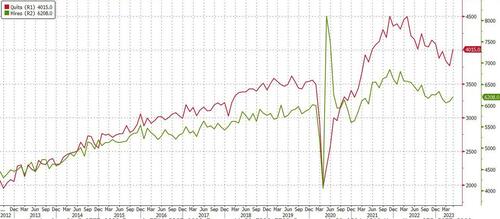 Of course, as we have explained on many occasions before, none of the above data are credible for reasons we have discussed before but the simplest one is because the response rate of the JOLTS survey is stuck at a record low 31%. Which means that only those who actually have job openings to report do so, while two-thirds of employers are either non-responsive or their mail is quietly lost in the mail. while the only ones who do respond are those who tell the BLS what they know it wants to hear.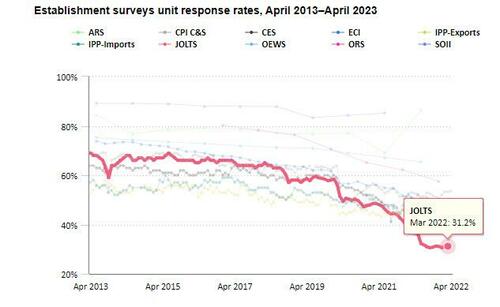 Loading...