---
Key Events This Holiday-Shortened Week: Nvidia Earnings, Durables, Claims
The holiday-shortened week will mean a quiet second half of the week for markets but there is still a reasonable number of planned events throughout the week. As DB's Jim Reid previews the week's main events, Nvidia's earnings tomorrow will be fascinating, as will the saga at OpenAI where CEO, and Artificial Intelligence pioneer, Sam Altman was ousted on Friday night by the board and was hired overnight by Microsoft. The OpenAI board also hired a new CEO. So a big week for AI. As Reid reminds us, "Nvidia's Q1 earnings in May was probably the event that catapulted AI into the stratosphere in terms of being an important macro topic so the pace of their success will be a key driver in how rapidly AI infiltrates our daily lives."
In the US this week, jobless claims has been brought forward to Wednesday due to the holiday, and this week's data corresponds to the survey week for payrolls so given this and the fact that it has been edging up (albeit slowly) in recent weeks makes it one of the key data points at the moment. If the DB economists' forecast of +236k is correct, then the 4-week moving average will be ~10% above where it was for the October survey week. So while predicting payrolls is more difficult than guessing what the weather will be this time next week here in the UK, this will be an input into models.
Elsewhere in the US durable goods are also due on Wednesday with DB expecting core orders to fall slightly in the first month of Q4 after two strong months at the end of Q3. On the same day the final University of Michigan consumer sentiment survey will bring any revisions to what were high inflation expectations in the first read. 5-10yr expectations were at 12-year highs of 3.2%. There's usually a bit of a bias to downward revisions in the second read.
Before that, today sees the latest US leading indicator index which has been negative every month since January 2022. Tomorrow sees existing home sales alongside the last FOMC minutes. We will see if it was as dovish as the market interpreted at the time. Powell's subsequent speech was deemed to be a bit less dovish so maybe he was trying to slightly alter the market's interpretation of the meeting. With financial conditions being important to the Fed at the moment, and with them swinging about of late, the bias for the committee can change over time so the minutes will already be a bit out of date as financial conditions have loosened notably since partly due to the Fed's concerns about them. So all a bit circular. Staying on the theme the ECB account of their last meeting will be out on Thursday .
Widening out from the US, the global flash PMIs will be out on Thursday (Europe) and Friday (US and Japan). Germany has its PPI today and a breakdown of Q3 GDP and the latest Ifo survey on Friday. The Dutch have a General Election on Wednesday the same day as the UK autumn statement where there is some talk of a few selected tax cuts around 14 months on from the infamous mega-tax cutting budget of the Liz Truss regime. In Asia Japanese inflation on Thursday will be the key release. See the day-by-day calendar at the end for a full preview of the week.
On the earnings side, only one company matters when it reports after the close tomorrow: Nvidia.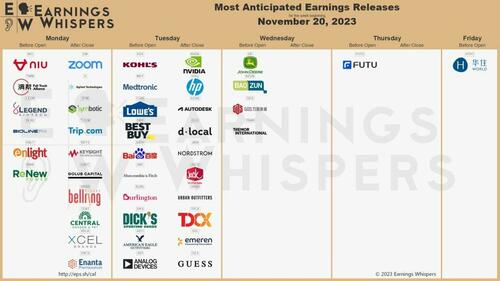 Courtesy of DB, here is a day-by-day calendar of events
Monday November 20
Data: US October leading index, Germany October PPI, Eurozone September construction output
Central banks: ECB's Vujcic, de Cos and Villeroy speak, BoE's Bailey speaks, China 1-y and 5-y loan prime rates
Earnings: Agilent Technologies, Zoom
Auctions: US Treasury 20y bond
Tuesday November 21
Data: US October existing home sales, Chicago Fed national activity index, November Philadelphia Fed non-manufacturing activity, UK October public finances, France October retail sales, EU27 October new car registrations, Canada October CPI
Central banks: FOMC meeting minutes, ECB's Lagarde, Schnabel and Centeno speak, BoE's Bailey testifies to UK Parliament
Earnings: Nvidia, Analog Devices, Baidu, Lowe's, Medtronic
Auctions: US Treasury 2y FRN, 10y TIPs
Wednesday November 22
Data: US October durable goods orders, initial jobless claims, Eurozone November consumer confidence
Earnings: Deere
Politics: General election in the Netherlands, and UK Chancellor Hunt delivers Autumn Statement
Thursday November 23
Data: UK, Germany, France, Eurozone November PMIs, Japan October national CPI, France November manufacturing confidence
Central banks: ECB's Account of October Policy Meeting
Earnings: Adevinta
Other: US Thanksgiving holiday
Friday November 24
Data: US and Japan November PMIs, UK November GfK consumer confidence, Germany Q3 GDP details, November Ifo survey, Canada September retail sales
Central banks: ECB's Lagarde, Guindos and de Cos speak
Finally, turning to just the US, the key economic data release this week is the durable goods report on Wednesday. Richmond Fed President Barkin will give an interview on Monday and the minutes from the November FOMC meeting will be released on Tuesday.
Monday, November 20
There are no major economic data releases scheduled.
12:00 PM Richmond Fed President Barkin (FOMC non-voter) speaks: Richmond Fed President Thomas Barkin will be interviewed on Fox Business. On November 14th, President Barkin said that he was "just not convinced that inflation is on some smooth glide path down to 2%," arguing that "the inflation numbers have come down, but much of the drop has been partial reversal of Covid-era price spikes, which were driven by elevated demand and supply shortages." President Barkin noted that services inflation remains "higher than historic levels," and that recent data "shows an economy that seems remarkably resilient."
Tuesday, November 21
10:00 AM Existing home sales, October (GS -2.5%, consensus -1.5%, last -2.0%)
02:00 PM Minutes from the October 31 – November 1 FOMC meeting: At its November meeting, the FOMC left the target range for the fed funds rate unchanged at 5.25-5.50%. We saw the meeting as dovish at the margins, as Chair Powell clarified that above-potential growth on its own would not be enough to warrant another rate hike and downplayed the 1pp jump in one-year Michigan inflation expectations. Since the FOMC's November meeting, job growth slowed by more than expected in the October employment report and inflation was softer than expected in the October CPI report, while retail sales proved stronger than expected despite the resumption of student loan payments and a temporary auto production setback from the UAW strike.
Wednesday, November 22
08:30 AM Initial jobless claims, week ended November 18 (GS 230k, consensus 226k, last 231k); Continuing jobless claims, week ended November 11 (GS 1,890k, consensus 1,875k, last 1,865k): We estimate that initial jobless claims were roughly unchanged at 230k. We estimate that continuing claims increased to 1,890k, reflecting continued upward pressure from seasonal distortions.
08:30 AM Durable goods orders, October preliminary (GS -1.8%, consensus -3.2%, last +4.6%); Durable goods orders ex-transportation, October preliminary (GS +0.2%, consensus +0.1%, last +0.4%); Core capital goods orders, October preliminary (GS +0.4%, consensus +0.2%, last +0.5%); Core capital goods shipments, October preliminary (GS +0.3%, consensus +0.1%, last +0.1%): We estimate that durable goods orders fell 1.8% in the preliminary October report (mom sa), reflecting a pullback in commercial aircraft orders. We forecast firmer details however, including a 0.4% rise in core capital goods orders and a 0.3% rise in core capital goods shipments. Industrial production of business equipment rebounded in the month, and East Asian industrial activity has improved.
10:00 AM University of Michigan consumer sentiment, November final (GS 61.9, consensus 61.0, last 60.4); University of Michigan 5–10-year inflation expectations, November final (GS 3.1%, consensus 3.2%, last 3.2%): We estimate the University of Michigan consumer sentiment index increased to 61.9 in the November final report. We also estimate the report's measure of long-term inflation expectations will be revised down one tenth to 3.1%, reflecting the further decline in gasoline prices and a sequential reduction in public focus on the Israel-Gaza conflict, as indicated by internet search volumes.
Thursday, November 23
Thanksgiving holiday. NYSE closed. SIFMA recommends bond markets also close.
Friday, November 24
NYSE will close early at 1:00 PM. SIFMA recommends an early 2:00 PM close to bond markets.
09:45 AM S&P Global US manufacturing PMI, November preliminary (consensus 49.9, last 50.0); S&P Global US services PMI, November preliminary (consensus 50.2, last 50.6)
Source: DB, Goldman
Loading...