---
Kirby Claims Whopping 100,000+ Russian Casualties In Bakhmut Alone
In a Monday press briefing National Security Council spokesman John Kirby issued a surprisingly high estimate of Russian casualties which he said took place since December fighting in the contested Donetsk city of Bakhmut. 
He said Russian forces have suffered over 100,000 total casualties - including about 20,000 soldiers killed in combat and another 80,000 wounded.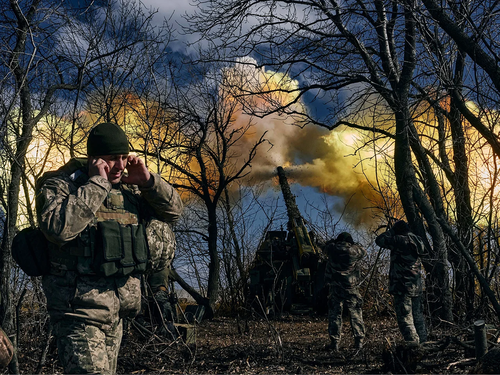 He explained that these figures were based on "information and intelligence that we were able to corroborate over a period of of some time."
While presenting these figures he said that the Russian advance in Donetsk and Luhansk provinces had "failed" - despite most international estimates currently indicating Russia holds 80-90% of Bakhmut at this point. 
"Most of these efforts have stalled and failed," Kirby said. "Russia has been unable to seize any real strategically significant territory. "
"The only area where Russia has made some incremental gains — and I want to focus on the word 'incremental' — is Bakhmut," Kirby acknowledged. "That really holds, as we've said before, very little strategic value for Russia. The capture of Bakhmut would absolutely not alter the course of the war in Russia's favor, and Ukraine's defenses in the areas surrounding Bakhmut still remain strong."
He also said that some half of the 20,000 Russians killed there had been fighting on behalf of Wagner.
"Folks he [Wagner Group founder Yevgeny Prigozhin] went knocking around on the doors in prison cells throughout Russia to throw human flesh at this fight," Kirby said of a months-long recruitment drive by Wagner, controversially focused on Russian prisons.
But when pressed, the NSC spokesman refused to give casualty numbers for the Ukrainian side. "I'm not ever going to put anything out in the public domain that's going to make their job harder," Kirby said. "They are the victims here. Russia is the aggressor."
While very clearly Bakhmut has for months been a tragic "meat-grinder" for both sides, the US could be offering this staggering and large Russian casualty count of 100,000 in order to establish a 'pyrrhic victory' narrative. Kirby admitted the Russians are winning in Bakhmut, but wants to paint a picture of it losing the overall conflict given the massive cost and sacrifice for Bakhmut. 
But to keep this figure in perspective, which to most people is going to seem an extremely high estimate (and thus dubious), the total official American casualties in Vietnam were nearly 60,000 killed in action, and over 150,000 wounded - and that was after a decade of war.
Loading...