---
Lululemon Fires Two Store Employees For Calling Police On Masked Robbers
America's descent toward lawlessness is most visible at retail stores in progressive metro areas. The latest incident occurred at a Lululemon store in Atlanta. Three masked men pillaged the store while two employees wearing overpriced yoga pants were fired by corporate for calling the police to report the robbery. 
Local media outlet WXIA said Jennifer Ferguson, the former assistant manager of the Peachtree Corners Lululemon, and Rachel Rogers, a former employee at the store, encountered the men in "masks and hoodies" who "swiped" as much merchandise as they could before sprinting out the door.
"No, no, no, you can march back out," Ferguson said in a video that caught the entire robbery. One of the robbers told her, "Chill, b-tch, shut your ass up."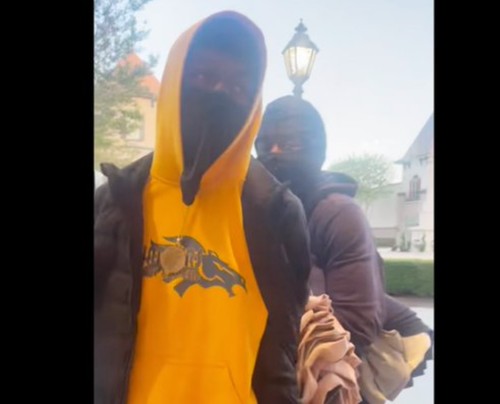 New York Post said the thieves had robbed the store several times because Lululemon has a "zero-tolerance policy" on chasing or physically engaging with a robber. Although both employees did not physically try to stop the masked men, they called the police to report the theft. 
"We are not supposed to get in the way. You kind of clear path for whatever they're going to do.

"And then, after it's over, you scan a QR code. And that's that. We've been told not to put it in any notes, because that might scare other people. We're not supposed to call the police, not really supposed to talk about it," Ferguson told WXIA. 
In a Facebook post, the assistant manager's husband, Jason Ferguson, said, "My wife was terminated from her job at Lululemon for 'breaking employee handbook policy' of not interfering with a burglary." He continued:
Lululemon representatives held a zoom call a few days after the incident to learn what Jenn knew about the policy. Then, a few days later, they scheduled a follow-up zoom call where they terminated her citing the company's "zero-tolerance policy" in these situations. No warning. No coaching. No additional training. Just. Fired. Georgia being an at-will employment state, employers can do that whenever they wish. That is their right. But it doesn't make it right. Especially in this situation.
Jason Ferguson said the regional manager told his wife and the other former employee that calling the police would "look bad for Lululemon." 
Lululemon appears to have an open-invite policy for thieves, which puts its employees in harm's way. Not intervening physically is probably smart because who wants to die over expensive yoga pants made in Southeast Asia? However, terminating employees for simply calling the police is upside-down clown world stuff. We hope Lululemon fixes these broken policies and puts more effort towards protecting employees and improving work conditions. 
Loading...