---
Luxury Recession: Diamond Prices Crash, Rolex Downturn Persists
Diamond deflation has arrived with a bang as prices have spent the last year and a half crashing, roundtripping levels not seen since the early days of Covid (and right around the time the federal government started handing out stimmy checks). The crash in prices is yet another indication of a luxury spending bust. Barclays forewarned clients in December that a "luxury recession" was imminent. And luxury watches, like Rolex, have also plunged. 
Diamonds, watches, and other jewelry soared during the pandemic and peaked in the first half of 2022. We have covered the Rolex boom and bust extensively and now turn our attention to diamonds. 
The Diamond Index via International Diamond Exchange (IDEX) soared from a value of 116 in March 2020 to 158 in Mach 2022 or about a 36% upswing. Since the peak, prices have plunged 24%, roundtripping to late summer 2020 levels.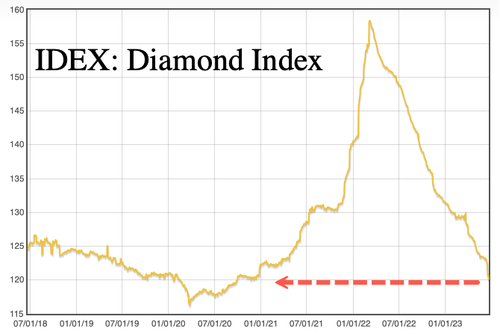 Paul Zimnisky, the CEO of Paul Zimnisky Diamond Analytics, told CNBC that a 1-carat natural diamond fetching $6,700 a year ago is now selling for around $5,300. 
One of the most likely reasons for diamond deflation is consumers are no longer flushed with government stimulus checks. Also, two years of negative real wage growth, drained personal savings, and mounting credit cards with the highest interest rates in years had dented luxury spending. 
Last month, Deutsche Bank analysts warned clients about the luxury spending bust emerging in the US:
"Slowing to negative growth year-on-year in the US is a building concern, especially given signs of softening demand from more economically sensitive aspirational consumers." 
Summing up, consumers in retreat are early indications of an economic downturn that might materialize late this year or in the first half of 2024. 
Loading...