---
Mania Hits Used Farm Equipment Market As Combine Prices Hit Record
The cost of farm equipment continues to soar. And it's not just fancy new tractors and combines with all bells and whistles, like GPS, automation, remote operation, sensors, diagnostics, screens, cameras, and air conditioners, but also ones that are one or two decades old with fewer microchips. 
One reason the second-hand market for large and small tractors and combines is hot could be due to supply chain issues of procuring a new tractor. However, we have shown most snarls in global supply chains have normalized in recent quarters. 
The second and most likely reason is that farmers are ditching new high-tech tractors with higher capital and maintenance costs. It's widely known in the farming community that older tractors have less technology which makes it easier to work on and repair faster.  
Consider, for instance, how John Deere equipped its newest tractors with sophisticated technology but didn't give farmers the tools to fix their own equipment, setting off the right-to-repair debate. Deere finally caved earlier this year by giving farmers the tools they needed. 
A proprietary used farm equipment price tracker published by Jefferies showed clients this week that "used farm equipment shows continued strong pricing as we move through 2023." 
Jefferies scraped used equipment website MachineFinder. Its analysts found large farm equipment was up 13% year-over-year in June, while small farm equipment was up 11.4%. The most significant price move was a 42.% jump in combines. 
A tight secondary market for farm equipment is to blame for soaring prices, even though listing data is increasing.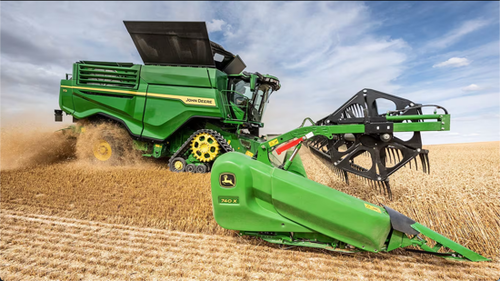 Prices for used combines have been pushed to record highs: 
Demand remains strong in the used combine market, with list prices continuing to push to new all-time highs. The average list price for combines was up 42.5% YoY and (0.3% MoM), with the number of total listings up 27.4% YoY. List prices for late-model combines were up 33.5% YoY, with the number of listings up 83.5% YoY.
Demand is soaring for used combines in the last eight months. 
Used combine prices are moving higher even though listings increase.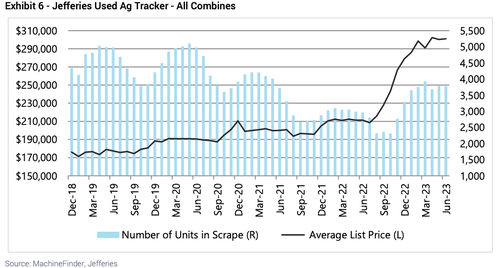 Soaring prices of used farm equipment have dented the mood of farmers. Jefferies said farmer sentiment slid 19 points from last month, closing at 116 (below the historical average of 125). Farm profitability "remains solid," but those who cultivate America's lands appear to be making a sizeable shift to used equipment with less technology that has sent secondary markets higher. 
Loading...