---
Mentions Of "Job Cuts" Overtake "Labor Shortage": Cost Control And Job Cuts Are In, Growth Is Out
By Alexandra Semenova, Bloomberg Markets Live reporter and analyst
Wall Street's worries about Corporate America's dwindling profit margins appear to have made their way to the C-suite based on earnings reports so far this quarter.
A few themes are already becoming clear: Cost and job cuts are in, spending and expansion are out. Fears of the impact of rate hikes and a looming economic slowdown have US conglomerates rushing to divert to efficiency from growth mode, and the shift is starting to show up heavily in their financial results.
Although only half of the S&P 500 Index has reported results so far, fodder about labor costs in earnings calls has plunged 80% from last quarter, according to data compiled by Bloomberg from corporate earnings calls based on buzzwords like "personnel costs" and "spending on hiring." The decrease in such mentions is a sign that hiring has come to a halt and reflects the workforce reductions underway.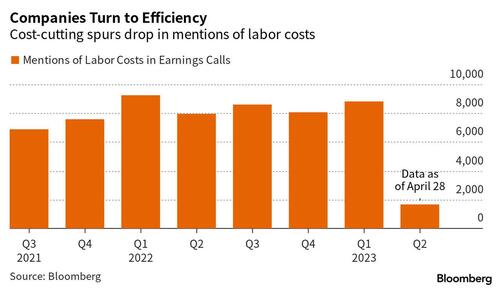 Meta Platforms Inc. Chief Executive Officer Mark Zuckerberg spoke extensively about "efficiency" during the company's first-quarter earnings call, building on a theme the Facebook parent has touted this year alongside a move to lay off 10,000 workers.
"As we move forward, including out of the sort of layoffs that we've been implementing and the direct restructuring work, we're going to continue focusing on efficiency work," Meta Chief Financial Officer Susan Li said during the call last week.
Aggressive cost-cutting was a focus of earnings from tech peer Amazon.com Inc., which said Thursday that operating expenses rose 8.7% during the quarter, the slowest pace in at least a decade. The company delivered its latest round of layoffs Wednesday, with recent job cuts totaling 27,000 for the biggest pullback in the company's history.
"Amazon made major strides to reduce its cost to serve within its retail network, which we expect will continue through 2023 and 2024 as more efficiencies are realized," Arun Sundaram, an equity analyst at CFRA, said in an email. "Overall, we view 1Q as the beginning of a multi-year turnaround in terms of profits and margins."
Over in finance, Morgan Stanley is preparing a fresh round of job cuts amid a renewed focus on expenses as recession fears delay a rebound in dealmaking. Senior managers are discussing plans to eliminate about 3,000 jobs from the global workforce by the end of this quarter, according to people with knowledge of the matter.
Meanwhile, efficiency and improving profits are also poised to be a theme when Lyft Inc. reports its results May 4. The ride-hailing company revealed in a regulatory filing it plans to eliminate a quarter of its workforce, more than 1,000 employees and 250 job openings.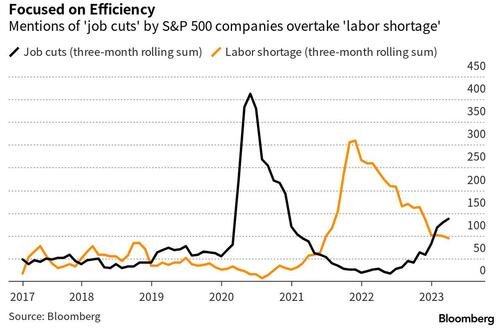 "It is all about rightsizing to revenue growth," Jim Tierney, CIO of Concentrated US Growth at AllianceBernstein, said.
"The cost cuts are out of necessity in an attempt to preserve operating margins."
Spending will return when revenue growth reaccelerates, he added.
"We saw some glimmers of hope on this front from Microsoft and Meta, but AWS at Amazon saw a further revenue slowdown in April from the 1Q levels, so the picture is mixed," Tierney said.

"The cuts were incredibly effective with most companies significantly exceeding earnings expectations, and with the stock prices generally going up, management has to see that investors are rewarding profitability rather than pure growth, so I'd expect the belt tightening to continue for a while."
And while tech names have been the most bloated after splurging on hiring during the pandemic, it's certainly not the only sector working to reduce expenses as economic conditions change. Post-it Notes maker 3M Co. said last week it was slashing another 6,000 jobs as part of ongoing restructuring to curb costs. Retail giant Gap Inc. in recent days revealed plans to cut 1,800 workers in an effort to return to profitability amid waning sales. And Lazard Ltd. on Friday became the latest Wall Street bank to reduce headcount, announcing plans to trim its workforce by 10% as it reported a surprise loss in its earnings.
"Corporate America is great on the front end in terms of staying ahead of the competition with robust hiring, but they're also quick to counter that trend and lean down to support and protect the bottom line of their margins," Robert Schein, chief investment officer at Blanke Schein Wealth Management, said.

"We're seeing a lot of that play out in the earnings calls we've seen in recent days."
Loading...