---
"Nothing's Working" - China's Latest 'Stimulus'-Driven-Rally Lasted Just 30 Mins
China's problems are growing... and their ability to 'fix' it seems to be fading fast.
Having strong-armed funds into 'not selling' stock last week, then strongly-suggesting that companies escalate their share buyback programs (and then bullying banks into buying yuan to support the currency against the green back), and then clearly stepping with a 'National Team' panic bid (that didn't work) Beijing was faced with the reality that nothing was working with Chinese stocks tumbling still.
Most problematically, the half-lifes of these interventions is shrinking rapidly...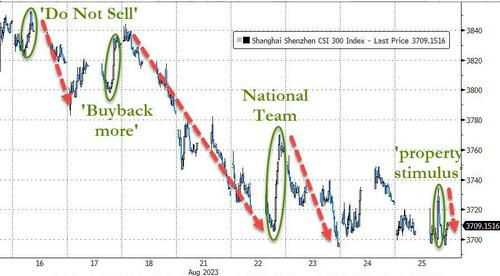 And as Bloomberg reports, overnight saw the shortest duration of post-stimulus gains yet...
The Friday afternoon unveiling of property stimulus measures sparked an initial flurry of buying, with China's benchmark CSI 300 Index reversing losses to climb as much as 0.3%.
But the gauge resumed declines after about 10 minutes, and within 30 minutes, CSI 300 had hit fresh session lows...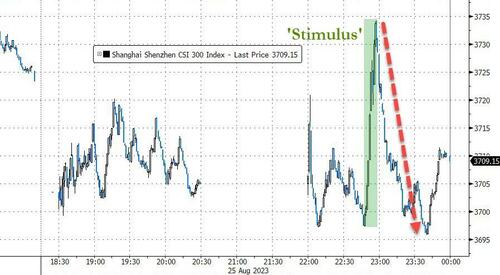 "The market is less sensitive to news at this current stage," said Li Fuwen, a fund manager at Guangdong Value Forest Private Securities Investment Management.
"What's key right now is letting that downward momentum run out organically as polices have already turned supportive but it will take time for the shorts to be exhausted."
Overseas funds, which have been fleeing the mainland market, were sellers again on Friday.
They offloaded the equivalent of $10.7 billion in a 13-day run of withdrawals through Wednesday, the longest stretch since Bloomberg began tracking the data in 2016.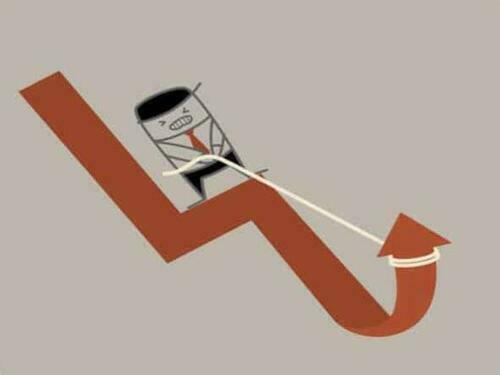 So, China has already resorted to its 'plunge protectors' and failed and now sees its 'targeted' stimulus measures doing nothing. With capital outflows soaring, one wonders just how far and fast Beijing is willing to go.
Loading...