---
Novo Nordisk Hits Record High After Study Finds Obesity Drug Wegovy Cuts Heart Risk
Novo Nordisk shares in Copenhagen jumped to a record high on Tuesday after headline results from the SELECT cardiovascular outcomes trial showed obesity drug Wegovy reduces cardiovascular events and helps with weight loss. 
"The double-blinded trial compared subcutaneous once-weekly semaglutide 2.4 mg with placebo as an adjunct to standard of care for prevention of major adverse cardiovascular events (MACEs) over a period of up to five years," Novo Nordisk wrote in a statement. 
The statement continued, "The trial achieved its primary objective by demonstrating a statistically significant and superior reduction in MACE of 20% for people treated with semaglutide 2.4 mg compared to placebo." 
The double-blinded trial included 17,604 individuals aged 45 and above, who were overweight, had confirmed cardiovascular disease, and had no previous history of diabetes.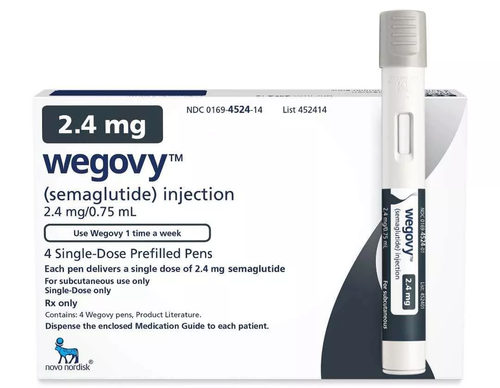 "People living with obesity have an increased risk of cardiovascular disease but to date, there are no approved weight management medications proven to deliver effective weight management while also reducing the risk of heart attack, stroke or cardiovascular death," said Martin Holst Lange, executive vice president for development at Novo Nordisk.
The Danish company is seeking regulatory clearance in the US and EU in 2023 to expand the label indication for semaglutide 2.4 mg. They plan to reveal comprehensive findings of the trial later this year at a scientific conference. 
Results from the trial were enough to send Novo Nordisk shares in Copenhagen up 16% to a record high of 1,262 kroner.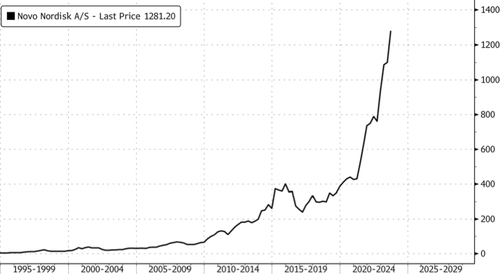 A note from Wolfe Research analyst Tim Anderson said the results are a massive win for the obesity category, indicating "this has a very heavily anticipated readout, and is a clear win not only for NOVO, but also for LLY and the obesity category at large. Results are VERY strong." 
Meanwhile, Eli Lilly & Co. announced plans to increase the doses per pen of its new diabetes drug Mounjaro.
*ELI LILLY EXTENDS RALLY TO 17%, TOPS $500 BILLION MARKET VALUE

death, taxes and fats

— zerohedge (@zerohedge) August 8, 2023
Shares of Lilly soared 17% and topped $500 billion in market capitalization.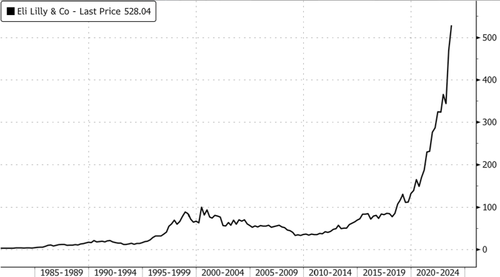 WW International, previously known as "Weight Watchers," jumped 13% on Novo Nordisk's results as it recently began to offer obesity drugs. Goldman upgraded WW in April to a "buy" from "neutral."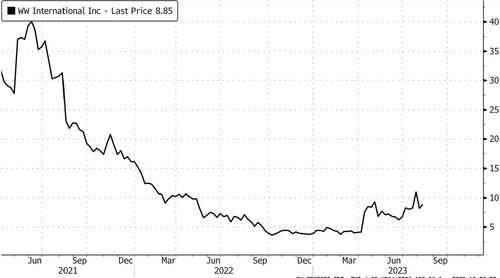 Betting on 'Make America Slim Again' is becoming as hot as the AI stock craze. Novo Nordisk and other obesity drugmakers stand to capitalize off the tens of millions of obese Americans. 
As for Novo Nordisk's results, isn't it implied that weight reduction is better for the cardiovascular system?
Loading...