---
Nvidia Slides As Biden Prepares New AI Chip Export Curbs To China
One month ago, Wall Street lost its mind when Nvidia reported guidance that blew away consensus: in the aftermath of ChatGPT, it seemed as if the entire world suddenly wanted the company's flagship A100 chip, helping send NVDA stock higher by almost 50% in days, pushing the company into the vaunted "cuatro comas" club.
And maybe they did... but maybe not. Maybe instead of a scramble by everyone to become the Apple of AI, something which only a small handful of cash-rich companies can even hope of achieving due to the vast capex sums required, all that happened was a rush by Chinese companies to rush and front-load orders before the chip export ban hammer falls, something we discussed most recently two weeks ago.
Same happened with semiconductors and double/triple ordering during peak covid, and the cycle is even more offset now with AI orders (NVDA) ahead of potential chip wars with China. https://t.co/LJwLEVEl5h

— zerohedge (@zerohedge) June 11, 2023
To be sure, it wouldn't be the first time that Chines firms were double and triple ordering precious chips (it happened all throughout the post-Covid supply chain crunch) and it certainly wouldn't be the first time Nvidia was caught in the middle of the US-China chip war. Recall, it was just last August that NVDA stock tumbled (amazing to think it was "only" $150 back then) to get ahead of US chip export crackdowns, after the US has implemented new license requirements for Nvidia's A100 and forthcoming H100 integrated circuits - Nvidia's highest-performance products for servers - in sales to China and Russia. Nvidia said last September the restrictions would cost it $400 million in that quarter.
But while the market quickly forgot that one of Nvidia's largest revenue streams could be shut off at any time, and resumed bidding up the stock following the release of ChatGPT in late 2022 as the world lost its collective mind in the historic AI frenzy, the reality is that nothing had actually changed.
And early Tuesday evening the world got a reminder of just how little things had changed, when the WSJ reported that Washington could soon close loopholes in the sale to China of powerful chips used to train AI models, potentially denting sales to the world's largest semiconductor market.
The Commerce Department could move as soon as early next month to stop the shipments of chips made by Nvidia and other chip makers to customers in China and other countries of concern without first obtaining a license, the people said.

The action would be part of final rules codifying and expanding the export control measures announced in October, some of the people said.
The move would further crimp China's ability to build out AI capabilities after restrictions last year that cut off the most advanced AI chips made by Nvidia and Advanced Micro Devices. Nvidia responded to that move by making a version of its AI chips for the Chinese market called the A800 that fell below performance thresholds outlined by the Commerce Department. That chip replaced the A100, which is widely used in data centers to do AI computations.
But the new restrictions being contemplated by the Commerce Department would ban the sale of even A800 chips without a license, according to the WSJ sources.
The news sent Nvidia stock sliding more than 3% in after-hours trading in New York. Why? Because as we said last August, Nvidia gets about a fifth of its revenue from China, and any trade intervention by the US - which at this stage in the new cold war is just a matter of time - would cripple Nvidia's value proposition.
While Nvidia led declines in shares of US chipmakers after hours, rival AMD also fell about 3%. The two lead the market for chips vital to the development of generative AI models such as ChatGPT.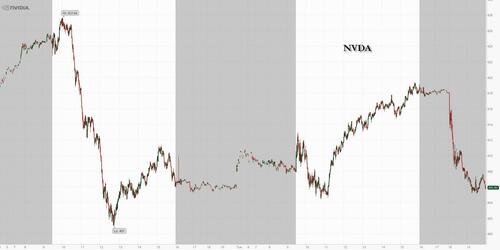 In response to last summer's regulations, Nvidia designed less-capable chips that fall under thresholds that require a license from the Commerce Department before export to China or other countries of concern. But Biden is now weighing action as soon as next month to expand the curbs to include those lower-powered semiconductors, the Wall Street Journal reported, citing anonymous sources.
Such a move underscores the Biden administration's determination to contain China's technological rise and could stoke tensions between the two countries. The US is increasingly concerned about Beijing's technological ambitions, including around the use of AI in military and scientific advances that could tilt the geopolitical balance.
Nvidia, which with a market cap just over $1 trillion has become the world's most valuable chipmaker with a more than 80% share of the market for data center accelerator chips, and has been operating under rules that required approval for shipments to China of its A100 and new H100 parts. It was able to partially alleviate the impact on its finances by selling a modified version of the A100 that's slower at accessing data, and therefore didn't trigger the restriction.
But now Biden's minions are going after those chips as well in hopes of delaying China in the global AI race, and the question is with the market having priced in virtually unlimited growth for the chip company, what will the threat of losing as much as 20% of its total revenue (and growth) mean to NVDA stock.
Loading...