---
NYC Office Occupancy Hits 50% For First Time Since Covid Crash
The latest figures on office occupancy in New York City crossed 50% last week for the first time since the Covid pandemic collapsed the local economy, resulting in a proliferation of remote work. Even though a return to office is creeping higher, NYC's depressed business districts are trouble for the commercial real estate market and overall economic recovery in the crime-ridden metro area.
Kastle Systems, the gold-standard measure of office-occupancy trends via card-swipe data, shows NYC hit 50.5% in the week ending June 7, the highest level in three years but still far from the near 100% occupancy level before the pandemic. 
"The milestone came just as the city was engulfed in smoke from Canadian wildfires, briefly becoming the most polluted major city in the world," Bloomberg pointed out. 
Reverting to pre-Covid times is impossible. Companies are axing employees while reducing office space. Real estate firm Colliers said office space available for lease in Manhattan climbed to a record high during the first quarter of 2023. 
The total square footage of office space in Manhattan available for lease is at a record 94 million. The vacancy rate is around 17.45, the highest since Colliers started tracking the NYC office market since the Dot Com boom. 
Across Manhattan, the empty workspace might spark turmoil in commercial real estate. And it's not just an NYC issue. Kastle data shows the national index, which tracks office building occupancies in ten major cities, is around 50%.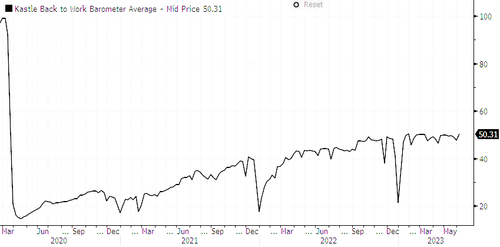 In pre-Covid times, office buildings drove a significant share of the local economy in cities. And since remote work will never allow occupancy rates to return to normal levels, and the increasing threat of a downturn forces companies to cut employees and office space, the CRE market is set for turmoil. Just how much? Goldman answers this in a recent note. 
Loading...