---
NYC Targets Drug-Infested Areas With Vending Machines Full Of Free Crack Pipes, Narcan, Condoms
The NYC Department of Health and Mental Hygiene has introduced the first of four vending machines destined for drug-infested areas of the city. These machines provide free items like crack pipes, Narcan, and condoms, among other essentials. 
The first public health vending machine operates at 1676 Broadway in Brooklyn. It's a big blue box stocked with naloxone -- a drug that can reverse overdoses, fentanyl test strips, hygiene kits, and safe sex kits. And it's considered by health officials to be the first line of defense to combat the city's out-of-control drug overdose crisis.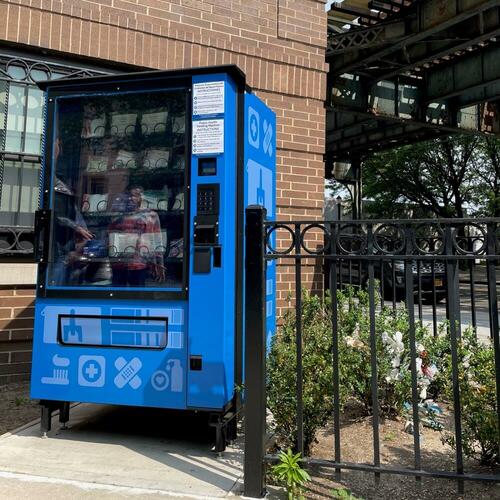 Anyone can use the vending machine. All someone has to do is enter their NYC zip code and pick if they want crack pipes, Narcan, and condoms (maybe this vending machine should be kept a secret from Hunter). 
The city's health commissioner said the machines would help fight the overdose crisis:
"We are in the midst of an overdose crisis in our city, which is taking a fellow New Yorker from us every three hours and is a major cause of falling life expectancy in NYC.

"But we will continue to fight to keep our neighbors and loved ones alive with care, compassion and action. Public health vending machines are an innovative way to meet people where they are and to put life-saving tools like naloxone in their hands. We'll leave no stone unturned until we reverse the trends in opioid-related deaths in our city."
Overdose deaths across the metro area have hit record highs. In 2021, there were 2,668 overdose deaths in NYC, compared with 2,103 in 2020. In 2021, 84% of overdose deaths involved an opioid. Fentanyl, a highly potent opioid, was involved in 80% of all overdose deaths. There were 1,370 confirmed overdose death in the first half of 2022. Officials estimate 2022 could be the deadliest year for overdoses if that trend persists. 
So what's the strategy by Democrats to curb the drug and crime crisis? It revolves around vending machines full of crack pipes, Narcan, and condoms. Their approach to crime and drugs has been horrendous as NYC spirals into a crime-ridden hellhole. It's not just NYC. Many other metro areas controlled by progressives are spiraling out of control. 
Loading...