---
Oil Rebounds After Reports That Saudis Will "Extend, Deepen" Voluntary Production Cuts
Update (0900ET): Well, we appear to have our answer to the most anticipated question for oil traders.
We noted earlier (below): "We see no looming change in the group's current supply cadence, nor the required production adjustments set to take effect in 2024," says Helima Croft at RBC Capital Markets, in a note.
"The question that market participants remain focused on is whether Saudi Arabia will sunset its unilateral 1 mb/d cut at summer's end or roll it over for another month."
The Saudi Press Agency is reporting:
An official source from the Ministry of Energy announced that the Kingdom of Saudi Arabia will extend the voluntary cut of one million barrels per day, which has gone into implementation in July, for another month to include the month of September that can be extended or extended and deepened.

In effect, the Kingdom's production for the month of September 2023 will be approximately 9 million barrels per day.

The source also noted that this cut is in addition to the voluntary cut previously announced by the Kingdom in April 2023, which extends until the end of December 2024.

 The source confirmed that this additional voluntary cut comes to reinforce the precautionary efforts made by OPEC Plus countries with the aim of supporting the stability and balance of oil markets.
This has prompted gain in WTI, erasing much of yesterday's DOE-driven dump...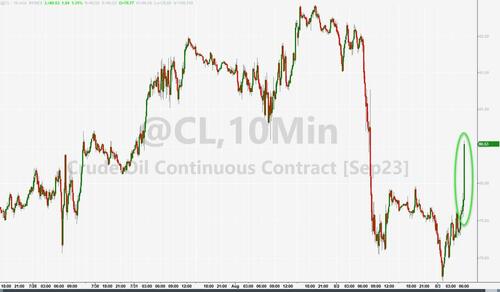 *  *  *
As Bloomberg's Grant Smith detailed earlier, the biggest question in oil markets is how long Saudi Arabia will extend its 1 million-barrel-a-day supply cut. Riyadh's handling of a previous strategy offers some guidance -- and reassurance -- for crude bulls.
The kingdom launched the unilateral cutback last month in a bid to shore up global oil markets, undertaking the solo effort as its comrades in the OPEC+ coalition had already cut output as much as they could bear. It's had some qualified success, boosting Brent prices to a three-month high above $85 a barrel in London.
The Saudis have committed to extending the measure into August, and OPEC-watchers expect that Riyadh will announce a further continuation into September this week. Traders are bracing for a statement from Saudi state media in the next couple of days, before an OPEC+ monitoring committee convenes to assess markets on Friday.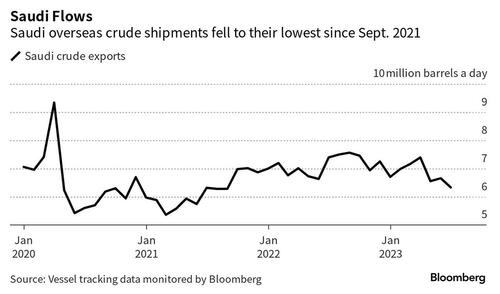 To understand what the world's biggest crude exporter may do after that, it's useful to consider how it handled a similar intervention two years ago.
In January 2021, the Saudis announced a unilateral 1 million-barrel cut to amplify the efforts of its OPEC+ brethren, to take effect in February and March. It was subsequently extended for one more month, and then unwound in stages over the following three months.
One lesson to draw is that the kingdom is prepared to go it alone with supply curbs for a considerable period; it's quite possible that the restraints adopted in early 2021 could have lasted longer if others in OPEC+ hadn't been so eager to increase production.
But at the same time, the limited three-month span of the move shows the Saudis won't make such sacrifices indefinitely. Energy Minister Prince Abdulaziz bin Salman has described this summer's curbs as a "lollipop" for markets — and at some point all treats must be taken away.
Perhaps the most important final lesson is that, when it comes to restoring shuttered supplies, Riyadh prefers a cautious and gradual approach rather than any sudden moves.
As a result, we may see the latest 1 million-barrel reduction eventually unwound in piece-meal stages. And that ought to give confidence to oil bulls betting that the current rally can go further.
Loading...