---
Olive Garden Owner Warns: "Decline In Fine Dining" As Wealthy Americans Trade Down To Cheap Booze 
Sentiment continues to turn negative for the US consumer as the latest warning sign comes from a multi-brand restaurant operator with more than 1,900 full-service locations nationwide. During a Thursday morning conference call, the management team warned Wall Street analysts about "softness" among wealthier households. 
Darden Restaurants CEO Rick Cardenas said, "We are seeing a little softness versus last year with household incomes above $125,000, and that primarily affects our Fine Dining brands, but it does affect all of our brands." 
The multi-brand restaurant operator owns Olive Garden, LongHorn Steakhouse, The Capital Grille, and five other brands with more than 1,900 locations nationwide. 

Cardenas offered more clues about waning consumer spending habits at restaurant locations:
"Now, this could be because the increase in luxury travel, particularly international travel, which you've heard a lot of people talk about, but as I've said before many times, there is a tension between what people want to pay and what they can afford, and they're going to continue to seek value, not always about low price. They're making tradeoffs, and food away from home is one of the most difficult things they can give up."
Darden's CFO told analysts that a decline in fine dining has been due to customers opting for lower-priced wines and other beverages over the past year: 
"The decline in Fine Dining, part of that is driven by incremental costs they have year-over- year. Their pricing is starting to catch up. But also, there was some negative mix. On a one- year basis, there was a lot of negative mix on alcohol. When we look at what's happening with -- at Fine Dining, there is trading down to lower-priced wines and other alcohols on a one-year basis." 
Darden's exec team offered a cautionary view on wealthier customers amid a period of high credit card debt and depleted savings for consumers. The $2 trillion in excess savings from the Covid crisis has been all but depleted, according to according to JPM calculations.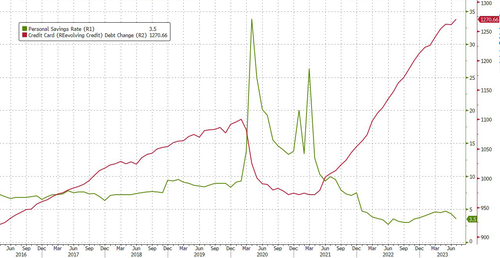 The latest slide in consumer credit suggests folks are finally tapped out.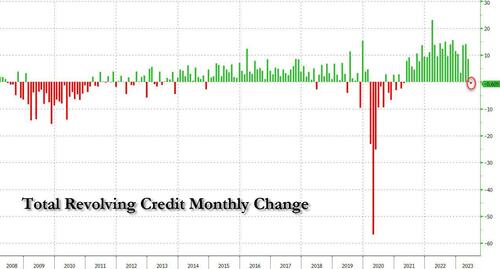 Meanwhile, with average credit card interest rates rising above 22% to a new record high...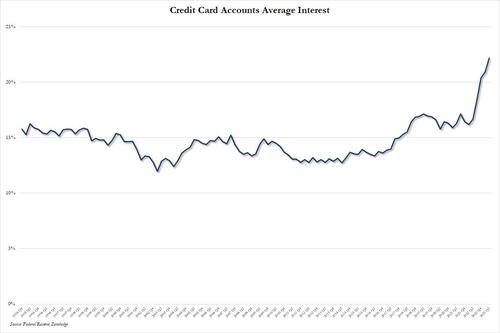 And now that repayment of student loans has officially resumed, it will likely cause a $15.8 billion headwind for consumers every month. 
The days of $80 steaks and $25 martinis might be over for now. 
Loading...