---
Progressive Staffer Carrying Gun Illegally Shot And Killed By Fellow Campaigner In Philadelphia
In a case of what can only be described as sad irony, an argument between two progressive Philadelphia political canvassers early this week led to one shooting the other, and one campaigner tragically dying. 
Though Philadelphia stations like NBC didn't go into detail about who the assailant and victim were campaigning for, it was speculated early in the week by Fox 29's Steve Keeley that one or both parties involved may have been involved in supporting Democratic mayoral frontrunner Helen Gym's campaign. 
NBC did say that 46-year-old Eddie Brokenbough "was canvassing the neighborhood for a political campaign when he met with another campaign worker along the 2000 block of Church Lane around 4:11 p.m."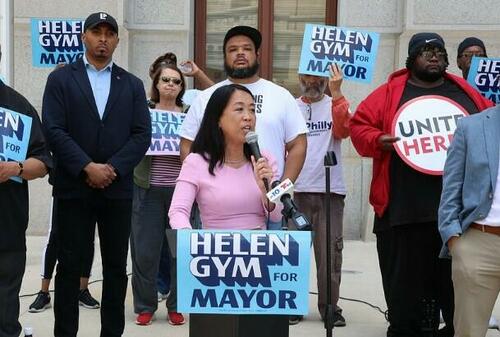 The report said both men were armed and got into an argument, which led to the "other" campaign worker shooting Brokenbough, who was later pronounced dead at a Philadelphia hospital. The worker who shot him had a permit to carry, was taken into custody and is reportedly cooperating with the investigation. Charges have not yet been filed.
The man who was killed was working for One PA, who according to NBC, endorsed Helen Gym. The New York Post has reported that both men worked for One PA. One PA stated: "Today, a One PA team member tragically lost their life. We are heartbroken, and our condolences and sympathy are with their family. We are mourning this senseless loss, and continuing to gather the facts and investigate what happened."
Sage Cruz, the co-executive director of One PA, wrote: "One PA is temporarily suspending our canvasses as we process this loss. It is clear policy that guns are never allowed in One PA offices or on canvases, and we are reviewing and reiterating that policy to ensure compliance. Right now we are taking care of our team as we process our grief, and respecting the wishes of the victim's family. Our hearts and thoughts are with everyone who has been touched by this tragedy."
The Post also reported that Brokenbough's gun was not registered to him, and that he wasn't supposed to be carrying a firearm:
The two "happened upon each other" and began bickering, police said, adding that Brokenbough was the first to pull out a gun — which was not registered to him — but the 22-year-old was the first to strike.

Brokenbough, a father of 10 who worked with One PA since 2021, was prohibited from legally carrying a firearm because of an earlier conviction after he shot a man in the arm for speaking to his girlfriend in 2012, the outlet said.
Gym's campaign seemed more interested in disclaiming that the victim did not work for her campaign than they were in offering condolences:
I was devastated to hear about the tragic death of a canvasser today. My thoughts are with the family of the victim, the One PA community, and everyone impacted by this irrevocable loss. Though the canvasser was not part of our campaign, this loss is deeply felt by all of us.

— Helen Gym (@HelenGymPHL) May 9, 2023
"He was carrying your flyers. You were the only campaign in Ogontz," one response on Twitter said. 
Loading...