---
Panera Sued For Wrongful Death After 21 Year Old Suffers Cardiac Arrest After Drinking "Charged Lemonade"
Panera Bread is on the receiving end of a lawsuit after the parents of a University of Pennsylvania student claim that its "Charged Lemonade" drink led to the wrongful death of their daughter.
Their 21 year old daughter already had a heart condition, a report from 6ABC noted, but may have been led to believe that the chain's "heavily caffeinated energy drink" was just regularly lemonade. 
Sara Katz experienced cardiac arrest while at the restaurant with friends in September 2022, the report says. She passed away after she was transported to the hospital, where she suffered a second arrest.
Panera said in a statement: "We were very saddened to learn this morning about the tragic passing of Sarah Katz, and our hearts go out to her family. At Panera, we strongly believe in transparency around our ingredients. We will work quickly to thoroughly investigate this matter."
The autopsy report said her cause of death was "cardiac arrhythmia due to long QT syndrome", which is a disorder that can cause fast and irregular heartbeats, which can be life-threatening.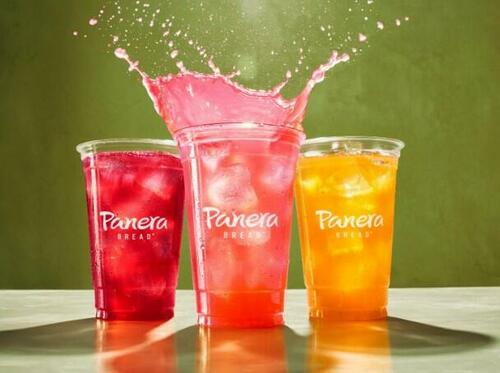 Katz was diagnosed at age 5 and actively limited her caffeine intake. The Panera drink included" sugar, caffeine, coffee extract and guarana extract, which are both sources of caffeine," 6ABC wrote. 
The lawsuit claims that Katz was "reasonably confident it was a traditional lemonade and/or electrolyte sports drink containing a reasonable amount of caffeine safe for her to drink." It charges that Panera misled consumers by not properly labeling the drink as an energy drink. 
"Instead, Defendants market, advertise, and sell Panera Charged Lemonade as a product that is 'Plant-based and Clean with as much caffeine as our Dark Roast Coffee,'" the suit continues. Despite the comparison, the suit claims that because Panera doesn't say what size the coffee it's like, the comparison is vague and unhelpful.
The "Charged Lemonade" in a large 30-oz cup has nearly 390 mg of caffeine. The FDA considers 400 mg of caffeine daily as safe for adults. The lawsuit alleges that the drink's caffeine level is unregulated and could vary dangerously.
Elizabeth Crawford, the lawyer for Katz's parents, says Katz drank from the large cup, but due to a Panera membership offering free refills, the exact amount consumed is unknown. Crawford added: "We want to make sure that the drink includes a warning, or is taken off the shelf. It's a dangerous energy drink and it's not advertised that way. We want to make sure this does not happen to someone else."
Loading...