---
Permanent Strike: Ford Lays Off 600 Workers Due To UAW Strike
As a result of the UAW strikes, 600 Ford employees will now be taking a permanent strike. 
Just hours after it was reported that Stellantis could be shuttering 18 facilities as part of a new "improved" contract with the UAW, Ford faces additional realities of the ongoing strike: it has laid off 600 workers at the Michigan Assembly Plant's body construction department, ABC Detroit reported. 
The company said this week: "Our production system is highly interconnected, which means the UAW's targeted strike strategy will have knock-on effects for facilities that are not directly targeted for a work stoppage. In this case, the strike at Michigan Assembly Plant's final assembly and paint departments has directly impacted the operations in other parts of the facility."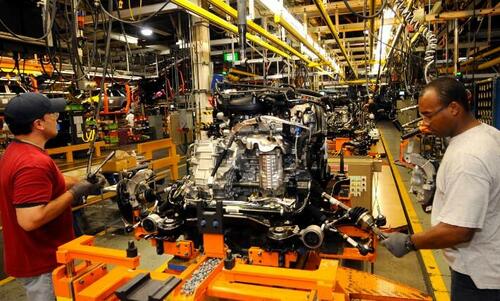 "Approximately 600 employees at Michigan Assembly Plant's body construction department and south sub-assembly area of integrated stamping were notified not to report to work Sept. 15. This is not a lockout. This layoff is a consequence of the strike at Michigan Assembly Plant's final assembly and paint departments, because the components built by these 600 employees use materials that must be e-coated for protection. E-coating is completed in the paint department, which is on strike," it continued.
At the stroke of midnight last Friday, the United Auto Workers initiated their labor strike, focusing their initial efforts on three facilities—Ford's Michigan Assembly Plant in Wayne, Stellantis' Toledo Assembly Complex in Toledo, and a General Motors factory in Missouri.
To add insult to collateral-damage-injury, Stellantis, in a recent bargaining move with the United Auto Workers union, has floated a contract proposal -- that could result in the shuttering of 18 American facilities, according to CNBC, citing sources familiar with strike discussions. 
On Tuesday, the head of United Auto Workers, Shawn Fain, declared he will unleash additional strikes across manufacturing facilities of General Motors Co., Ford Motor Co., and Stellantis NV on Friday. This move is contingent on the three automakers not properly addressing the union's demands for a new four-year labor contract for its 146,000 members.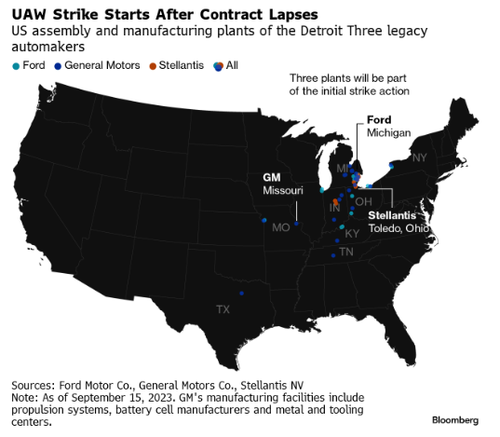 "Either the Big Three get down to business and work with us to make progress in negotiations, or more locals will be called on to stand up and go out on strike," UAW boss Fain said in a YouTube video published Monday evening. 
Fain said, "We're not waiting around, and we're not messing around. So, noon on Friday, Sept. 22 is a new deadline." 
The union said Ford, General Motors, and Stellantis have "failed to put fair contract offers on the table." A union representative told Bloomberg "no new offers" have come from the automakers "since the union made its latest proposals on Sept. 14, right before its strike began." 
Loading...