---
Philly Fed Business Survey Crashes Back Into Contraction In September
After a somewhat shocking surge back into expansion (and a big beat) in August, September's Manufacturing Business Outlook Survey from the Philly Fed puked all that improvement back and plunged back into contraction in September.
The headline index crashed from +12 to -13.5 (the index's 14th negative reading in the past 16 months), with over 29% of the firms reported decreases (up from 13% last month), exceeding the 16% reporting increases (down from 25%)...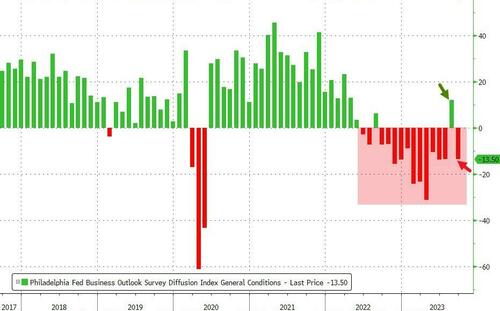 Source: Bloomberg
The indicators for new orders and shipments also declined.
The new orders index – which had been negative for 14 consecutive months prior to August – plunged from +16.0 last month to -10.2 this month.
The shipments index tumbled 9 points to -3.2 in September.
Confusingly, with jobless claims at YTD lows, Philly Fed employment index contracted for the 6th straight month...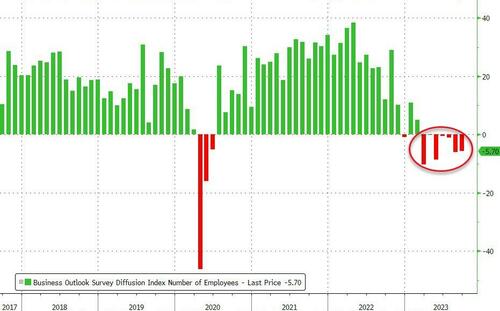 Source: Bloomberg
More problematically for The Fed is that firms overall reported increases in prices (Prices Paid  rose 5pts to 25.7)...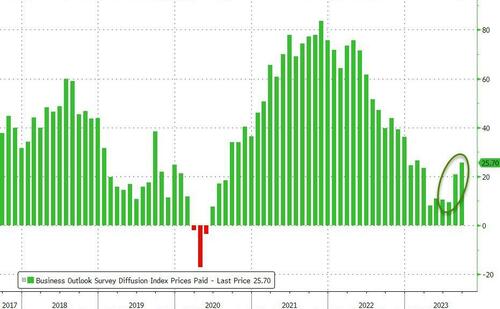 22 percent of the firms expect the impacts of COVID-19 mitigation measures to worsen, up from zero percent in June.
Additionally, 24 percent of the firms expect the impacts of energy markets to worsen, while over one-fifth of the firms expect the impacts of financial capital to worsen.
So growth slowing, prices rising... yet another signal of stagflationary pressures building.
Loading...