---
Purchasing Power Of Homebuyers Has Taken A Big Hit
Redfin's latest report reveals that skyrocketing mortgage rates, the highest in twenty years, have dramatically eroded the purchasing power of homebuyers over the past 18 months. 
A homebuyer on a $3,000 monthly budget can only afford a $429,000 home with a 30-year fixed mortgage rate of around 7.3%. That buyer lost $71,000 in purchasing power since August 2022, when they could've afforded a $500,000 home with an average rate of around 5.5%. In December 2020, that same buyer could've afforded a $629,000 home.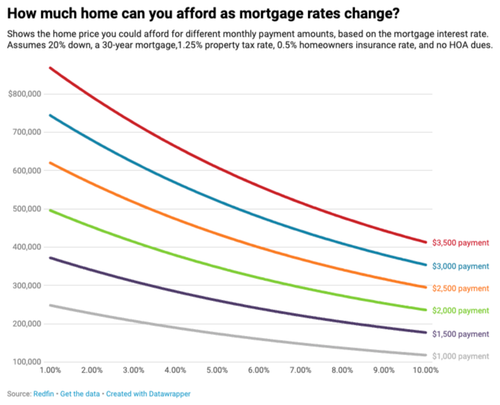 The combination of a high monthly mortgage and low inventory has levitated home prices, sparking an affordability crisis.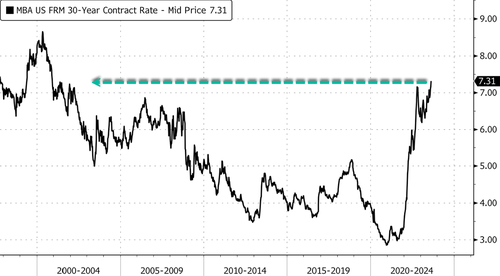 Last week, the Mortgage Bankers Association reported that US mortgage rates rose to the highest level since late 2000, sending a key measure of demand down to the lowest in nearly three decades.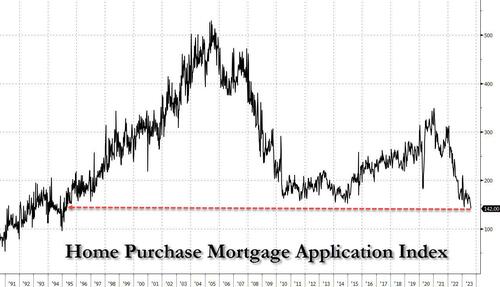 We noted in July the entire housing market is in "paralysis," with the lowest turnover rate on record. In other words, homeowners are reluctant to move and take on a higher mortgage rate, while prospective homebuyers can't afford pricey homes. 
Mortgage rates tend to track Treasury bonds. Rates on swap contracts referencing future Fed policy meetings suggest the federal funds rate could be hiked an additional 15 bps by year-end. 
While Bloomberg macro strategist Simon White recently noted US inflation is poised to begin re-accelerating again, Morgan Stanley Chief Asia Economist Chetan Ahya pointed out an opposing view that China could enter a debt-deflation loop that will spread disinflation worldwide. 
There is some good news for the housing market, though it might be 2024/25 story: Looking To Buy? New Report Forecasts Housing Market Affordability Set To Return In 2025.
Loading...