---
Qualcomm Shares Jump On New Chip Deal With Apple
Apple Inc. has been working on a new modem chip amid a legal battle with Qualcomm. However, a new deal indicates that it might take at least three years before iPhones are equipped with in-house 5G modems. 
Qualcomm Technologies, Inc. announced Monday morning that it entered into an agreement with Apple to supply "Snapdragon® 5G Modem‑RF Systems for smartphone launches in 2024, 2025 and 2026." 
Shares of Qualcomm jumped 7.4% in premarket trading Monday.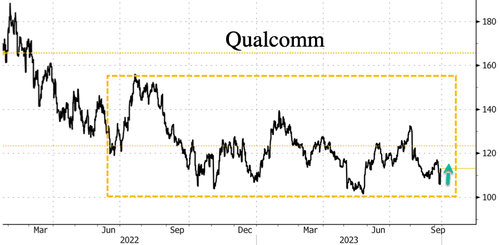 Numerous Wall Street analysts and Qualcomm executives previously anticipated Apple to use an internally developed 5G modem starting next year. However, the deal suggests it might be challenging for Apple to move away from Qualcomm's chips. 
Earlier this year, Qualcomm CEO Cristiano Amon told CNBC during a mobile industry event that he was not planning to supply mobile chipsets to Apple in 2024. Even in August, the CEO told analysts: "We're not making any updates to our prior plans for 2024."
Analysts interpreted the CEO's past comments as major revenue headwinds for next year. Oppenheimer analysts recently told clients that Qualcomm execs "reaffirmed expected loss of modem socket beginning w/iPhone 16 launch next year." They predicted the move would lead to a $10 billion loss of revenue. 
Bloomberg data shows Apple is Qualcomm's top customer.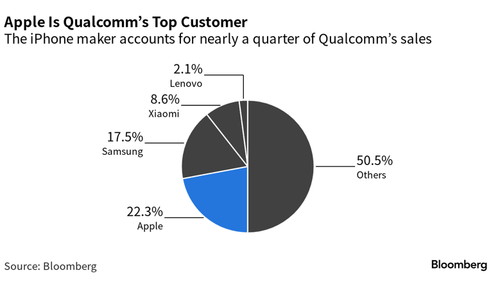 "This agreement reinforces Qualcomm's track record of sustained leadership across 5G technologies and products," the chipmaker said.
Apple is facing challenges in creating a 5G modem for its new iPhones and has returned to Qualcomm. This decision alleviates significant pressure from Qualcomm's stock.
Loading...