---
Quartet Of Carnage Crushes Stocks; Bonds, Bitcoin, & Black Gold Bid
Futures suffered a quartet of carnage into today's US open included a disappointing night of economically-sensitive EPS prints (UPS, CBT, CE, IFF); Chinese trade data bombed, with exports showing the worst decline (-14.5% YoY in July) since Feb 2020, while imports too were crunched (-12.4%) - reflecting weak domestic demand, and iterating ongoing issues with lack of consumption and investment growth in China; Italy's surprise windfall profits tax on banks has spooked EUR banks and broad index; and Moody's cuts 10 US banks (including "super regionals" Capital One, PNC Financial Services Group and Fifth Third Bancorp) on the increased cost of funding and office exposure.
But apart from that, everything is awesome in Bidenomics-land... as 'hope' leads ('soft' survey data rising as 'hard' economic data slides)...
Source: Bloomberg
FedSpeak was 'on message' - high(er) for long(er)...
0820ET *HARKER: FED MAY BE AT THE POINT WHERE IT CAN HOLD RATES STEADY, FED WILL NEED TO HOLD RATES STEADY FOR A WHILE

0855ET *FED'S BARKIN SAYS INFLATION REMAINS TOO HIGH
The result - all the US majors were in the red today. The equity indices were dumped at the US cash open then staged a recovery after Europe closed...Nasdaq was the biggest loser on the day...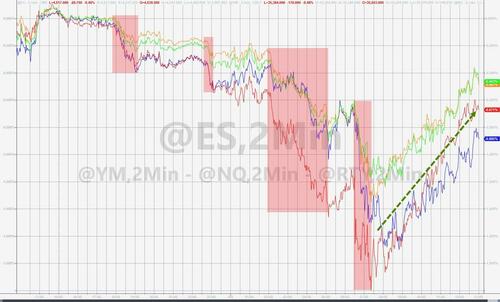 After the gap-down open, a short-squeeze was engineered once again...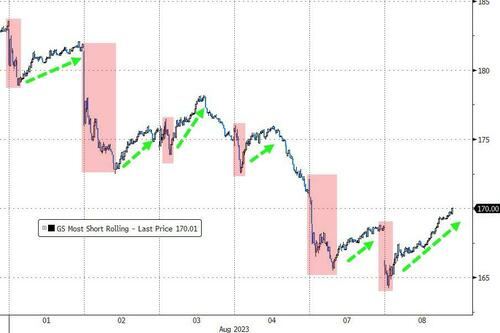 Source: Bloomberg
AAPL managed to bounce back into the green today, ending the 5-day losing streak. We note that AAPL found support tosay at its 100DMA (having broken below its 50-DMA last week)...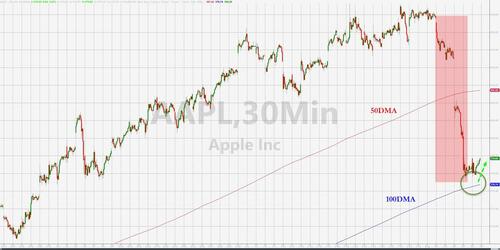 0-DTE traders faded the afternoon bounce in the market again...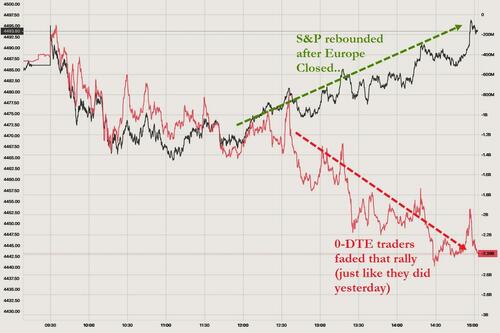 Italian banks were clubbed like baby seals...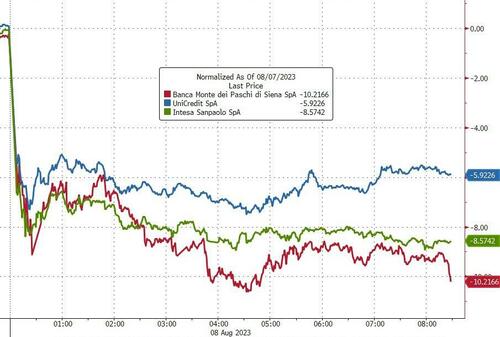 Source: Bloomberg
In the US, Regional banks puked on the downgrades but bounced back after a weak open...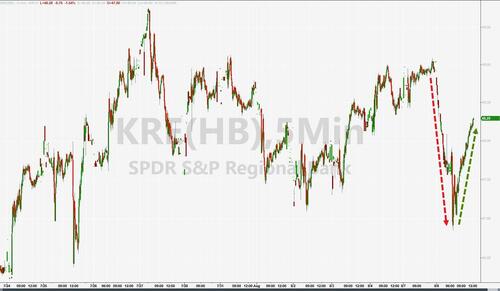 VIX (and VVIX) pumped-and-dumped today, following a similar pattern to the last few days. VIX topped 18 intraday and VVIX remains "stressed" in the 90-100 range...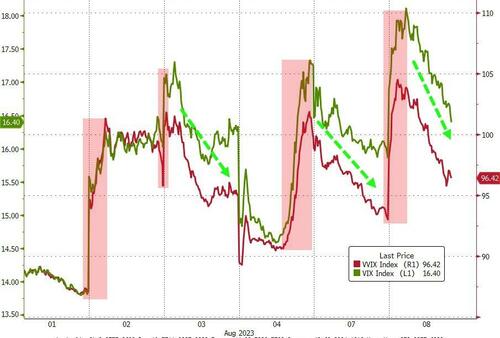 Source: Bloomberg
Treasury bonds were bid across the curve but the long-end outperformed (as the curve bull-flattened)...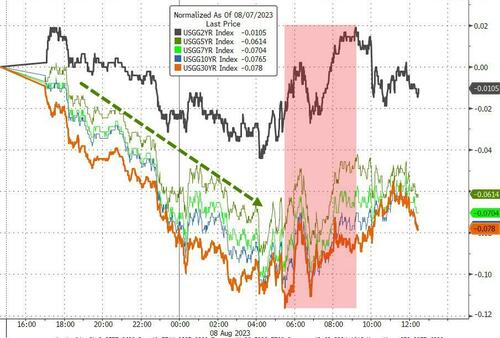 Source: Bloomberg
10Y yields fell back below 4.00% intraday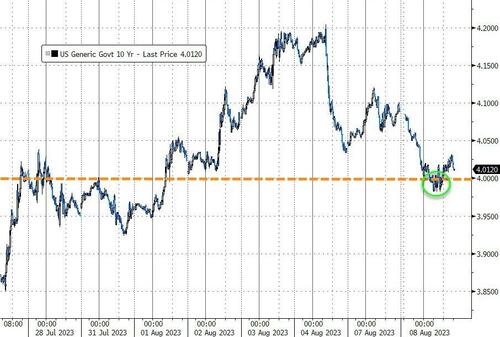 Source: Bloomberg
The dollar rallied hard overnight - back up to June and July's Payroll print levels - before fading back.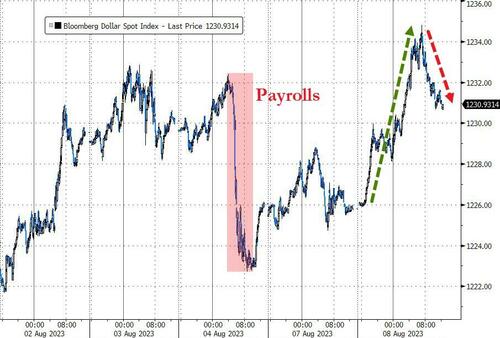 Source: Bloomberg
Bitcoin ramped up towards $30,000 (again) today, after sitting around $29,000 for a week...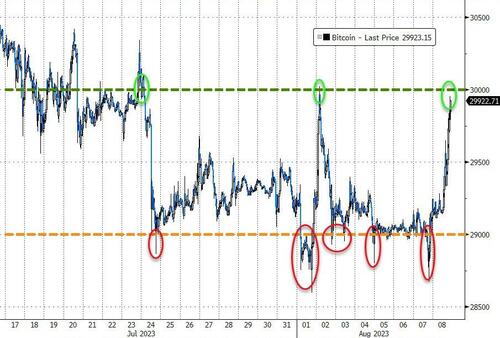 Source: Bloomberg
Another crazy day for crude with WTI dumping and pumping (back up to $83)...
Gold fell back to Friday's spike lows...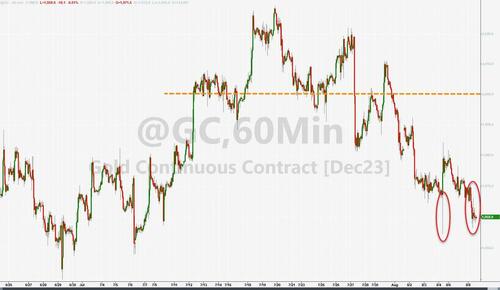 Finally, it does have the feeling that we are close to a 'sell the news' moment in the AI-bubble...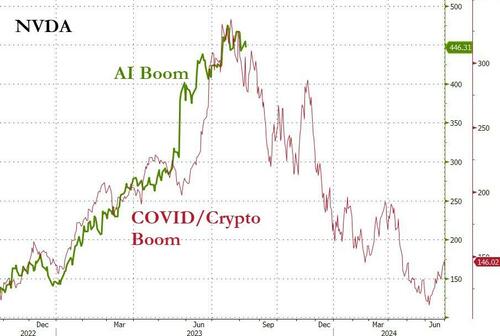 Can history really repeat?
Loading...