---
Raytheon Shares Crash Most Since 9-11 After Disclosing Jet Engine Issues
Shares of Raytheon Technologies Corp. crashed the most since the dark days of Sept. 11, 2001, after its Pratt & Whitney subsidiary warned about the need to remove 1,200 of its jet engines from the Airbus A320neo family of narrow-body airliners due to durability issues.
"Pratt & Whitney has determined that a rare condition in powder metal used to manufacture certain engine parts will require accelerated fleet inspection. This does not impact engines currently being produced," Raytheon said in an earnings announcement. 

Raytheon continued, "The business anticipates that a significant portion of the PW1100G-JM engine fleet, which powers the A320neo, will require accelerated removals and inspections within the next nine to twelve months, including approximately 200 accelerated removals by mid-September of this year."
Shares of Raytheon tumbled 15% in New York around 1000 ET, the most significant daily decline since Sept. 17, 2001. 
"Obviously, this is a disappointing development and will impact our customers," Pratt unit President Chris Calio said on a conference call.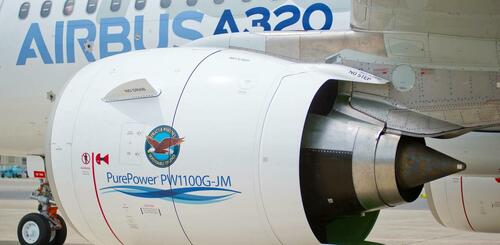 At the same time, Raytheon announced adjusted earnings of $1.29 per share on $18.3 billion in revenue for the second quarter, exceeding Wall Street's forecasts of $1.18 per share and $17.7 billion in revenue. It also raised the low end of earnings estimates for the full year to between $4.95 and $5.05 per share from previous guidance of $4.90 to $5.05. 
"Expectations were low for RTX into the quarter, but this new development is unlikely to help, especially amid existing skepticism around cash flow guidance here in general," JPMorgan analyst Seth Seifman wrote in a note to clients. 
Airbus said it didn't foresee any impacts on future deliveries and said the affected parts were produced between late 2015 and early 2021. 
Meanwhile...
People don't understand how much wealthier Americans are compared to Europeans. The average northern Virginia federal bureaucrat can afford two Pratt & Whitney F135 turbofans a month on a government salary. https://t.co/Hy5El7r4ef

— Yuan Yi Zhu (@yuanyi_z) July 25, 2023
Loading...