---
Russia's Crude Oil Exports Start To Show Signs Of Decline
By Charles Kennedy of OilPrice.com,
After months of high crude oil exports by sea, Russian shipments have started to show the first signs of a decline as they dropped below the levels from February, the baseline for Russia's oil production cut of 500,000 barrels per day (bpd) that Moscow says began in March.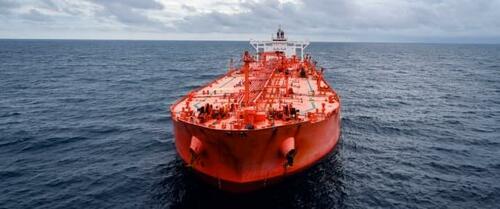 Russian crude oil exports by sea dropped by 205,000 bpd to 3.21 million bpd on a four-week average basis in the four weeks to July 9, tanker-tracking data monitored by Bloomberg showed on Tuesday.
The latest four-week average export volumes fell below the 3.38 million bpd in the four weeks to February 26, after holding up above that level for months, according to the data reported by Bloomberg's Julian Lee.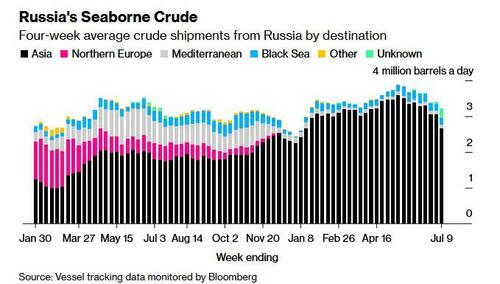 The main reason for the lower seaborne exports was significantly reduced shipments from Russia's western ports, the data showed.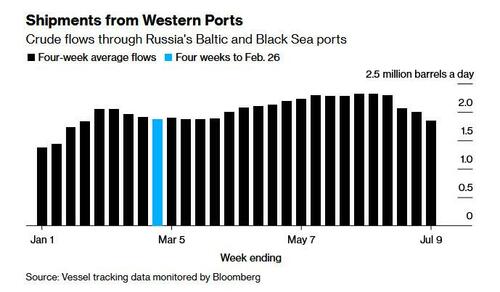 In the week to July 9, seaborne crude exports out of Russia dipped to 2.86 million bpd, which was 1 million bpd lower than in the previous week, and with no signs of maintenance at ports that had dragged shipments down two weeks ago. Most of the weekly decline in shipments – 80% -- was due to lower volumes leaving Russia's western ports, which used to ship crude to Europe before the embargo.
The observed decline in Russian crude oil exports on a four-week average basis comes just as Russia said last week that it would cut its crude oil exports by 500,000 bpd in August in a bid to ensure a balanced market.
Russia's Deputy Prime Minister Alexander Novak, the top oil official in Russia and lead OPEC+ negotiator, didn't give any figures as to the volume of the Russian production and exports for August, nor the baseline from which the cut would be made.
The August cut in exports would mean an additional cut in oil production by 500,000 bpd in August, Novak's office told Russian daily Vedomosti.
Loading...