---
Russia's Economy Projected To Grow Despite Western Sanctions
Authored by Dave DeCamp via AntiWar.com,
The International Monetary Fund has said it expects the Russian economy to grow by 1.5% this year despite the US-led Western sanctions campaign against the country, which President Biden once vowed would "turn the ruble into rubble."
The Russian economy shrank by 2.1% last year, but it has bounced back as Russia is adjusting to the sanctions. The Wall Street Journal this week called the economic war a "stalemate," comparing it to the situation on the battlefield in Ukraine.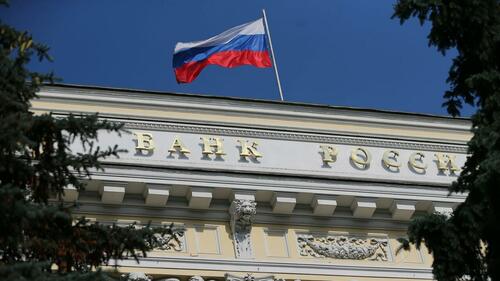 The report said the sanctions initially made it harder for Russia to acquire microchips and other technical components, but Moscow then found sanctions loopholes through neighboring countries. Russia has also had no problems selling its oil as its found new markets in India and elsewhere in Asia.
The Journal cited analysts who said the sanctions will hurt Russia in the long term, but Moscow continues to forge stronger ties and significantly increase trade with China.
An alternative to the US-dominated global financial system is slowly being formed by Russia, China, and other countries targeted with US sanctions.
The US has successfully crushed the economies of smaller countries with sanctions, but the sanctions on Russia were the harshest imposed on such a large economy.
[ZH: Russia's unemployment rate is now lower than Bidenomics has achieved...]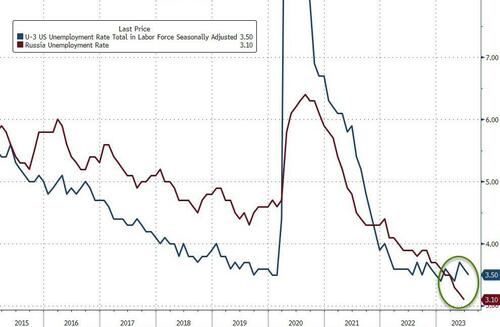 US sanctions on smaller nations are losing some of their power as China and Russia offer alternative markets.
For example, Iranian oil sales in 2022 exceeded those in 2016 before the US withdrew from the nuclear deal in 2018 and reimposed sanctions on the country. Most of the new Iranian oil sales have been to China.
* * *
As this trend continues, people will start asking the hard questions...
There you go: WSJ admits sanctions failed to significantly dent Russia's economy.

Give it a few more months and they'll admit that not only they failed but were counterproductive: damaging Europe's economy more than Russia's. Or was that the objective? 🤔https://t.co/UCT6Pk83DO

— Arnaud Bertrand (@RnaudBertrand) August 4, 2023
Loading...