---
Savings Rate Tumbles To One-Year Lows As Fed's Favorite Inflation Signal Remains 'Sticky' High
One of The Fed's favorite inflation indicators - Core PCE Deflator - slowed to 3.9% YoY in August (its lowest since Sept 2021). Headline PCE jumped up to +3.5% YoY, its highest since May...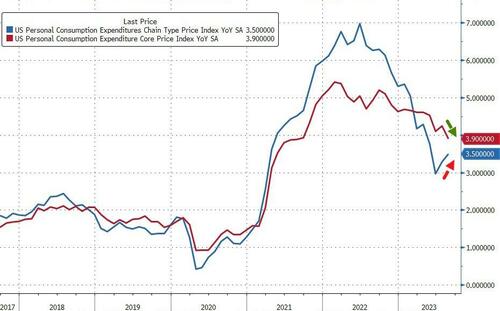 Source: Bloomberg
After 3 months of 'deflation', Goods prices rebounded strongly in August (up most since June 2022)..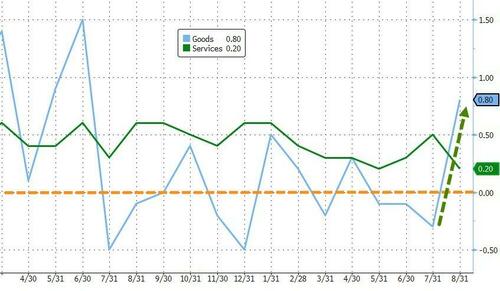 Source: Bloomberg
Even more focused, is the Fed's view on Services inflation ex-Shelter, and the PCE-equivalent shows that is very much stuck at high levels (ignore the data series, Bloomberg screwed up on revisions)...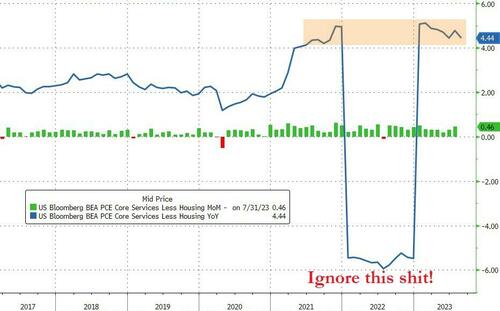 Source: Bloomberg
Personal income grew 0.4% MoM and so did Spending...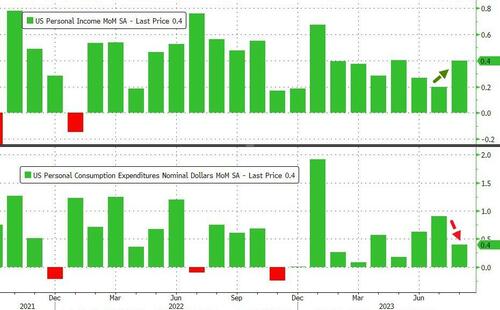 Source: Bloomberg
But both remain up significantly on a YoY basis...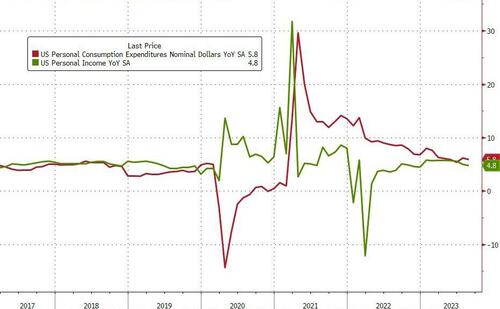 Source: Bloomberg
Adjusted for inflation, 'real' personal spending was higher in August (up 2.3% YoY)...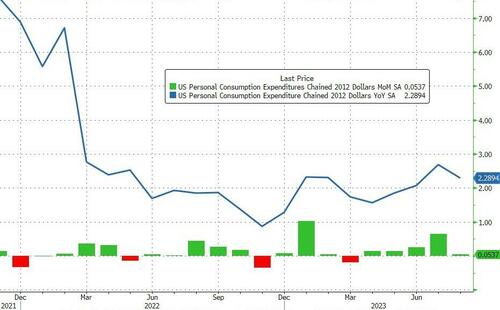 But Real Disposable Income fell 0.2% MoM (the 3rd monthly decline in Americans' earnings in a row)...
And Wage growth is slowing:
August Private worker wage growth down to 4.6%, from 4.9% in July and the lowest since March 21

August Govt worker wage growth down to 6.8% from 6.9% in July, and the lowest since May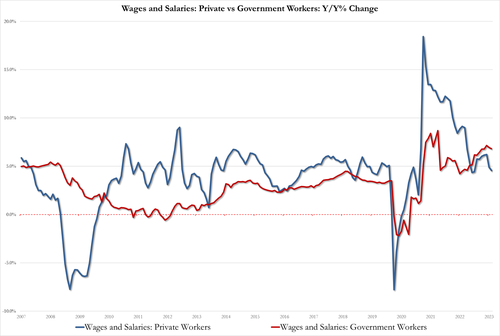 All of which pushed the savings rate lower (amid numerous revisions once again) to 3.9% of DPI - the lowest in a year...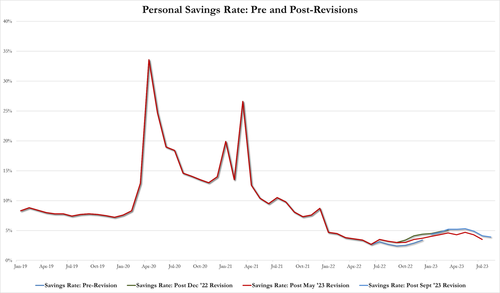 So 'stickier' than expected inflation - driven by a re-emergence of goods inflation - and savings rates shrinking again... Bidenomics, bitches!
Loading...