---
"Several People" Hit Ceiling Of Plane After Nightmarish Turbulence Rocks Allegiant Air Flight In Florida
Passengers from an Allegiant Air flight heading to Florida this week got more than they bargained for when their flight hit severe turbulence on Wednesday, causing chaos and injuries.
Flight 227 from Asheville, North Carolina and carrying 179 passengers, was heading southbound for the relatively short journey when it "experienced severe turbulence before landing", according to CNN. 
St. Pete-Clearwater International Airport airline spokesperson Andrew Porrello told CNN that the flight, its passengers, and its 6 crew members then "landed normally and taxied to the gate under its own power."
Two passengers and two flight attendants were taken to a hospital for injuries, which were "believed to be relatively minor", according to the report. One passenger told CNN that the turbulence was "petrifying".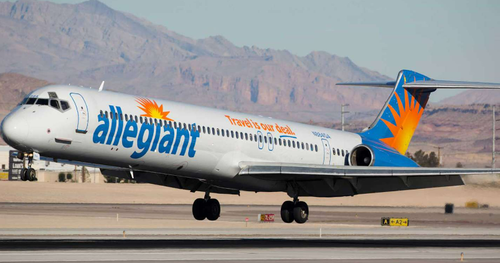 "More than halfway through descending, and all of a sudden, we hit a small turbulence, and the stewardess beside us fell to the ground," the passenger, Lisa Spriggs, told reporters. 
She continued: "And then we hit a major turbulence, which was petrifying. And she was literally like 'Matrix.' Watched her go up in the air and just land straight down."
The shift in the plane "flung laptops and "catapulted" the felled flight attendant into the air," the New York Times reported. Another passenger told the NYT the plane dropped "considerably" and "several people" hit the ceiling. 
And what would reporting from the New York Times be without blaming the issue on climate change? They wrote:
Some experts have attributed a recent uptick in turbulence-related injuries to climate change. Rising carbon dioxide emissions can affect air currents, which in turn can raise the chance of more unpredictable or intense turbulence. Though the aggregate numbers of such incidents remain small, the Federal Aviation Administration said a total of 17 people sustained serious injuries last year because of rough air, the highest in over a decade.
The Federal Aviation Administration confirmed that the Airbus A320 reported the turbulence while on approach, but no further details were released. 
Loading...