---
SLOOS Finds Even Tighter Bank Credit Standards, Dismal Loan Demand And A Dire Outlook For Rest Of 2023
One quarter after the entire market was closely watching a Fed report most had never heard of before, namely the Senior Loan Officers Opinion Survey on Bank Lending Practices (also known as SLOOS), to get some sense of just how much tightening there has been in the US financial system following the March bank failures, moments ago the Fed released the latest, July SLOOS report which showed that the incredibly shrinking US loan market has accelerated its shrinkage even more in the second quarter, when bank lending standards tightened across most products, while loan demand - not surprisingly with rates at the highest level in 40 years - dropped to levels where one wonders just how the debt-addicted US economy is funding itself.
Here are the report highlights, first on loans to businesses:
Survey respondents reported tighter standards and weaker demand for the all-important commercial and industrial (C&I) loans to firms of all sizes over the second quarter.
Banks also reported tighter standards and weaker demand for all commercial real estate (CRE) loan categories.
Looking at standards for C&I loans, there are only two times it has been more difficult to get a C&I loan for small businesses in the past three decades: the covid crash, and the global financial crisis. One wonders how much longer the unemployment rate can defy the gravity from the collapse in US credit...
Next, loans to households:
Banks reported that lending standards tightened across all categories of residential real estate (RRE) loans, especially for RRE loans other than government-sponsored enterprise (GSE)-eligible and government loans.
Banks reported tighter standards and weaker demand for home equity lines of credit (HELOCs).
Standards tightened for all consumer loan categories; demand weakened for auto and other consumer loans, while it remained basically unchanged for credit card loans.
Meanwhile, demand weakened for all RRE loan categories.  The report also showed weak demand for credit. The share of banks reporting weaker demand for commercial and industrial loans among large and mid-size firms fell to 51.6%, from 55.6% in the first quarter.
Here is a visual summary of lending standards, which tightened for most loan categories except Construction and Land Development, Multifamily Residential and New and Used Auto Loans.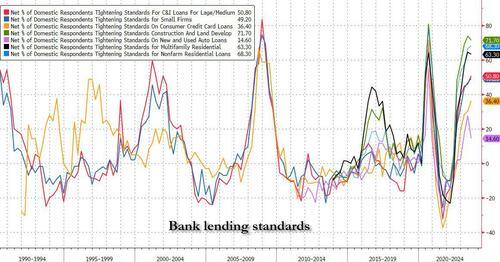 And here is loan demand summarized: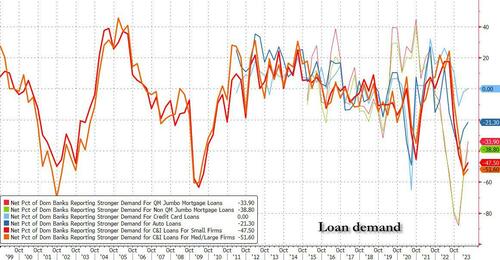 While the demand rebound may be attributed to the modest retracing in yields across the curve in Q2, which has since faded as rates are once again at the highest in 40 years, what is more troubling is that looking at the second half, banks reported they expect to further tighten standards on all loan categories. The most cited reasons for expecting to tighten lending standards were "a less favorable or more uncertain economic outlook, an expected deterioration in collateral values, and an expected deterioration in credit quality of CRE and other loans."
Additionally, major net shares of banks also cited an expected reduction in risk tolerance, an expected deterioration in their liquidity position, increased concerns about funding costs and deposit outflows, as well as increased concerns about the effects of legislative, supervisory, or accounting changes as reasons for expecting further tightening.
In a preview of the Fed survey, Powell said "it's broadly consistent with what you would expect. You've got lending conditions tight and getting a little tighter, you've got weak demand, and you know, it gives a picture of a pretty tight credit conditions in the economy."
"I think it's really hard to tease out whether how much of that is from this source or that source, but I think what matters is the overall picture is of tight and tightening lending conditions," the Fed chair said.
In short: Biden's "stealth" $1 trillion stimulus better be able to push the economy well into 2024 singlehandedly, because anyone hoping to get a sizable loan at good terms in the next 3-6 months will be stuffed.
Loading...