---
"So It Begins": US Supermarkets Hit With Buying Panic As India Bans Rice Exports
The decision by India to ban certain rice exports has sparked panic buying at supermarkets across the US. Videos circulating on social media show the staple food is flying off the shelves as high demand depletes supplies amid concerns of a global shortage. Some supermarkets have responded by implementing purchase limits, while others have hiked prices. The scenes below should remind readers of the panic buying days during Covid. 
Indians being Indians, hoarding started. Big queue outside Patel Brothers, Dallas area after India banned exporting non Basmati rice… pic.twitter.com/8EgvwFWOKo

— Aryabhata | ஆர்யபட்டா 🕉️ (@Aryabhata99) July 21, 2023
Rice export stopped from India and massive panick hit the Indians in USA. Hoarding has started across the states. There has been multiple food shortages here, hoping rice shortage doesn't get added to the list. pic.twitter.com/vdP6NBwrN6

— The Thinking Hat 🇮🇳 (@ThinkinHashtag) July 21, 2023
So it begins. India has banned some rice exports and now people are panic buying up rice. pic.twitter.com/ujpm66ER3n

— Ian Miles Cheong (@stillgray) July 23, 2023
Apparently the ban is for non Basmati rice. So Tamil and Telugu community would be most impacted as they consume Sona Masoori rice. They started hoarding as if rice won't be available anywhere else, ever. The fact is that Thai, Chinese, Japanese, Mexican and several immigrants in… pic.twitter.com/s8fRIeubMI

— Mr B (@maddyb65) July 22, 2023
#MCTrends | The Indian government's ban on the export of non-basmati rice has triggered panic buying in the US, with many departmental stores reporting empty shelves and putting limits on the number of rice bags customers can buy.@AnkitaSengupta_ reports👇… pic.twitter.com/GgzonuW1tU

— Moneycontrol (@moneycontrolcom) July 25, 2023
India's export restriction applies to shipments of non-basmati white rice. The move is to contain food inflation by ensuring ample domestic supplies, as the El Niño weather pattern heavily impacts farm production. India is the largest exporter of rice.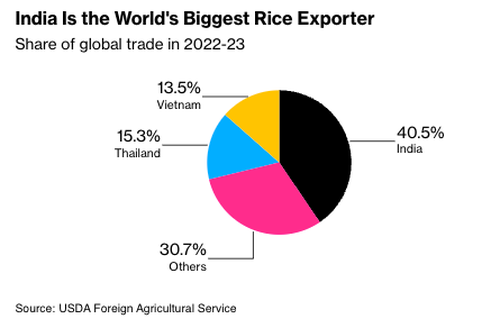 We provided readers with enough understanding that rice, which is critical to the diets of billions of people worldwide, was headed for a shortage:
"India's export ban needs to be seen in the light of this ominous setting," Peter Timmer, Professor Emeritus at Harvard University, told Bloomberg. He has studied food security for decades and warned: 
"There is considerably more reason for concern now that rice prices in Asia could spiral out of control pretty quickly."
The president of the world's largest rice shipper had this to say:
"In the short term, the price is definitely going up, it's just a question of how high up it will go.

"And it will be a spike, it's not going to be increasing incrementally," said Chookiat Ophaswongse, honorary president of the Thai Rice Exporters Association. 
Bloomberg data shows Thailand White Rice 5% is around $534 per ton, nearly a two-year high, and headed for a possible break above $579, which would mean prices would be back to 2012 highs.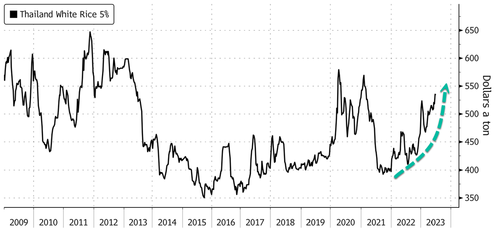 India's latest move has sparked panic buying of the grain. 
Loading...