---
Solid 5Y Auction Sees Strong Demand Despite Tiny Tail
90 minutes after the day's first coupon auction in what is a truncated week, the US Treasury sold another coupon bond, this time  $46 billion in 5 Year paper, in what was another solid auction.
The bond priced at a high yield of 4.400%, tailing the When Issued 4.399% by 0.1bps, the third consecutive tailing auction in a row. The yield was also well above last month's 4.170%, and like the 2Y auction earlier, was the highest since July 2007.
The bid to cover of 2.54 was below last month's 2.60 but just above the recent average of 2.533.
Similar to the 2Y auction earlier today, the internals were solid if not stellar, with Indirects awarded 67.9%, above last month's 64.4%, but below the six-auction average of 68.8%. And with Directs taking down 18.3%, Dealers were left holding 13.8%, or just above the recent average of 12.2%.
Overall, this was a solid auction, and together with the strong 2Y auction earlier, has helped keep the 10Y yield down on the day, last trading at 4.21%, below the key resistance (or support) level of 4.25%.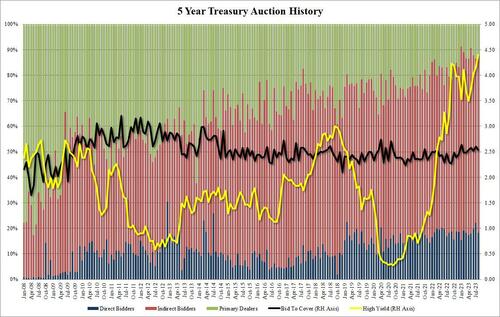 Loading...