---
Stocks & Bonds Slammed As Powell Pi$$es In Next Year's Punchbowl
If you're not confused now, you weren't paying attention.
Fed held rates unchanged (as expected) - neutral.

Fed increased its growth expectation, lowered its unemployment expectation, and increased its inflation outlook - dovish/soft-landing.

Fed erased 50bps of cuts expected for next year in its dot-plot - hawkish as hell.
That sent STIRs hawkishly higher...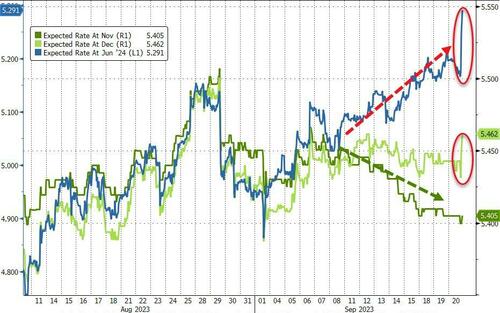 Source: Bloomberg
Mohamed El-Erian offered the most succinct summary of the malaise many were left in after the statement, the SEP, and the press conference:
"I worry that the economic and policy signals coming out of this Federal Reserve press conference may come across to many as both confused and confusing.

Some will deem this an inevitable consequence of this phase of the inflation and policy cycle; others will view it as further evidence of challenged Fed communication."
And the Dot-Plot crushed expectations for cuts next year...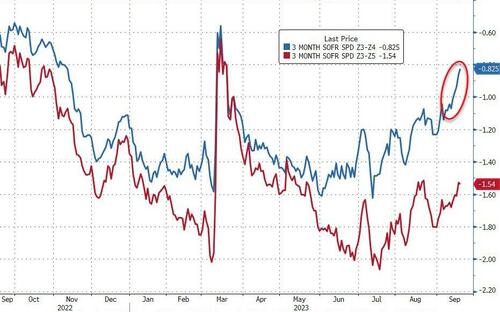 Source: Bloomberg
Treasuries were mixed on the day - and very volatile - with the short-end dramatically underperforming. 2Y ended up 6bps while 30Y was down 3bps on the day. On the week, the long-end is lower but the short-end is significantly higher...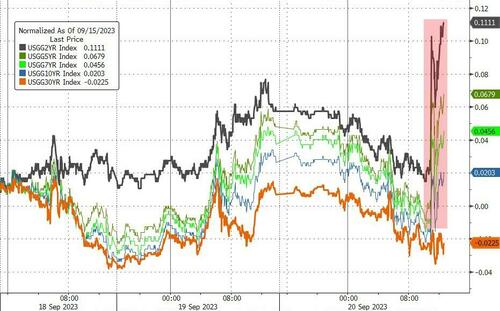 Source: Bloomberg
The pattern was similar for all bonds (except the 30Y) with early gains (erasing yesterday's losses) quickly being eviscerated on the Fed's SEP.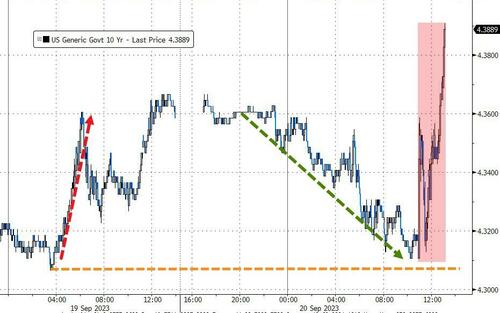 Source: Bloomberg
10Y yield broke out from the August highs late in the day to their highest since Oct 2007...
Source: Bloomberg
And 2Y yields soared to a new high since July 2006 (2y yields rose 14bps off the intraday lows this afternoon)...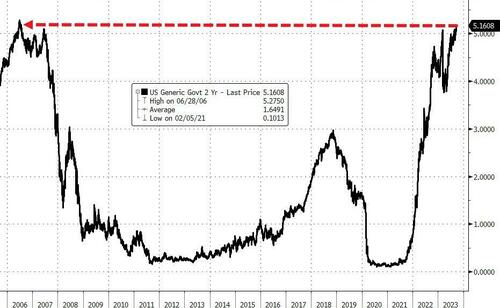 Source: Bloomberg
All of which crushed the yield curve (2s30s)...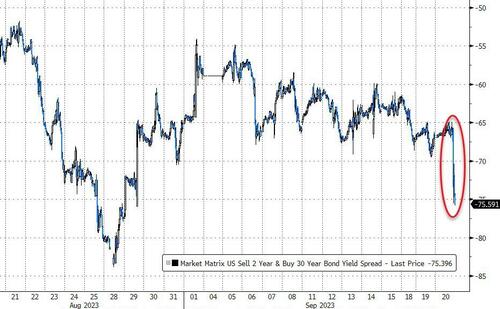 Source: Bloomberg
Equities did what equities do around the FOMC. The kneejerk move was lower (hawkish SEP), but the second Powell started speaking the algos ripped the market back up to unch... but this time, they could not hold it and stocks tanked to the lows of the day, extending losses after Powell stopped speaking. Nasdaq (longest duration stocks) suffered most...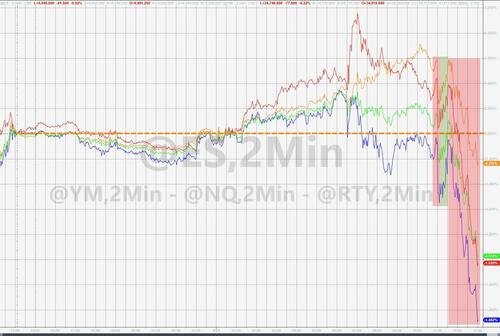 Gamma-heavy 4500 was key resistance for the S&P 500...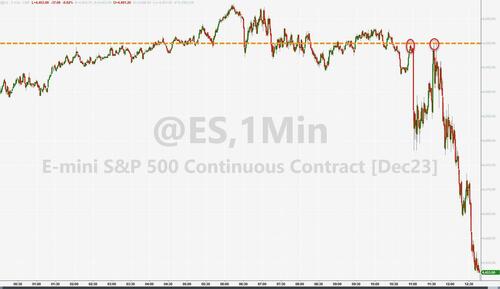 0-DTE selling was dominant after The Fed but we note that the S&P fell down to exactly match its Put Wall level...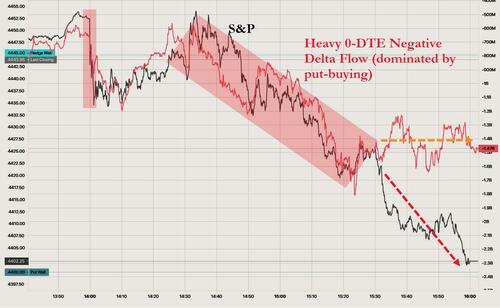 'Most Shorted' Stocks puked hard today with no bounce at all...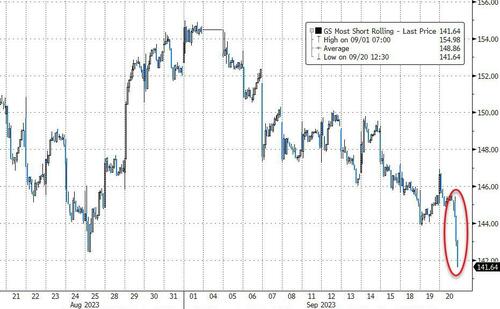 Source: Bloomberg
CART was carried out today, plunging all the way back to its IPO price...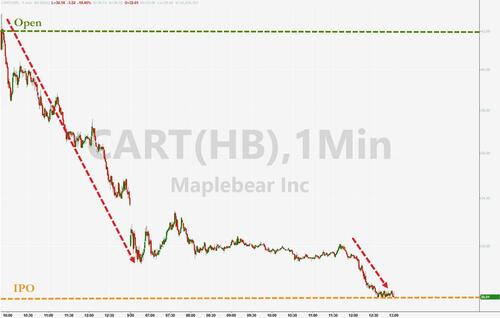 The dollar dumped overnight into The Fed statement then exploded higher...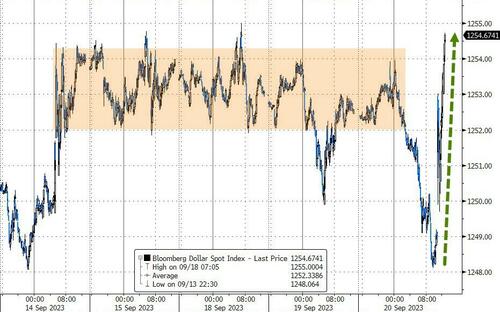 Source: Bloomberg
Bitcoin ended lower, falling back below $27000 as stocks tumbled...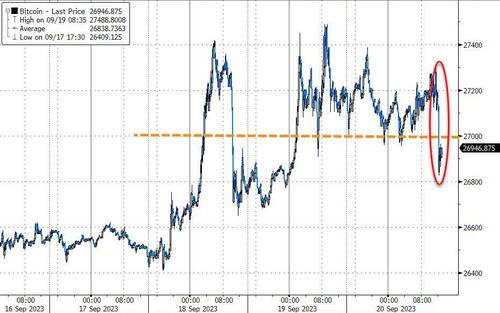 Source: Bloomberg
Gold (spot) rallied up to near $1950 intraday before fading as the dollar spiked after The Fed...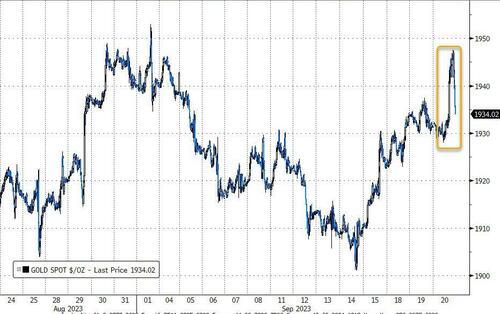 Source: Bloomberg
Oil prices managed gains on the inventory data but The Fed's hawkishness dragged WTI back below $90...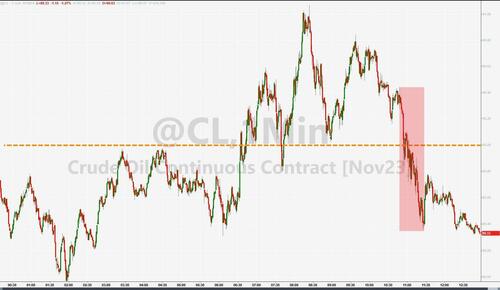 Finally, with Powell and his pals pissing in the punchbowl of rate-cuts for next year, one has to wonder just how long this chasm between real rates and equity valuations can remain...
Source: Bloomberg
...and real rates are getting higher.
Loading...