---
Bears disARM'd: Stocks, Yields, Crypto, & Crude Jump As Inflation Expectations Soar
Hot jobless claims, hotter retail sales, and hottest PPI made for an exciting "is good news, bad news?" confusion in markets early on before bonds took charge with yields deciding on 'growth' and shooting higher along with stocks (which decided to ignore the higher rates). The dollar and bitcoin also rallied.
Crucially, however, the market's expectations for short-term inflation continued to surge (to 6-month highs)
Source: Bloomberg
Rather oddly, this hotter than expected growth (retail sales and jobs) and inflation (PPI) pushed the market's expectations for Fed rate changes dovishly lower (admittedly only modestly). However, rate-cut expectations did drop (hawkish) modestly for next year...
Source: Bloomberg
Stocks (futures) traded wildly after the 0830ET data dump but as the cash open hit, Nasdaq was dumped and Small Caps pumped. That didn't last long and after around 1030ET, buying began and never really lifted as traders 'survived' the big event risk of the week. Small Caps outperformed (short squeeze) while Nasdaq ans S&P lagged (but all were green)...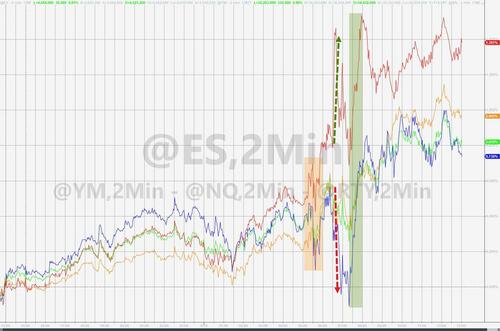 While some discussed the 'fundamental' driver of today's move, we note that 'most shorted' stocks were smashed/squeezed rapidly higher, erasing yesterday's decline...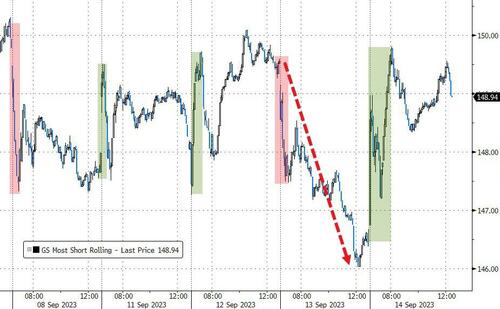 Source: Bloomberg
Today's rally lifted all the majors back above key technical levels (Russell 2000 above its 100DMA; S&P, Dow, and Nasdaq above 50DMAs)...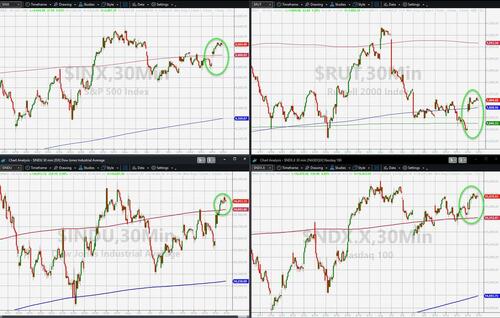 ARM IPO'd at $51, opened at $56.10, jumped, dumped, then surged into the last few minutes...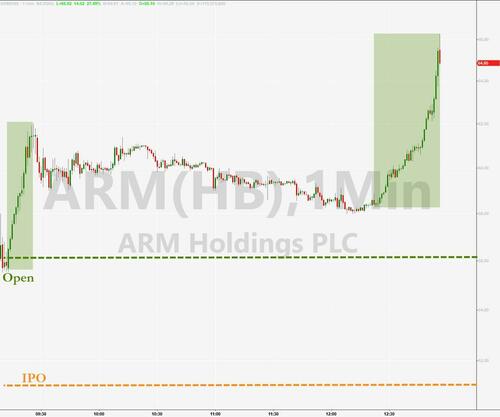 VIX tumbled all the way back to a 12 handle...
Treasury yields were all higher on the day (up 4-5bps), pushing them all higher on the week...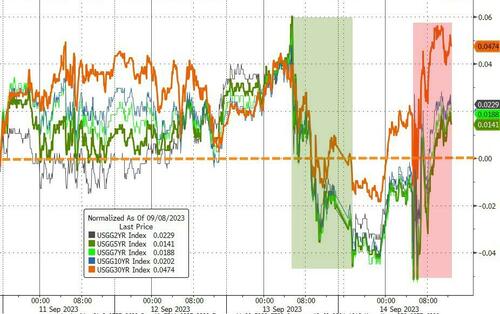 Source: Bloomberg
The 2Y Yield pushed back above 5.00%... again...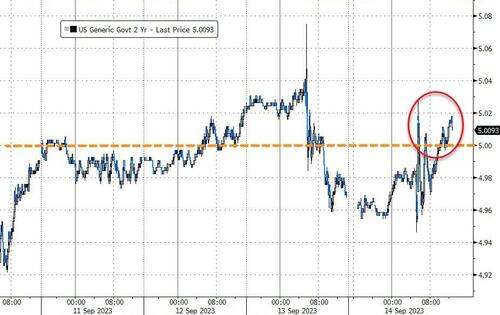 Source: Bloomberg
The dollar remains lower on the week but jumped notably today as EUR tumbled after ECB...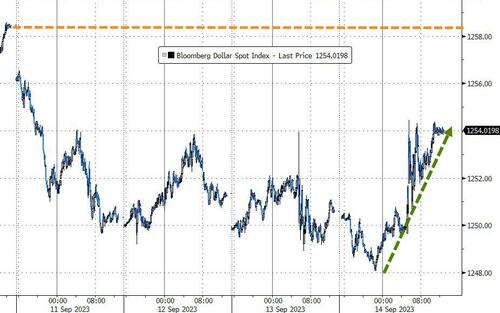 Source: Bloomberg
Bitcoin extended its bounce, pushing up towards $27,000...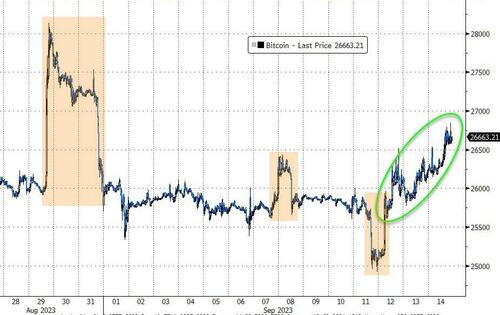 Source: Bloomberg
Gold (spot) ended the day unchanged after bouncing intraday off a near $1900 test...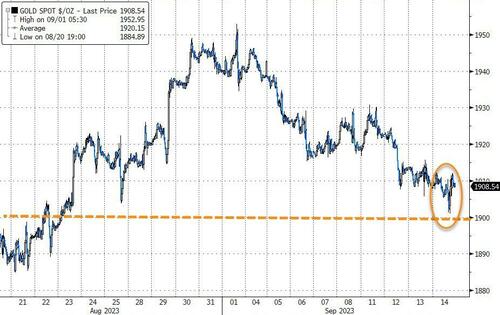 Source: Bloomberg
Oil prices continued to rise with WTI topping $90 for the first time since Nov 2022 - which just happens to be more or less in line with where it was trading right before Putin invaded Ukraine...
Source: Bloomberg
Finally, The Fed and The White House have a problem as those surging oil prices are dragging wholesale gasoline prices higher (with gasoline stocks at the lows of the year) which will inevitably drag pump prices higher...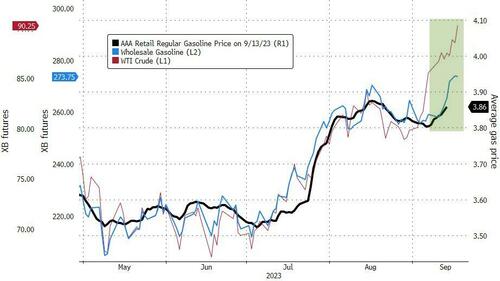 Source: Bloomberg
...and that means inflation (perceived by the average joe) will be top of mind once again and the Biden admin has used up its geopolitical (Saudi) and domestic (SPR) ammo to do anything about it this time.
Loading...