---
California Braces As Hilary Upgraded To 'Major Hurricane'
Update (2006ET): Hilary has been upgraded to a 'major' Category 3 hurricane, and is expected to become a Category 4 hurricane by late Thursday night or early Friday morning. According to the National Weather Service, it will most likely hit Eastern San Diego County on Monday at around 6 a.m. as a tropical storm.
Here's the latest rainfall totals and flash flood risk for Hurricane #Hilary. The current track has the center making landfall near San Diego Monday at 6 am, as a tropical storm. Shifts in the track to the east or west could increase impacts for our region. #LArain #CAwx pic.twitter.com/8Q8AWVORU0

— NWS Los Angeles (@NWSLosAngeles) August 17, 2023
Heavy rainfall may produce areas of flash flooding over part of the Baja California Peninsula between Late Friday and late Sunday, with hurricane-force wind impacts possible. 
Flooding may occur anywhere in our area, especially across the mountains and deserts. Keep an eye on https://t.co/rX4LK2IHvk for the latest road conditions and please do not drive through flooded roadways. pic.twitter.com/2fXZr3xGHl

— NWS San Diego (@NWSSanDiego) August 17, 2023
Major Hurricane Hilary has opportunity to clear out eye and zoom to Category 4.

Very outside shot at Category 5. pic.twitter.com/4Pcx150nOM

— Ryan Maue (@RyanMaue) August 17, 2023
JUST IN: #Hilary is now a major hurricane with winds of 120mph and a pressure down to 955mb. Forecasted to become a category 4 with 140mph winds by tomorrow. pic.twitter.com/3WQrt2Axfi

— Collin Gross (@CollinGrossWx) August 18, 2023
*  *  *
Update (1215ET):
Tropical Storm Hilary was upgraded to hurricane status off Mexico's Pacific coast, according to the National Hurricane Center. 
When NHC published the advisory early Thursday, Hurricane Hilary was churning several hundred miles southeast of Cabo San Lucas, Mexico, and was moving west-northwest. Winds are sustained over 75 miles per hour, with higher gusts. 
"Hilary rapidly intensified from a tropical storm to hurricane Wednesday into Thursday, and could top out at Category 4 intensity by Friday or Saturday," The Weather Channel said. 
Forecast models show Hilary could begin to impact parts of Mexico's Baja Peninsula on Friday or Saturday, with Southern California in the crosshairs on Sunday or Monday.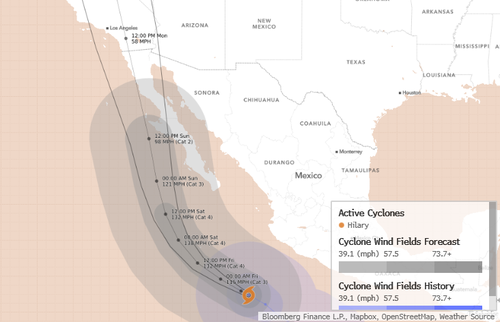 Stefanie Sullivan, a forecaster with the National Weather Service in San Diego, told NYTimes: 
The worst-case scenario for Southern California would be if the track shifted farther west and made landfall in California, which could produce much stronger winds and larger surf. The only tropical cyclone to truly make landfall in Southern California was an unnamed storm in 1939 that made landfall in Long Beach.
Note the WPC forecast calls for Hilary to produce quite a bit more rain across most of the American Southwest than the 1939 hurricane did. pic.twitter.com/fkZTzjZwze

— Jacob Feuerstein (@Jacob_Feuer) August 17, 2023
Latest rainfall forecast via The Weather Channel: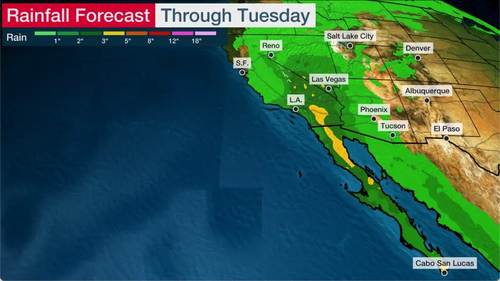 Meanwhile, the tropics are awakening in the Atlantic.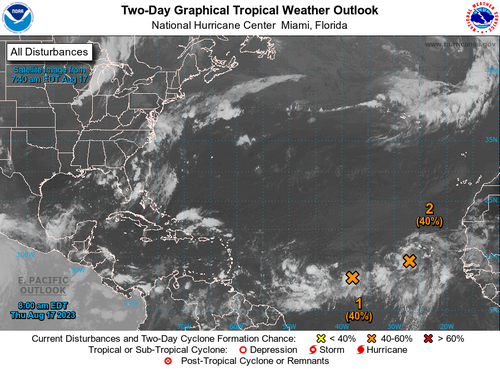 All eyes are on Hilary this weekend. 
*   *   * 
Tropical Storm Hilary formed earlier Wednesday off Mexico's coast in the Eastern Pacific Ocean. It's forecasted to bring heavy rainfall and strong winds to parts of Southern California and the US Southwest at the end of the weekend or early next week. 
Hillary has sustained winds of 40 miles per hour, with higher gusts, according to the National Hurricane Center. The storm is moving west-northwest toward Baja California -- and is 470 miles from Manzanillo, Mexico, around 1100 ET. 
Here's the five-day forecast track for the storm: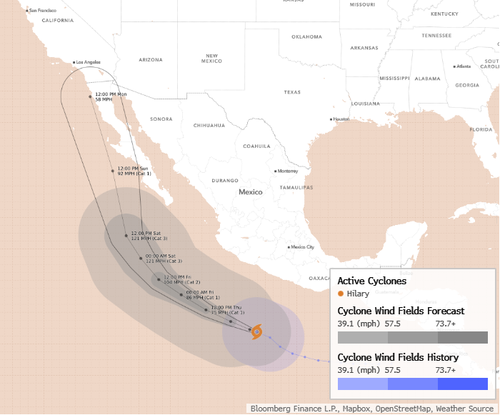 "It appears that a corridor will open up between a sharp dip in the jet stream along the West Coast and the super-strong heat dome over the central US," FOX Weather hurricane specialist Bryan Norcross said.
Norcross continued, "Tropical moisture from likely-Hilary has a good chance of spreading north in that river of air into the highly populated areas west of the Southern California mountains and the desert areas to the east."
According to Fox Weather, Southern California is expected to receive between 2-3 inches of rain, with some areas getting 3-5 inches.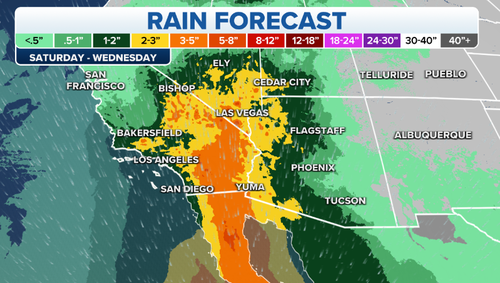 While the Eastern Pacific hurricane season has been active, over in the Atlantic, it's been quiet: "Historical Lull": Global Major Hurricane Activity Hits Four Decade Low.
Loading...