---
Is This Why The OpenAI Board Fired CEO/Co-Founder Altman?
Update (1320ET): As (completely unfounded) rumors swirl over the OpenAI board's sudden shock firing of CEO and co-founder Sam Altman, Bloomberg reports, citing people familiar with the matter, that in recent weeks, Altman was actively working to raise billions from some of the world's largest investors for a new chip venture to reportedly rival NVDA's.
The project - code-named Tigris - saw Altman traveling extensively to the Middle East, seeking tens of billions of dollars from Saudi Arabia's Public Investment Fund, Mubadala Investment Company, SoftBank Group, and others for an AI-focused hardware device that he's been developing in tandem with former Apple design chief Jony Ive.
Altman's pitch was for a startup that would aim to build Tensor Processing Units, or TPUs - semiconductors that are designed to handle high volume specialized AI workloads. The goal is to provide lower-cost competition to market incumbent Nvidia and, according to people familiar, aid OpenAI by lowering the ongoing costs of running its own services like ChatGPT and Dall-E.

Custom-designed chips like TPUs are seen as one day having the potential to outperform the AI accelerators made by Nvidia - which are coveted by artificial intelligence companies - but the timeline for development is long and complex.
Bloomberg reports that Altman's chip venture is not yet formed and the talks with investors are in the early stages, said the people, who asked not to be named as the discussions were private.
So, was Altman raising this money behind the board's back?
Their carefully-worded statement says Altman was not "consistently candid in his communications with the board."
Additionally, as we detailed below, in a memo to staff, Brad Lightcap, OpenAI's chief operating officer, said:
"We can say definitively that the board's decision was not made in response to malfeasance or anything related to our financial, business, safety, or security/privacy practices.

This was a breakdown in communication between Sam and the board."
So, did the 'ethics-police' on the board dislike the investors (Saudi PIF)?
Did the board get its nose bent out of shape over their lack of input on Altman's strategy (because who wouldn't want ot hear what a deep-state censorhsip tsar-ess thought)
Was Microsoft's Nadella furious at the board's decision because he (quietly) liked the idea of challenging NVDA's dominance in the AI chip space, since Bloomberg reports, once again, according to people familiar, Microsoft was also interested in backing Altman's chips venture.
We are certain of one thing - by the time the 'truth' is outed from this temper-tantrum-turd, it will have been well-polished.
*  *  *
Less than a day after JPMorgan came up with this pearl of a headline after the shocking news that OpenAI CEO Sam Altman had unexpectedly been ousted by his own (incompetent) board for being "not consistently candid" (whatever that means, details of what actually happened have yet to be revealed)...

... the drama surrounding Altman's departure just took a turn for the even more dramatic, because according to reports in the WSJ and Verge, OpenAI's investors are "pressing the board" to reinstate Sam Altman back as CEO, and none more so than Microsoft CEO Satya Nadella who was "furious" by the ouster, Bloomberg reported, and has been in touch with Altman pledging to support him whatever steps he takes next.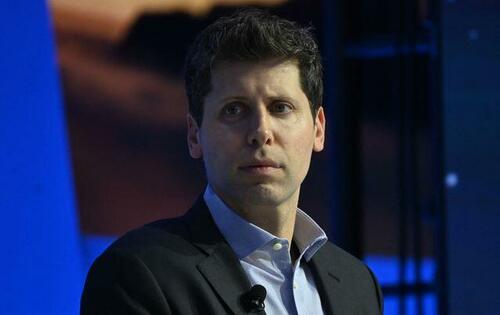 The WSJ adds that while Altman is considering returning, he has told investors that he wants a new board, which inexplicably includes such woke luminaries as Helen Toner (whose tweets are protected of course), the director of strategy at Georgetown's Center for Security and Emerging Technology (which means she does nothing at all), and who is perhaps best known for her support of the malignant fraud espoused by SBF that is "effective altruism" better known as virtue signaling covering up flagrant crime and fraud.
Who is Helen Toner, and why did she fire @sama?
Insane effective altruist. Sam never should have trusted her...https://t.co/C45Wg3zGM6

CC: @adamdangelo

— Martin Shkreli (e/acc) (@wagieeacc) November 17, 2023
Besides Toner, OpenAI's current board consists of chief scientist Ilya Sutskever (who also co-founded OpenAI and leads its researchers, was instrumental in the ousting of Altman this week, according to sources), Quora CEO Adam D'Angelo, and former GeoSim Systems CEO Tasha McCauley, wife of actor Joseph Godron-Levitt. Unlike traditional companies, the board isn't tasked with maximizing shareholder value, and none of them hold equity in OpenAI. Instead, their stated mission is to ensure the creation of "broadly beneficial" artificial general intelligence, or AGI.
The now former (and soon-to-be again current) CEO also discussed starting a company that would bring on former OpenAI employees, and is deciding between the two options. Altman is expected to decide between the two options soon, the WSJ said, although the Verge notes that the former CEO is "ambivalent" about coming back and would want significant governance changes.
Altman holding talks with the company just a day after he was ousted indicates that OpenAI is in a state of free-fall without him. Hours after he was axed, Greg Brockman, OpenAI's president and former board chairman, resigned, and the two have been talking to friends and investors about starting another company. A string of senior researchers also resigned on Friday, and people close to OpenAI say more departures are in the works.
The OpenAI board has been subjected to intense criticism over its decision, made public late Friday afternoon in a blog. post  Several people, including co-founder Greg Brockman and three senior researchers have departed from the company in protest.
Besides Microsoft, which is the leading shareholder in OpenAI, venture capital firm Thrive Capital is also working to orchestrate efforts to reinstate Altman. The motive is clear: Microsoft invested $13 billion into OpenAI and is its primary financial backer. Thrive Capital is the second-largest shareholder in the company. Other investors in the company are supportive of these efforts, the people said.
Then again, Microsoft is probably not all that angry: according to the Sam Bankman-Fried funded Semafor, "only a fraction of Microsoft's $10 billion investment in OpenAI has been wired to the startup, while a significant portion of the funding, divided into tranches, is in the form of cloud compute purchases instead of cash" which gives the software giant whose stock last week hit an all time high and is about to surpass Apple as the world's most valuable company, leverage as it sorts through the fallout from the ouster of Altman.
The report goes on to note that "Nadella believes OpenAI's directors mishandled Altman's firing and the action has destabilized a key partner for the company." It is also unclear if OpenAI, which has been racking up expenses as it goes on a hiring spree and pours resources into technological developments, violated its contract with Microsoft by suddenly ousting Altman. At the same time, Microsoft has rights to OpenAI's intellectual property so if their relationship were to break down, Microsoft would still be able to run OpenAI's current models on its servers. This is critical because Microsoft has made OpenAI's products such a key part of its offerings, from Windows to Microsoft Office to GitHub, that anything involving that underlying technology would have an instant and adverse material impact on the $2.75 trillion company's bottom line.
That's why since Friday, Silicon Valley has been buzzing about what could happen to this key partnership, including whether Microsoft and other OpenAI investors might attempt to reinstate Altman as CEO (which, as we now learn, is in process).
On Saturday in a note to employees, OpenAI Chief Operating Officer Brad Lightcap said the company's leaders "still share your concerns about how the process has been handled, and are working to resolve the situation," according to an internal memo reviewed by Semafor. Lightcap shared new insight into the board's decision, clarifying that there was no "malfeasance or anything related to our financial, business, safety, or security/privacy practices."
That struck a different tone than the board's statement on Friday that said Altman was "not consistently candid" with directors. Instead, Lightcap characterized it as a "breakdown in communication" between Altman and the board and added that the leadership has full faith in interim CEO Mira Murati.
The exact reason for Altman's firing remains unclear. But for weeks, tensions had boiled around the rapid expansion of OpenAI's commercial offerings, which some board members felt violated the company's initial charter to develop safe AI, according to people familiar with the matter.
Loading...