---
T-Mobile Plans To Cut 5,000 Jobs: A Grim Omen For Economy?
In the latest sign of economic uncertainty, T-Mobile announced Thursday morning that it plans to slash its workforce by 7%, or about 5,000 jobs.
T-Mobile wrote in a filing that it will incur a pre-tax charge of approximately $450 million in the third quarter of 2023 related to the workforce reduction. The company said its fiscal year 2023 guidance remains intact. 
Bloomberg obtained a letter from CEO Mike Sievert to employees that explained the cost of attracting and maintaining customers is "materially more expensive than it was just a few quarters ago." He said expanding the company's high-speed internet business and efforts in other areas "is not enough to deliver on these changing customer expectations going forward," adding he doesn't see any additional layoffs in the quarters ahead. 
At the end of the fourth quarter in 2022, T-Mobile had a workforce of around 71,000.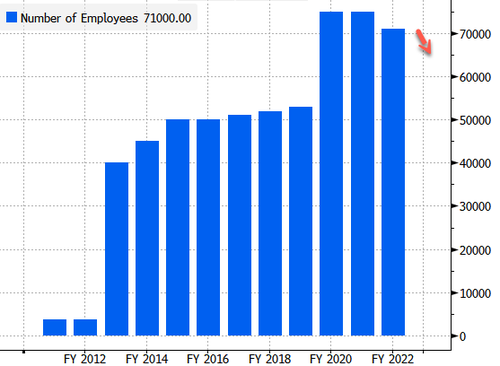 In 2019, T-Mobile's then-CEO John Legere touted the T-Mobile/Sprint merger would create "new, high-quality, high-paying jobs" for years to come. As for the upcoming job cuts, well, it's a sign the company could be preparing for a slowdown in the economy. 
Its competitor AT&T recently announced job cuts, eliminating 74,130 employees, or about 32% of its total staff, since early 2021. 
As for tech industry layoffs this year, 965 companies have fired 231,450 employees, according to data from Layoffs.fyi.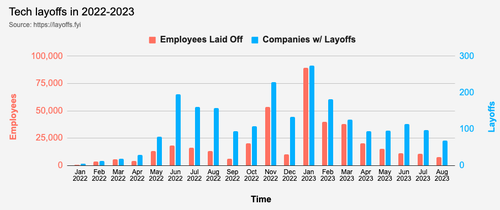 This year, most of the tech layoffs have focused on retail, consumer, hardware, healthcare, and transportation industries. 
Job cuts are hardly a sign that the economy is flourishing. Yet the White House continues to tout 'Bidenomics' as some economic revival. 
Loading...