---
Tailing 30Y Auction Prices At Highest Yield In 12 Years As Foreign Buyers Flee
After one subpar 3Y auction, and one average 10Y auction, we closed out the week's coupon issuance with a 30Y auction that, like this morning's CPI, was mixed, with a solid bid to cover, offset by a modest tail, a big drop in indirect demand, and the highest yield in over 12 years.
The auction stopped at a high yield of 4.345%, up from 4.189% in August, and the highest yield since May 2011; it also tailed the When Issued 4.335% by 1 basis point, the third consecutive tail.
The bid to cover was 2.461, above last month's 2.418 and the highest since June; it was also above the six auction average of 2.418%.
The internals were weaker, with foreign buyers awarded just 64.5%, the lowest since December 2021. And with Directs taking down 19.7%, or roughly in line with the recent average of 19.1%, Dealers were left holding 15.6%, the highest since February to cover the shortfall of foreign buyers who pulled back.
Overall, this was a mixed auction, which could have been better but was certainly good enough, and has helped pushed 10Y yields near session lows.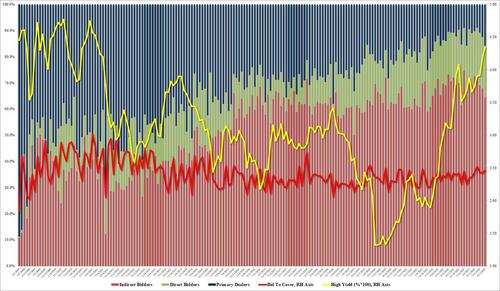 Loading...