---
Target Internal Email Appears To Pivot From Pride To The "Murder Of George Floyd"
Target continues to face backlash from angry consumers a la Bud Light after putting up prominent "Pride" displays in its stores geared toward children in the days leading up to June, which is "Pride Month". 
While the company is doing front facing damage control, removing its displays from its stores, it's also doing internal damage control, trying to cool the flames of controversy amongst its staff. Target CEO Brian Cornell told Insider that removing the displays was due to "threats impacting our team members' sense of safety and wellbeing" and Insider also posted a letter that Cornell sent to his team on Wednesday. 
"I want to end the day where Briefly started: on a note of care. This has been a very hard day for Target, and it follows many difficult days of deliberation and decision-making. To our team in Stores: thank you for steadfastly representing our values. No one is better at working through uncomfortable situations in service to an inclusive guest experience. What you've seen in recent days went well beyond discomfort, and it has been gut-wrenching to see what you've confronted in our aisles," it reads.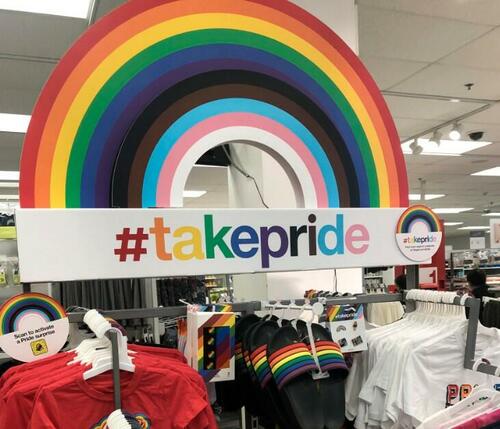 The letter continues: "To the LGBTQIA+ community, one of the hardest parts in all of this was trying to contemplate how the adjustments we're making to alleviate these threats to our team's physical and psychological safety would impact you and your wellbeing and psychological safety. We stand with you now and will continue to do so - not just during Pride Month, but each and every day."
"Those were the two guiding principles when it came time for us to act: do all we can to keep our team safe, and do all we can to honor our commitment and connection to the LGBTQIA+ community," the letter reads.
It concludes: "From a host of difficult alternatives, we have sincerely sought the best path forward, finding ways to recognize Pride Month, while making adjustments to prioritize safety. As always, we're stronger together, and I want you to know that I'm committed to doing all I can, and all we can as a company, to support a culture across the country of care, empathy, equity and simple civility, in hopes that we'll not have to face these kinds of agonizing decisions in the future."
Another alleged internal e-mail from Target posted to Twitter on Thursday appears to show the company commemorating the "murder of George Floyd". The email was also reported on by The Post Millennial. 
"Today brings more reflection, pain and the need for continued care as our team, hometown and world remember the anniversary of the murder of George Floyd," the email appears to say. 
BREAKING: I have obtained the internal email that @Target sent to their employees following the Pride month disaster that has caused them to lose $9B in one week, where is goes from standing with the "LGBTQIA+ community" to the anniversary of George Floyd lmfao. pic.twitter.com/GQVgrdmHDv

— Greg Price (@greg_price11) May 25, 2023
"As you make space to take care of yourself and each other, know that you can always tap into these tools from Team Member LIfe Resources, and as Mental Health Awareness Month continues, turn to Take Five to Take Care hub for more wellbeing support," the email continues. 
Reminder: the MSM journalists denouncing the right for making Target remove kids' Pride apparel didn't give a damn when Saint George Floyd rioters did this to a Target. A lot of them even supported it. pic.twitter.com/JkPZHTnUxb

— Oilfield Rando (@Oilfield_Rando) May 25, 2023
Loading...