---
There Is Something To Be Said In Favor Of Central Banks Surprising The Markets
By Ven Ram, Bloomberg markets live reporter and strategist
Back in the day, Fed Chair Alan Greenspan used to keep the markets guessing about his next move. We saw some of that magic being revived on Wednesday when the Bank of Canada used a statement-only meeting to raise rates, sending yields soaring in the process.
Barring a handful of economists who called it right, the decision wrong-footed the markets given that interest-rate traders were pricing less than a 50% chance of a move headed into the review. The monetary authority, which had moved to the sidelines after raising rates by 425 basis points through January, decided that some more work was needed to align demand with supply. In explaining its decision, it cited a host of concerns, including stronger-than-expected GDP growth, a tight labor market and an uptick in inflation in April. And maybe you could be forgiven for thinking that the central bank would have offered some explicit guidance after that change of tack, but there was none apart from it being "resolute in its commitment to restoring price stability."
There is something to be said in favor of central banks surprising the markets: very often, you tend to get the biggest bang for your monetary move than would be the case otherwise. A case in point: five-year real yields in Canada shot up the most in several weeks. And the emphatic move reverberated through the rest of the real and nominal parts of the curve too. When inflation is running at twice your target, there is nothing like a surprise action that tightens financial conditions.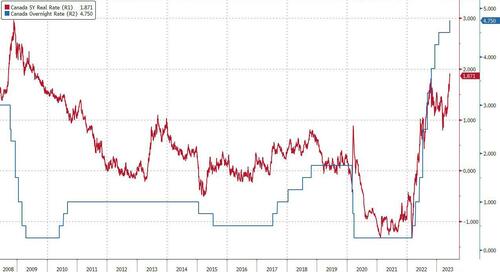 Central banks that have been simply delivering what the markets have priced in will find it challenging to stay ahead of the curve. The upshot of that approach, though, is that you will miss your inflation target for a long time to come. This week will be remembered for both the Australian and Canadian central banks upending the markets. Later this month, when the European Central Bank and the Bank of England meet, the read-across from episodes that occurred thousands of miles away won't seem all too distant. The lesson is definitely not lost on investors who trade front-end bonds in Germany and the UK.
Loading...