---
"These Morons Are Pushing Us Towards WW3": Sunak Backtracks After UK Defense Chief Wants To Send British Troops To Ukraine
British Prime Minister Rishi Sunak was forced to clarify the UK's stance on sending troops to Ukraine, after newly appointed Defense Secretary Grant Shapps unveiled ongoing discussions about expanding the UK-led training program for Ukrainian troops, and potentially sending British instructors back into the country, while offering Kiev unspecified naval support in the Black Sea.
After a visit to the Salisbury Plain training ground on Friday, Shapps told The Telegraph that "I was talking today about eventually getting the training brought closer and actually into Ukraine as well."
During his trip to Kiev earlier this week, the new defense chief, who took his post after a government reshuffle a month ago, apparently saw an "opportunity" to bring more things "in country." Shapps explained he meant "not just training," but also weapons manufacturing, and he praised the British arms giant BAE Systems for its plans to localize in Ukraine.
"I'm keen to see other British companies do their bit as well by doing the same thing. So I think there will be a move to get more training and production in the country," he added.
In his discussions with the Ukrainian President Vladimir Zelensky, Shapps also reportedly said that Britain's Navy could play a role in "defending commercial vessels" in the Black Sea, according to The Telegraph.
"Britain is a naval nation so we can help and we can advise, particularly since the water is international water," he said, without elaborating what kind of help he offered Zelensky.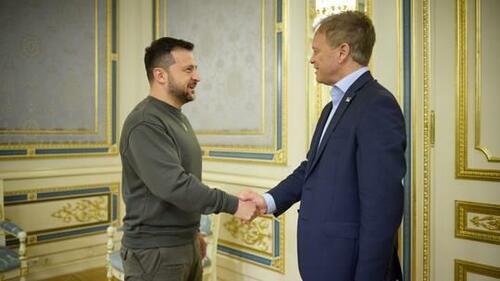 It didn't take long for two things to happen: i) Russia condemning the proposal and warning it would accelerate WW3, and ii) the UK backtracking.
On Sunday, former Russian President Dmitry Medvedev who currently serves as the deputy head of Russia's Security Council, suggested that British soldiers training Ukrainian troops in Ukraine would be legitimate targets for Russian forces, as would German factories producing Taurus missiles should they supply Kyiv. Medvedev, who is deputy chairman of Russia's Security Council, and has become one of the most hawkish and anti-Western figures in Russian politics, said such steps by the West were bringing World War Three closer.
In a post on Telegram, Medvedev first slammed Shapps's proposal to deploy military instructors to Ukraine, in addition to training Ukrainian armed forces in Britain or other Western countries as at present.
"(This will) turn their instructors into a legitimate target for our armed forces," Medvedev wrote on Telegram. "Understanding perfectly well that they will be ruthlessly destroyed. And not as mercenaries, but namely as British NATO specialists."
Medvedev then turned his focus to Germany, vilifying those who want Berlin to supply Ukraine with Taurus cruise missiles that could strike Russian territory and try to limit Moscow's supply to its army.
"They say this is in accordance with international law. Well, in that case, strikes on German factories where these missiles are made would also be in full compliance with international law," Medvedev said.
"These morons are actively pushing us towards World War Three," Medvedev said.
Realizing that he probably does not want his government to end in a mushroom cloud, British PM Rishi Sunak quickly backtracked and during a visit to Burnley on Sunday, said he wanted to make the situation "absolutely clear," explaining that Shapps did not mean British soldiers would be deployed in Ukraine during the conflict with Russia, claiming there was "some misreporting" of comments by Defense Secretary Shapps, who floated the idea; he did however say that the UK has been training Ukrainian soldiers on British soil for "for a long time."
According to the PM, the defense secretary actually meant that "it might well be possible one day in the future for us to do some of that training in Ukraine."
"But that's something for the long term, not the here and now, there are no British soldiers that will be sent to fight in the current conflict. That's not what's happening," he insisted.
London continues to provide military training to the Ukrainians, but it's "doing that here in the UK," Sunak assured.
US Republican congresswoman Marjorie Taylor Greene also voiced alarm over Britain's apparent plans to send troops to Ukraine, writing on X (formerly Twitter): "They're going to start World War III" and that "the US cannot participate" in such a deployment, stressing: "No American troops" in Ukraine.
Since the start of its military operation in Ukraine in February 2022, Moscow has repeatedly argued that the provision of arms, intelligence-sharing and training of Kiev's troops already means that Western nations have de facto become parties to the conflict.
Loading...