---
Treasury Yields Soar To 16 Year High As 30Y Mortgage Rates Near 21st Century High
The selloff in the bond-market resumed with a vengeance on Monday, pushing 10-year yields to a 16-year high, as traders dumped duration ahead of Friday's Jackson Hole meeting where concerns are rising that - in a repeat of last year's shock and awe - Powell may warn more work needs to be done to contain inflation.
The selloff pushed up yields on nominal Treasuries as well as on inflation-protected paper, or TIPS, suggesting that investors are bracing for the risk that monetary policy will remain elevated.
Yields on 10-year TIPS jumped over 2% for the first time since 2009, extending its ascent from year-to-date lows near 1%. Not long after, the yield on 10-year Treasuries without that protection surpassed October's peak, climbing as much as 9 basis points to 4.35%, a level last seen in late 2007.
The 10-year real yield has risen sharply from around 1.5% in mid-July and just above 1% earlier this year. On Monday, the 30-year real yield rose 6 basis points to 2.15%. Treasury market volume was 75% of usual activity and was potentially exacerbating the price action.
The ongoing sharp repricing in duration is extending the major shift that has raced through the bond market over the past two weeks as the odds of a recession seemingly recede amid such ludicrous economic reading as an Atlanta Fed GDPNow which pointed to Q3 GDP growth of 5.8%, coupled with the trademark of "Bidenomics": war-level budget deficits which have pushed the supply of Treasury debt in Q3 to a near-record $1 trillion, the second highest on record after the $2.8 trillion sold in Q2 2020 to offset the global Covid lockdowns.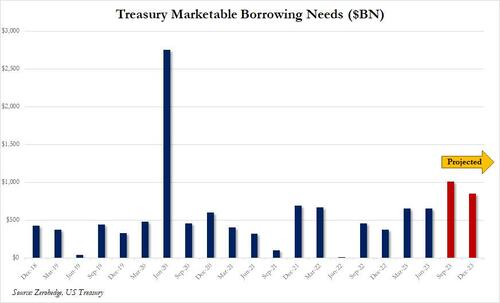 That's driven investors to sharply push up rates on longer-term debt, which had tumbled deeply below short-term ones on fears that the economy was poised for a contraction.
"The move higher across the curve over the last few weeks has really been all on the real-yield side," Zachary Griffiths, senior fixed-income strategist at CreditSights, told Bloomberg citing a "higher Fed policy rate or better growth expectations, with little shift in breakeven inflation expectations."
According to Bloomberg, the movements have fanned expectations that the US bond market is closing the door on the post-financial crisis era of ultra-low rates, anticipating that the Fed will hold interest rates elevated for longer than markets had expected. The movement has come even as the swaps market is still pricing in that the Fed is likely done with its rate hikes and will be easing policy next year.
"The continued better-than-expected economic data has made it like we are almost contemplating a new reality that we haven't had for quite some time, where rates could potentially be quite higher for quite longer," Griffiths said. "That's the big thing driving real yields."
Of course, as always happens on Wall Street, once everyone believes something the opposite happens, and with the help of a deflationary shockwave about to erupt from China, the $1 trillion the US is about to spend on debt interest...
... not to mention the inevitable Housing crash, because a housing market can only sustain these mortgage rates for so long, it's only a matter of time before rates crash.
And speaking of mortgage rates, after briefly dipping at the end of 2022, the eruption in 10Y yields has pushed the 30Y Mortgage rate to a mindblowing 7.6%, the highest level since 2001 and just shy of the the highest in the 21st century. As a reference, mortgage rates hit a record low just over 2 years ago, when they troughed at 2.80% in Feb 2021.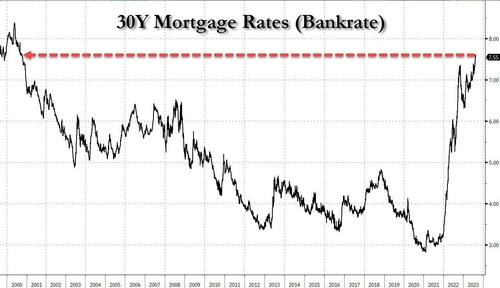 There is little hope of immediate respite: bond investors are bracing for upcoming auctions of 20-year bonds and 30-year TIPS, that have smaller investor bases than other Treasury products. Demand will be closely followed for any hint the current rout is nearing an end, or perhaps has further room to run, according to Bloomberg's Michael Mackenzie.
The debt sales arrive before the Fed's annual gathering at Jackson Hole, with the market anticipating a hawkish tone from Chair Jerome Powell when he speaks Friday.
"The technicals are with the bond bears," said Andrew Brenner, head of international fixed income at NatAlliance Securities. But, he added, "in a slow August, illiquid holiday week, they have nothing to fear as the world expects Powell to be hawkish."
Loading...